Parkland Shooting Survivor Kyle Kashuv Confronts School Officer Scot Peterson: 'You Let Those Kids Die, It's Disgusting'
A student survivor from the deadly shooting at Marjory Stoneman Douglas High School has confronted the school's resource officer, challenging him over his failure to protect pupils and their staff members while a lone gunman rampaged inside.
Kyle Kashuv, a survivor of the February 2018 shooting in Parkland, Florida, that claimed the lives of 17 people, including students and staff members, just over a year ago, confronted former school resource officer Scot Peterson, asking him why he failed to enter the building and engage shooter Nikolas Cruz.
"Can you explain to me why, like, 17 people died in school? Fourteen kids, 17, while you stood outside with a gun and did absolutely nothing?" the 17-year-old asked Peterson in a charged monologue inside an elevator.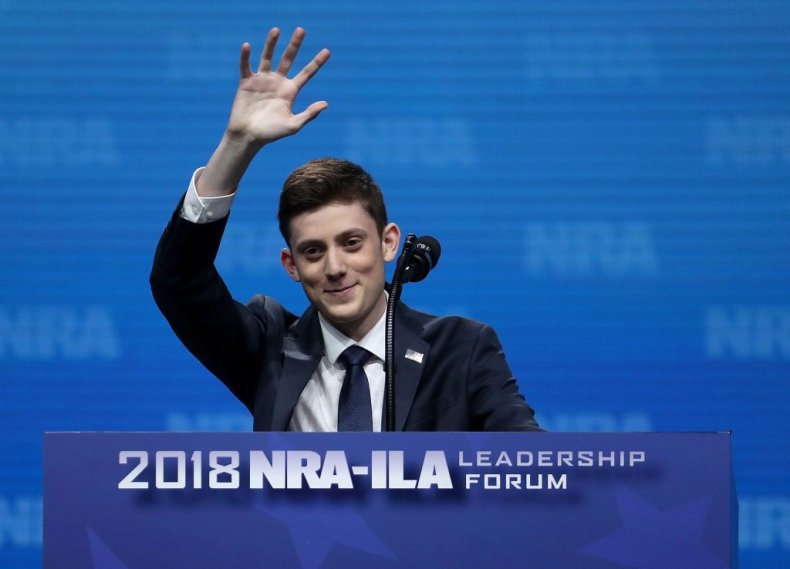 "That was your job, now you are getting paid like 80K to stand there while you let those kids die, it's disgusting, it's despicable and I hope that lives with you for the rest of your life. You had a chance to save those kids. You were the one with the job who was supposed to do it," Kashuv said to the former deputy.
"I don't know how you live with yourself every day, man. You were the one who was supposed to go inside. You didn't. You know I was a student there that day, in the building right next to it and fourteen of my classmates are never coming back because you didn't act."
Kashuv, who has taken a pro-gun position following the shooting in Parkland, posted the footage of the confrontation on his Twitter feed to over 283,000 followers. Most of the video, which appears to have been filmed on a cellphone, trains on Peterson, who avoids making eye contact with Kashuv and stares into the middle distance without saying a word. In the footage the camera occasionally pans to Kashuv who mostly speaks off-screen.
The pro-gun advocate, who is calling for greater protection of schools but has not pressed for gun control in the wake of the 2018 school shooting, accosted Peterson as the latter appeared at Broward County Courthouse to give a deposition in a civil suit filed by the father of murdered Marjory Stoneman Douglas High School student Meadow Pollack. CBS Miami reported that Andrew Pollack is suing Peterson after he failed to enter the school and confront the shooter.
Kashuv is less well-known than his contemporaries at Marjory Stoneman Douglas such as David Hogg and Emma Gonzalez, who have campaigned vigorously for stricter gun control laws. Kashuv has eschewed more stringent gun control measures telling CBS's Face the Nation in March 2018 that multiple layers of law enforcement failed on the day of the Parkland shooting. He has met with senior GOP figures including President Donald Trump, and First Lady Melania Trump, at the White House to advocate his pro-gun rights position.
Peterson told NBC news in June 2018 that he was sorry for the deaths of students at the high school but explained poor intelligence on the situation as the shooting unfolded and chaos at Marjory Stoneman Douglas had prevented him from intervening. "Those are my kids in there," he said in the TV interview. "I never would have sat there and let my kids get slaughtered. Never."