Parkland Shooting Victims' Parents Outraged After Broward County School Board Member Calls School Year 'Amazing'
Broward County school board member Donna Korn's praise for the 2017-18 academic year has drawn the ire of the families of students who were killed during the Marjory Stoneman Douglas High School shooting in Parkland, Florida, in February.
During a districtwide meeting on Thursday, Korn said that the district was coming off of an "amazing school year," according to a tweet by the district's director of school safety and security, April Schentrup.
Families of the victims in the shooting in Parkland, which is part of Broward County, were outraged by Korn's comments.
"Being an employee of the school district, and a mother who has endured such tragedy, it was difficult to hear those words," said Schentrup, whose 16-year-old daughter, Carmen, was killed in the shooting, the Sarasota Herald-Tribune reported.
Schentrup added that she was aware that she was not the only one in the area who struggled with moving on after the shooting and knows it wasn't "an amazing year."
In a statement to Newsweek Melissa Restrepo, who works for Korn, said the comment was taken out of context and Korn explained she was congratulating leaders in the district who "work extremely hard to educate our children."
"This was in no way a comment on the state of security within our schools or to overlook the tragedy at Marjory Stoneman Douglas," Korn added. "It was an accolade to the students, teachers and principals who work hard educating our children every day and inspiration for even greater success this year."
Fred Guttenberg, who lost his daughter, Jaime, during the shooting, tweeted, "Trust me, last year was not the best year ever" for the school district. "Your job is not to make yourself feel better, it is to address our needs," he added. "You have failed and the voters need to fire you." Hunter Pollack, whose sister, Meadow, was killed, retweeted Guttenberg's message.
The districtwide meeting occurred on the same day that various families of Parkland victims, from both sides of the gun control debate, held a press conference about the failures of the school board and the necessity for citizens to vote members out of office.
Tony Montalto's daughter, Gina, was killed during the shooting and urged anyone who is concerned with the safety of America's schools to "vote for new school board representation" that would be concerned with the issue.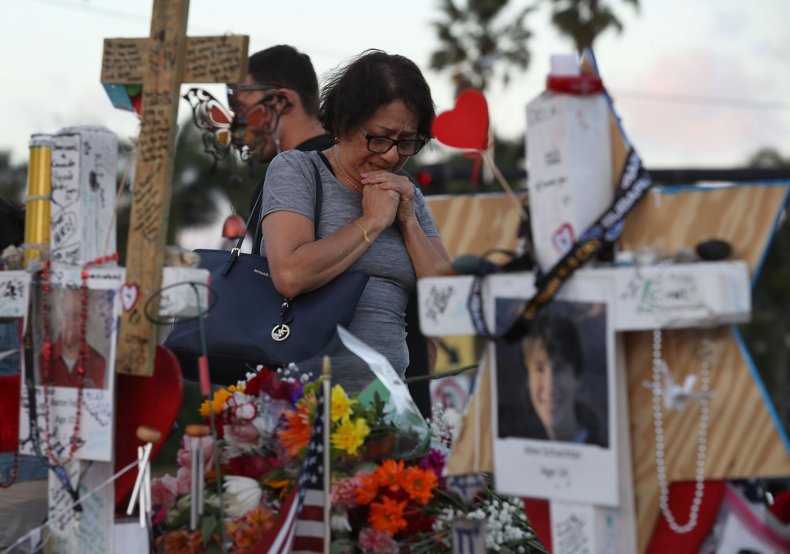 "We have focused on issues, but the school board has not provided answers," he said during the press conference, according to WJXT. "So today we would like to make the citizens of Broward County aware that the current school board has failed to properly prepare the county's 234 schools for the upcoming school year."
Andrew Pollack, Meadow's father, also expressed outrage over Superintendent Robert Runcie's failure to take accountability for the murder of his daughter. "He said 'fake news' when we asked him about the Promise program, and then, only to find out a month later, he was in the Promise program and he never even showed up when he went into the Promise program," he said, according to WPLG.
Korn is up for re-election, and running against her is Ryan Petty, whose daughter, Alaina, was killed during the shooting. He told WSVN that he's running so he can "represent parents all over the district who deserve to have their children come home to them every afternoon." Petty was recently endorsed by Florida Senator Marco Rubio, who tweeted that no one has worked harder or will be a more effective advocate for school safety than Petty.
On February 14, 17 students and school staff members were killed when a former student opened fire in the Parkland high school. The attack surpassed the 1999 Columbine High School shooting to become the deadliest school shooting in American history.
Since the Valentine's Day massacre, families of victims and surviving students have worked tirelessly to bring about change and implement measures to prevent other school districts from experiencing the same tragedy.
This article has been updated to include the response from Donna Korn and Melissa Restrepo.