Parkland Student Tweets Photo With Clarence Thomas, Says Justice Told Him Second Amendment 'Won't Be Touched'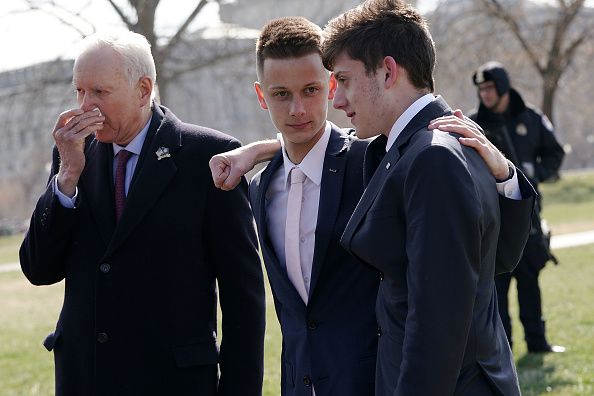 A Marjory Stoneman Douglas high school student who opposes gun control said conservative Supreme Court Justice Clarence Thomas told him that the Second Amendment was safe.
While some of his classmates who survived the February 14 school shooting in Parkland, Florida, launched a national movement for gun control reform, 16-year-old student Kyle Kashuv has become an outspoken pro–Second Amendment advocate.
Kashuv on Thursday tweeted a picture with the Supreme Court judge and said the two talked about past cases, the Constitution and how the Second Amendment "won't be touched."
In the aftermath of the Parkland shooting, when justices declined to hear a challenge to the waiting period for gun purchases, 69-year-old Thomas, who replaced Thurgood Marshall on the bench in 1991, wrote in a dissent, "The Second Amendment is a disfavored right in this court."
Just last week, John Paul Stevens, a former liberal U.S. Supreme Court justice, urged demonstrators from the March for Our Lives movement to push for the amendment's repeal. The third-longest-serving justice, he wrote in a New York Times op-ed that if advocates pushed for the repeal, they would get closer to their goal of gun reform.
Following the school shooting, Kashuv visited Washington, D.C., and met with lawmakers, as well as President Donald Trump and first lady Melania Trump. When the U.S. House of Representatives passed a bill known as the STOP School Violence Act in March, Kashuv was on hand with Senators Marco Rubio (R-Fla.) and Orrin Hatch (R-Utah). The bill provides federal grants to make schools safer by installing metal detectors and training school officials and local law enforcement on how to respond to mental health crises.