Parkland Survivor David Hogg Tells Media to Stop Naming School Shooters
Parkland survivor David Hogg went on Twitter on May 20, telling the media to stop identifying the 17-year-old suspected Santa Fe gunman and other school shooters.
In a tweet, Hogg said he didn't know the name of the shooter and didn't want to, before asking others to call out news organizations that continued to name the shooters with the hashtag #NoNotoriety.
"I don't know the shooter's name and don't want to. If you agree, anytime you see a post with their name or face from news organizations post #NoNotoriety with one of the victim's names," Hogg wrote. "We make these sick people known worldwide for their horrifying acts, let's stop that!"
Hogg, 18, is a survivor of the Marjory Stoneman Douglas High School shooting in Parkland, Florida, on February 14, and has since become a gun control advocate.
On Friday, Anderson Cooper took a stand while presenting on CNN and announced he would not name the Santa Fe gunman.
"The name of the alleged killer will not be said, nor will his face be shown. The only thing he deserves is justice. His victims deserve far better," Cooper said.
The shooting at Santa Fe High School in Texas on Friday lasted 30 minutes. It left 10 people dead—two teachers and eight students—and another 13 injured. According to authorities, the shooter used a shotgun and a .38 revolver he allegedly obtained from his father.
Cooper and Hogg's sentiments for shielding the shooter's names are in line with warnings from mental health professionals, who said that the attention teenagers get can motivate copycat shooters who want the same notoriety.
"No Notoriety" and "Don't Name Them" are two campaigns that have been launched in a bid to reduce mass killings and violent copycat crimes. Those efforts have been recognized and supported by various law enforcement agencies, including the FBI.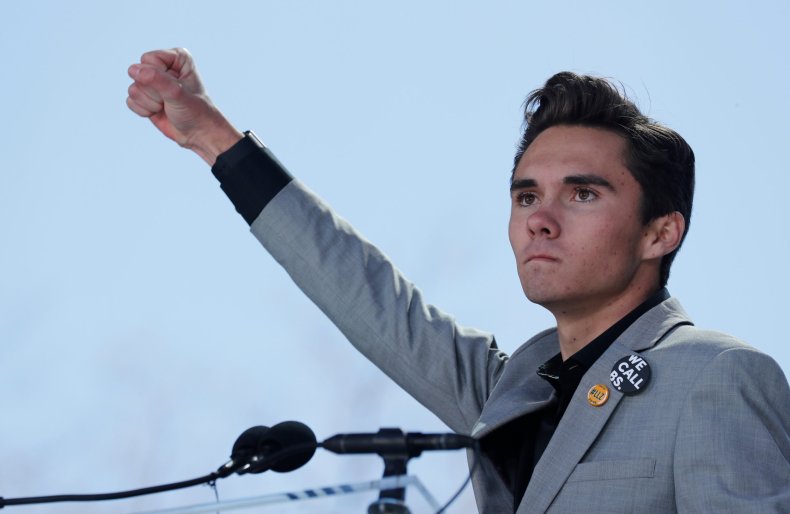 Eden Hebron, another Stoneman Douglas survivor, showed empathy for the students from Santa Fe in a USA Today op-ed on Sunday.
"Immediately after the shooting, I was put in touch with survivors from around the country who reached out to me. And this is my way of reaching out to you," wrote Hebron. "The Stoneman Douglas community will be here for you, whenever you need someone to talk to. Or someone who will listen to you. Know that the entire country is here for you. The news may slow down, but you'd be surprised by the support you have from all of us."