Parkland Survivor David Hogg Warns SCOTUS Decision Could Lead to More Gun Violence Victims
Parkland survivor David Hogg cautioned the Supreme Court about striking down New York's gun permit law, warning justices that their decision could result in more victims of gun violence like himself.
Speaking outside of the Supreme Court Building on Wednesday morning, Hogg said, "I can't tell you how disturbing it is knowing that what is going to be decided here today is very much going to impact whether or not there are future survivors with us that we don't even know yet."
"That's one of the most disturbing realities of doing this work over the past four years—[it] is seeing how this this club, that nobody wants to be a part of, is continues to grow," he added.
The 21-year-old gun control activist rose to prominence as a student survivor in the 2018 shooting at Stoneman Douglas High School, which killed 17 people and injured another 17. It was the deadliest high school shooting in American history.
Hogg joined other advocates in Washington D.C. on Wednesday to rally against what is projected to be the biggest gun rights case before the Supreme Court since 2008, when it established a nationwide right to keep a gun at home in self defense in the Heller case.
Hogg pointed out that his team's judicial advocacy team, which consists of four undergraduate researchers, were roughly six-years-old the last time the court saw a case on the Second Amendment.
"You know how old they were when Heller was decided?" he asked the crowd. "They were in first grade. We must refuse to pass this onto another generation. That is why we are here today."
"We're here at the Supreme Court to make that plea to our government to value its people over the dangerous gun lobby that filed this case," he added. "Do not take away what little protection exists in the law."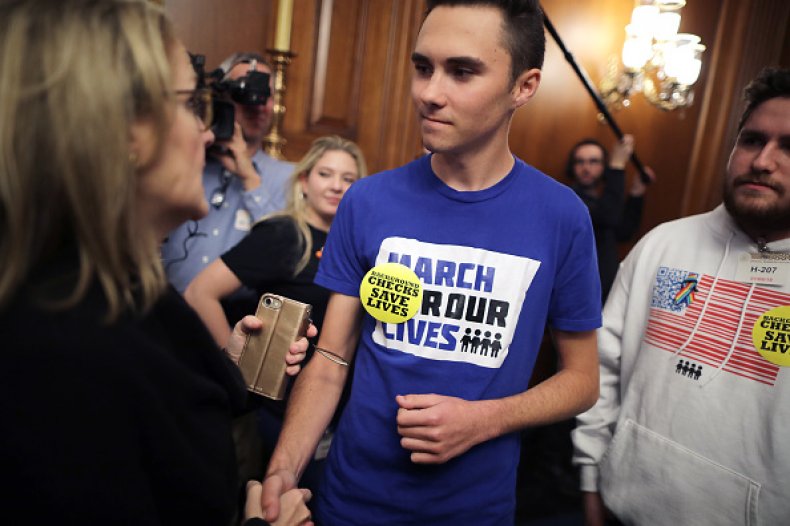 On Wednesday, the Supreme Court will hear oral arguments in New York State Rifle & Pistol Association Inc. v. Bruen, a case challenging New York's gun permit law that requires a person seeking a gun license to carry a firearm outside their home to demonstrate "proper cause."
Gun control advocates have warned that a ruling on New York's law could have profound impacts on some of the nation's largest cities, including New York City, Los Angeles and Boston.
While the issue doesn't affect most of the country's gun owners, California and a string of other Eastern states have similar laws that would be threatened by a Supreme Court decision.
Hogg and other Parkland survivors were also joined by Bob Mokos, a gun owner and veteran who became an activist after he lost his older sister to gun violence in 1986.
"I stand before you as a gun owner, a veteran who took an oath to the Constitution and as a gun violence survivor," Mokos said. "Being a survivor of gun violence puts me in the family into a fraternity that nobody wants to join. The price is just too high."
"Now, we are at a crossroads. We've got to decide whether or not we want a society that is safe and free from guns, or are we going to have our children's lives and our loved ones be the price we pay for the Second Amendment?" he asked. "I know where I stand, because I took an oath to the Second Amendment."