'Parks and Recreation' Reunion Cast: All the Stars Confirmed to Be Returning for the Quarantine Special
NBC is bringing back the cast of Parks and Recreation for one night only to raise money for Feeding America. A Parks and Recreation Special sees Leslie Knope (played Amy Poehler) trying to communicate with her friends during quarantine, and all of the former Parks and Rec team are confirmed to be returning. The series' creator Mike Schur has also teased a number of Pawnee side characters will also be coming back for the special.
All the stars confirmed to be returning for A Parks and Recreation Special
The following characters are confirmed to be back for the NBC quarantine special:
Leslie Knope–Amy Poehler
Ron Swanson–Nick Offerman
Ann Perkins–Rashida Jones
Tom Haverford–Aziz Ansari
Ben Wyatt–Adam Scott
Chris Traeger—Rob Lowe
Andy Dwyer–Chris Pratt
April Ludgate–Aubrey Plaza
Donna Meagle–Retta
Jerry Gergich–Jim O'Heir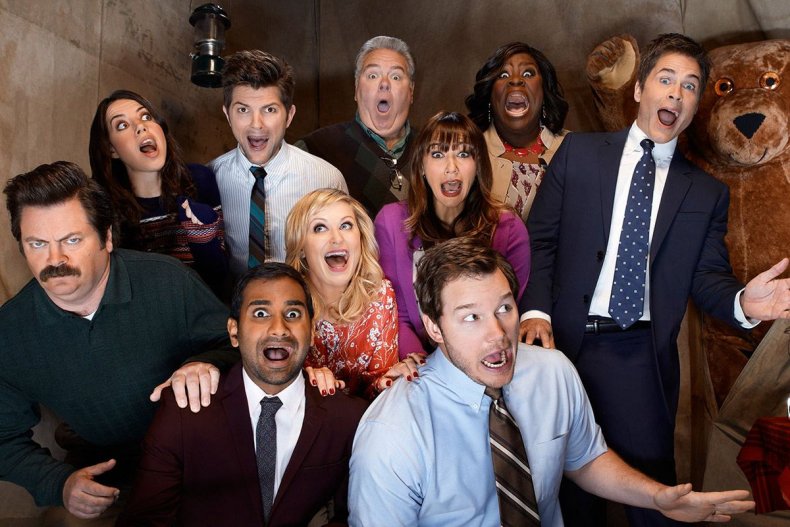 In a recent interview with TVLine, Schur gave Parks and Rec fans a hint of what the characters might be doing during the special. For example, nurse Ann Perkins will have been part of the battle against the coronavirus. He said: "We debated having her be on the 'front line', but we didn't want to seem like we were trivializing or making light of or trying to find humor in what is probably the least humorous aspect of this entire thing, so we [establish] that her job is not the same as the people who are really in the middle of this nightmare."
He also revealed that the reason he brought the show back for a reunion special is that Knope seemed like the right figure for the times. Schur said: "The reason why this project made sense [is because] the main character was eternally optimistic and believed in the power of community to hold people together...and she believed that government [was] a force for good [that could] help people in meaningful ways."
Alongside the 10 main cast members, around six other Pawnee residents from the NBC show making a return. For example, he teased: "The first face you see on camera will not be one of the 10 main cast members, and that sets the tone for the show." Though he did not say who this person would be, with most people glued to the news at this time, it would surely be a great time for local newsreader and Ya Heard? With Perd! host Perd Hapley (Jay Jackson) to make an appearance.
The other Pawnee residents who could return include Perd's rival newscaster Joan Callamezzo (Mo Collins), Tom's deadbeat and "technically homeless" friend Jean-Ralphio (Ben Schwartz) and Leslie's government nemesis Councilman Jamm (Jon Glaser).
A Parks and Recreation Special airs on Thursday, April 30 at 8:30 a.m. ET on NBC.