Parler's Amy Peikoff Quotes Martin Luther King Jr. In First Post Since Site's Return
Parler's chief policy officer Amy Peikoff shared a Martin Luther King Jr. quote about extremism to the social network this week. The platform has been accused of failing to combat extremist and racist user content.
In a post published to the website on Monday, marked as Martin Luther King Day in the U.S., Peikoff published an excerpt from an open letter penned by the American civil rights leader in 1963—now known as the "Letter from Birmingham Jail."
"But though I was initially disappointed at being categorized as an extremist, as I continued to think about the matter I gradually gained a measure of satisfaction from the label," read the quote, uploaded after Parler's partial return this week.
Adding a comment under the Martin Luther King Jr. letter excerpt, Peikoff wrote: "Might this be the year that all of us, regardless of political belief, become extremists for freedom of expression and privacy? Wouldn't that turn 2021 on its head?"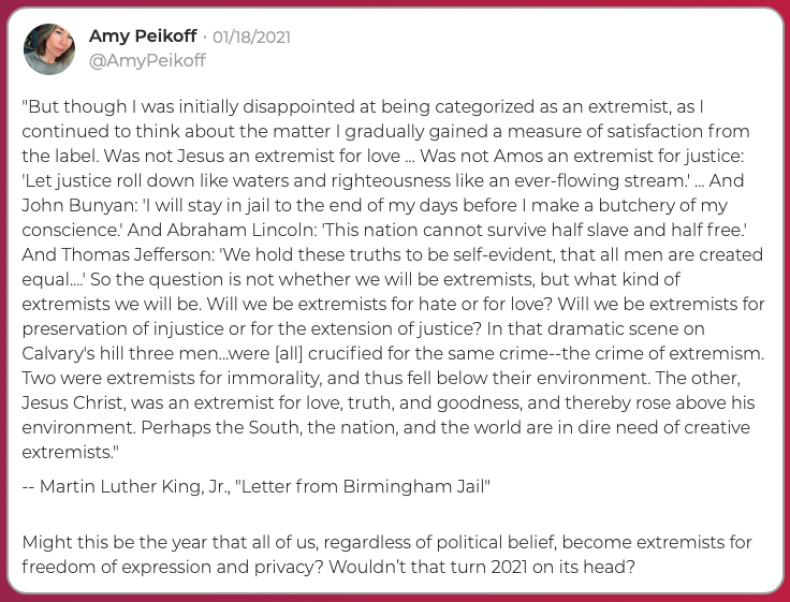 Parler remains offline after its account with the hosting provider Amazon Web Services (AWS) was suspended on January 11. Its apps were pulled by Apple and Google last weekend over an alleged failure to police extremist content from users, including posts that were linked with the January 6 siege on the U.S. Capitol Building.
The trio of tech companies reacted swiftly after a mob of Trump supporters stormed the building in Washington, D.C. in the wake of a speech by the president.
Google said it was aware of Parler posts that sought to "incite ongoing violence in the U.S.," while Apple said the platform's app appeared to have been used to "plan and facilitate" illegal and dangerous activities, Buzzfeed reported at the time.
In a legal filing last week, Amazon Web Services (AWS) alleged that the violence in the Capitol had been "assisted by content posted by Parler users." In addition, AWS said it logged "dozens of examples of content that encouraged violence, including calls to hang public officials, kill Black and Jewish people, and shoot police officers."
One Parler user's post allegedly read: "On January 20th we need to start systematicly assassinating #liberal leaders, liberal activists, #blm leaders and supporters." BLM is an acronym for the anti-racial discrimination movement Black Lives Matter.
AWS said another flagged racist user post had read: "We need to act like our forefathers did Kill [Black and Jewish people] all Leave no victims or survivor."
Peikoff posted the same Martin Luther King Jr. quote to her Twitter on Monday, sparking criticism from some users but ultimately the post gained little traction or attention.
Martin Luther King III, the oldest son of Martin Luther King Jr., told CNN his father would be "greatly disappointed" in the state of the country if he was still alive today. He said: "He understood we are a United States of America, not a divided state of America, and he would be telling us we must turn to each other, not turn on each other."
Bernice King, the youngest child of Martin Luther King Jr. and Coretta Scott King, also tweeted on Monday: "Please don't act like everyone loved my father."
She added: "He was assassinated. A 1967 poll reflected that he was one of the most hated men in America. Most hated. Many who quote him now and evoke him to deter justice today would likely hate, and may already hate, the authentic King."