On Parler, People Turn on Mitch McConnell for Recognizing Biden as President
Users of Parler, the social network preferred by many conservatives, are not too happy with one of their own: Mitch McConnell. During a 10-minute speech on the Senate floor on Tuesday morning, the Senate majority leader recognized Joe Biden as the president-elect for the first time. Not only that, the right-wing stalwart from Kentucky even congratulated the former vice president, who also spent many years as his political enemy in the Senate.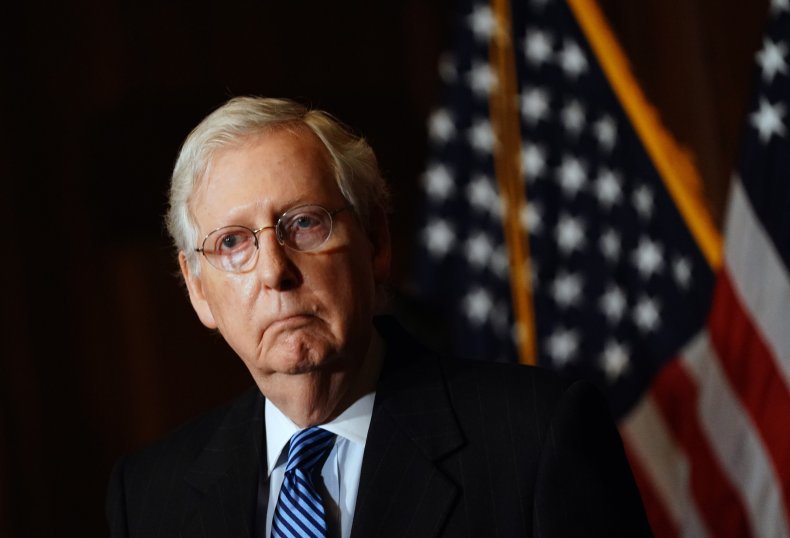 "The Electoral College has spoken," McConnell said, before adding he wanted to "congratulate the President-elect Joe Biden" and Vice President-elect Kamala Harris.
"What a terrible move. He just lost his speakership. Now Nancy [Pelosi] can impeach him," wrote one Parler user about the news. Others called him a traitor or a RINO (Republican in name only), while hashtags like #cocainemitch and #moscowmitch became popular.
Republican lawmakers have begun recognizing Biden's victory following Monday's Electoral College vote, though some holdouts said they will wait for Congress to certify the Electoral College results on January 6. McConnell, more than accepting the results and congratulating Biden, also noted the historic precedent set by Harris. He said, "beyond our differences, all Americans can take pride that our nation has a female vice president for the very first time."
Parler has become a popular platform among conservatives, especially those with stringently right-wing views, due to its very loose restrictions regarding censoring posts. Parlor's "free speech" policy allows users to post conspiracy theories, with election fraud being perhaps the most common one. Today, though, other theories abounded about McConnell, including that he has connections to China through his wife, Elaine Chao.
Here's one of many such posts:
The popular Twitter account Parlertakes, which boasts it "looks at Parler so you don't have to," included snapshots of some of the McConnell posts.
The responses captured there run the gamut from disbelief of what one person called "fake news" to anger to a user holding out hope the McConnell's acceptance of the election results was part of some sort of larger plan on the part of the Republicans.
"Let's see the tape of that. AP is msm and is deepstate [sic]," wrote a conspiracy-minded commenter. The term msm refers to "mainstream media," in this case the Associated Press (AP), while deep state is a popular term among conspiracy theorists who believe in things like a shadow government is pulling the string of national politics. The Oxford Dictionary defines it as such: "A body of people, typically influential members of government agencies or the military, believed to be involved in the secret manipulation or control of government policy."
Whether this Parler backlash against McConnell is indicative of the sentiment among conservative voters as a whole remains to be seen. If McConnell wants to use Parler to reply to the outcry against him, he'll have to sign up for a membership first. Like Donald Trump, McConnell has thus far been a Parler holdout.