Parler Calls Facebook and Twitter's Handling of New York Post Article 'Outrageous'
Parler, the "free speech social network" that has become a haven for right-wing commentators, along with Donald Trump supporters and the Proud Boys, has hit out at Facebook and Twitter after the sites worked to limit the spread of an article published by the New York Post.
The article claims that Joe Biden's son, Hunter, accepted money from a Ukrainian energy company in exchange for access to the presidential candidate. Biden has denied the claims.
In a blog post titled "Outrageous: Facebook and Twitter are now 'Fact-Checking' the Main-Stream Media," Parler criticized both companies.
"Once again, Facebook and Twitter have proven that they are agenda-driven publishers who want to control information and trample on our right to read what we want and decide for ourselves what to think," the Parler blog post cites CEO John Matze as saying.
Twitter and Facebook have provided different reasons for clamping down on the New York Post article.
Twitter blocked the article's URL because it violates two of the platform's policies.
"The images contained in the articles include personal and private information—like email addresses and phone numbers—which violate our rules," it said. "We also currently view materials included in the articles as violations of our Hacked Materials Policy.
"Commentary on or discussion about hacked materials, such as articles that cover them but do not include or link to the materials themselves, aren't a violation of this policy. Our policy only covers links to or images of hacked material themselves."
However, its explanation only arrived after Twitter started blocking the article, something that Twitter CEO Jack Dorsey described as "unacceptable."
Instead of blocking the article outright, Facebook has said it is "reducing [the story's] distribution" on its platform because it needs to be fact-checked.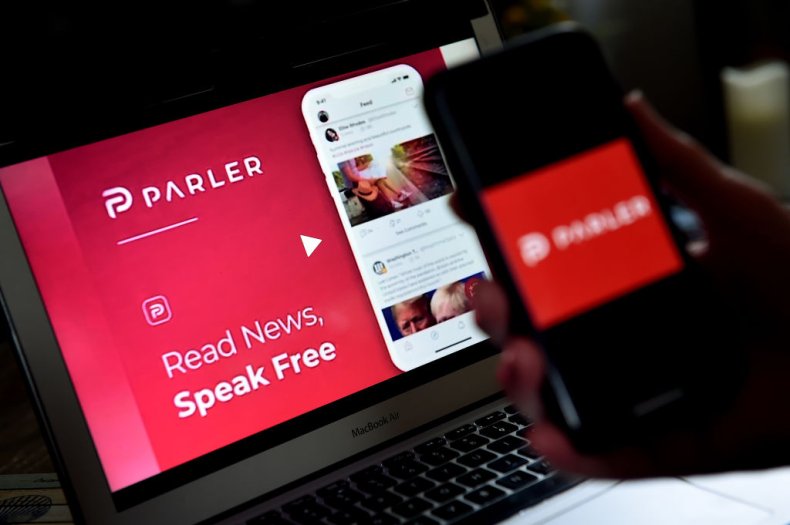 "While I will intentionally not link to the New York Post, I want [to] be clear that this story is eligible to be fact checked by Facebook's third-party fact checking partners. In the meantime, we are reducing its distribution on our platform," Facebook policy communications manager Andy Stone tweeted.
"This is part of our standard process to reduce the spread of misinformation. We temporarily reduce distribution pending fact-checker review."
Parler has long been beating the drum for Facebook and Twitter users to delete their accounts, and renewed calls for social media users to join Parler off the back of the incident.
"Americans have the right to read provocative stories and evaluate the evidence for themselves. In this case, we are talking about allegations of corruption at the highest levels of government, which should be exposed to the open air and sunlight, not swept under the rug by Tech Oligarchs," its blog post said.
"Americans deserve a free and open Public square—not technoauthoritarianism. It's time to #Erasebook, #Twexit and join the movement at Parler."
Tweets from right-wing personalities threatening to switch from Twitter to Facebook have become a fairly common sight on the website, especially in the aftermath of an online controversy—though Parler's user base is still miniscule compared to those of Facebook and Twitter.
Parler says it has four million users, and as of October 1, the Parler app had 3.4 million installs from across the App Store and Google Play globally, app analytics company Sensor Tower has told Newsweek.