Parler CEO Says Site Was Shut Down to 'Deny Trump a Platform' After He Considered Joining
Parler CEO John Matze said in a court filing on Wednesday that the social media site was shut down in part to deny President Donald Trump a platform after he considered joining under the pseudonym of "Person X."
Matze said Trump expressed interest in creating an account under that name since October 2020, and alleged that Amazon Web Services (AWS) terminated its contract with Parler this week in order to prevent "a surge" of his supporters from joining the site.
"I believe AWS's decision to terminate service to Parler was based, not on expressed concerns about Parler's compliance with the AWS Agreement, but in part on a desire to deny President Trump a platform on any large social-media service," Matze said in the filing.
The Parle CEO also accused an AWS representative who was assigned to the platform as being a "Joe Biden supporter" and aware of Trump's reported plan to join the social media platform.
"AWS knew there was a possibility that Trump might obtain a Parler account, likely bringing with him a surge of followers to the Parler platform," he said, adding that the web service "had inside and confidential knowledge from Parler about when and if he would join."
Amazon denied these claims in a statement given to Newsweek on Thursday, and said that suspending Parler "had nothing to do with politics."
"As we made clear in our public statements and legal filing, suspending Parler had nothing to do with politics. We suspended Parler because they were unable to effectively identify and remove content that encourages or incites violence," the statement read.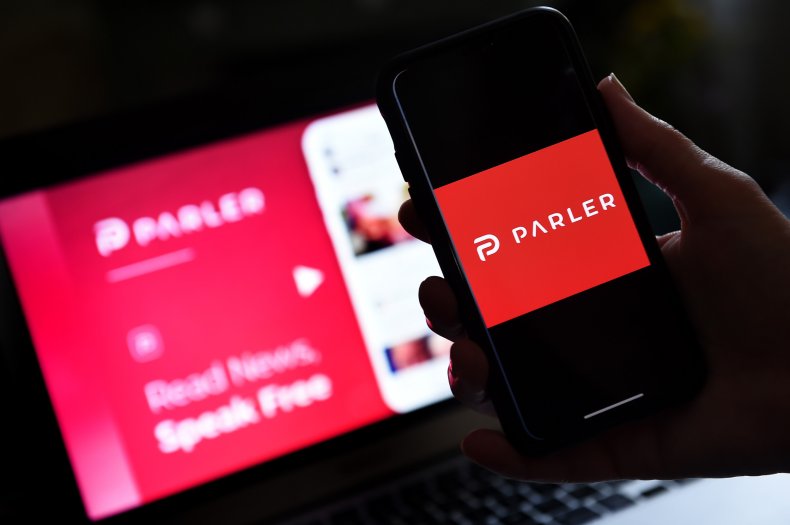 AWS took Parler offline on Monday after a violent mob of Trump supporters attacked the U.S. Capitol last week, leaving at least five people dead.
The riot prompted a wave of social media bans as tech companies sought to limit the potential of their platforms being used to incite further violence. Trump has since been removed from Twitter, Facebook, Instagram, Snapchat and YouTube.
Amazon said the decision to remove Parler came as a "last resort," after the company failed to remove content that "threatens the public safety, such as by inciting and planning the rape, torture, and assassination of named public officials."
AWS added that it had issued repeated warnings since mid-November, and that Parler had refused to remove more than 100 examples of content "advocating violence." Among them were "dozens of examples of content that encouraged violence, including calls to hang public officials, kill Black and Jewish people, and shoot police officers in the head," AWS said.
Parler, which was pitched as alternative to Twitter and had become popular among Trump supporters and far-right groups for its lack of content moderation, has also had its app deleted from iOS and Android stores.
On Monday, Matze said the social media site "may never" get back online.
"Parler has tried to find alternative companies to host it and they have fallen through. It has no other options. Without AWS, Parler is finished," he said in a filing by the company on Tuesday.
"If Parler is not available, people will turn to alternatives, or perhaps return to Twitter or Facebook. What is more, Parler's current users are likely to leave and go to another platform if Parler is down for an indefinite period. And once those users have begun to use another platform, they may not return to Parler once it's back online."