Parler Boss Blames 'Trolls' as Fake Viral Image Claims George Soros Owns Social Network
The man behind conservative social media platform Parler clarified the site's ownership structure this week after an image spread on social media claiming the app is owned by billionaire philanthropist George Soros.
Parler CEO John Matze said in a post on Wednesday that Soros has "no association" with his operation, which surged to the top of the Apple and Android app stores this week following Joe Biden's election victory over President Donald Trump.
"Can you believe how desperate the trolls are getting falsely claiming Parler is [owned] by Soros?" Matze wrote on his profile. "Minus 10 points for lack of creativity."
The Parler team was forced to respond as a photoshopped image circulated on Twitter, designed to look like a Fox News segment and seemingly duping some users. A number of Twitter profiles were spreading it via the hashtag #SorosOwnsParler.
The fake picture showed a chyron that read: "Fox News confirms: George Soros is majority owner of new social platform Parler."
Multiple profiles spreading the image on Twitter attracted thousands of shares and likes. As screenshots continued to flow through social media today, some users appeared to believe the claim—many repeating it. As one Twitter user noted: "It's all over YouTube. You just have to know where to look. George Soros definitely owns Parler!"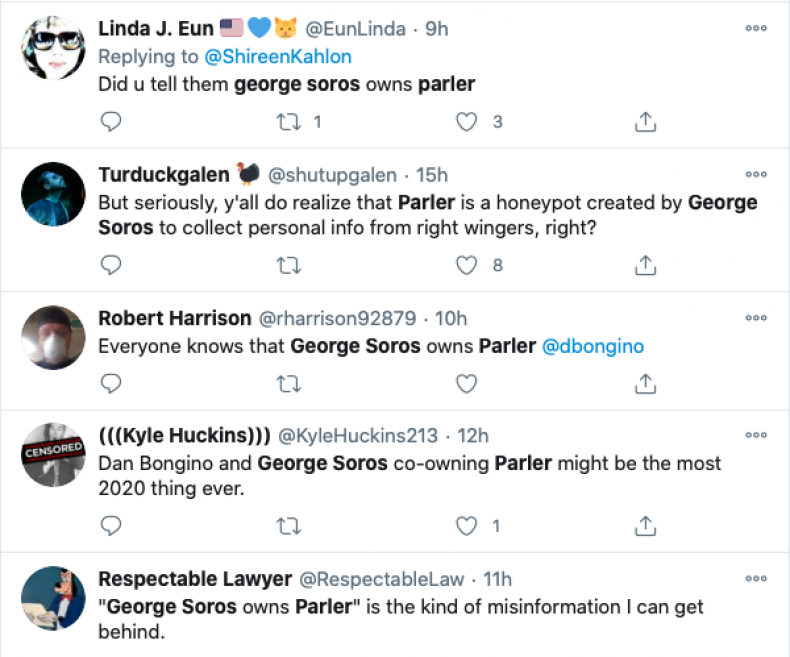 Soros is a frequent target of conspiracy theories and has been labeled in the media as being a long-time "boogieman" of the far right due to his funding of progressive causes via his philanthropic organization, the Open Society Foundations.
A Hungarian-American Jewish billionaire, he has been accused of "owning" or funding a number of movements, including Black Lives Matter and antifa, while other conspiracies have also accused him of funding anti-Trump protests. Many of the unfounded claims have very clear anti-Semitic ovetones, the Anti-Defamation League (ADL) has said.
"Soros has become a lightning rod for conservative and right-wing groups who object to his funding of liberal causes," the ADL said in an explainer back in 2018.
The claim of the billionaire's involvement in Parler was also rejected on Wednesday by Dan Bongino, a conservative personality and investor in the app.
He tweeted: "This is a photoshopped image. THIS IS NOT REAL. There are people out there desperate to take down Parler who are spreading BS hoping you'll buy it. I OWN PARLER. This is the 4th or 5th time I've had to fight back against this stuff."
Parler remains at the top of the iOS and Android download charts as of Thursday, data from the analytics platform Sensor Tower shows. Since the November 3 election, won by Trump's Democrat opponent Biden, conservative social media users have claimed to be leaving mainstream sites such as Facebook and Twitter, citing censorship.
High-profile users—including Fox host Sean Hannity, Senator Ted Cruz, Congressman Devin Nunes and radio personality Mark Levin—have gained millions of followers.
Matze said in a release on Tuesday that the site had enjoyed "exponential growth" but noted that onboarding so many new users had surfaced bugs and glitches.
He claimed "suppression of election information" by Facebook and Twitter was a major catalyst for the download surge. As the election approached, both sites had labeled or covered some of the president's posts for breaking misinformation policy.
Matze said that since last Friday more than 4.5 million new Parler accounts were made. He said over five million accounts were active on the platform on Monday this week, which was about an eight-fold increase in daily activity from the week prior.
The Open Society Foundations and Fox News have been contacted for comment.