Parler has said it was "disappointed" by a judge's refusal on Thursday to help restore access to hosting via Amazon Web Services (AWS).
The social network—popular among conservatives and Trump supporters—lost a bid to obtain a preliminary injunction against the tech giant, which suspended Parler's account over alleged failures in moderating extreme content from its users.
In a statement posted on its temporary website, which returned with limited functionality this week with the help of a Russian tech company called DDoS-Guard, Parler said the team remains "confident" that it "will ultimately prevail in the main case."
Parler said that it had not been acknowledged that other social media companies also host extreme user content, suggesting that it had been unfairly targeted.
The company said: "Parler is disappointed that the court's ruling ignored the reality that every social-media platform, including Amazon's own online store, sometimes unwittingly hosts content that incites violence or is otherwise inappropriate."
The social network said it has "developed an artificial intelligence-based enforcement system" which, it believes, can be rolled out to reduce unwanted user content.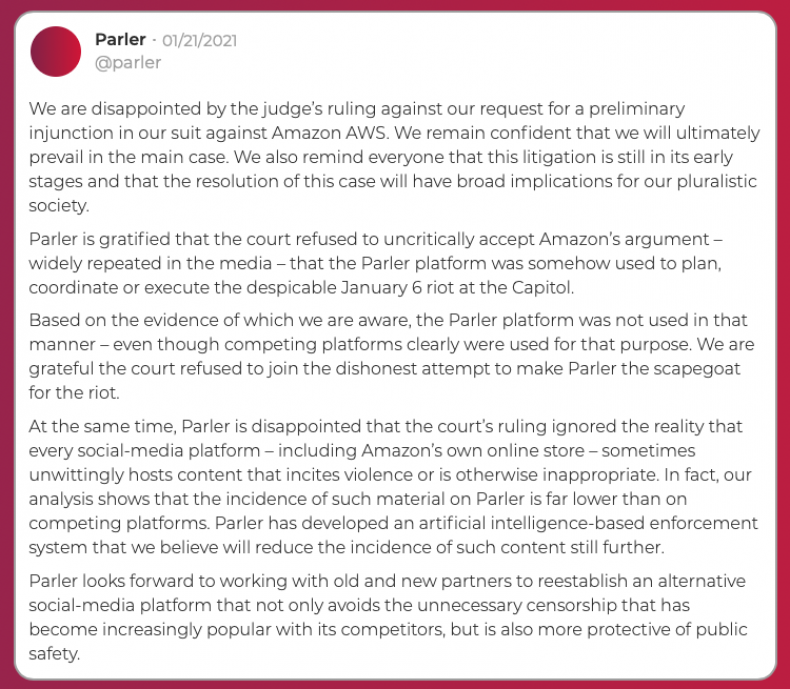 Judge Barbara J. Rothstein ruled on Thursday that while the case would not be fully dismissed, she rejected the suggestion that AWS was obligated to host abusive and violent content "particularly "in light of the recent riots at the U.S. Capitol."
"That event was a tragic reminder that inflammatory rhetoric can—more swiftly and easily than many of us would have hoped—turn a lawful protest into a violent insurrection," Judge Rothstein wrote in the order, denying the motion.
"The court rejects any suggestion that the public interest favors requiring AWS to host the incendiary speech that the record shows some of Parler's users have engaged in. At this stage, on the showing made thus far, neither the public interest nor the balance of equities favors granting an injunction in this case," the ruling elaborated.
In its own filing, AWS previously said it had flagged a wave of extreme user content to Parler, and alleged the site was "unwilling and unable" to address the issues.
Some of the content previously flagged by AWS had included "dozens of examples of content that encouraged violence, including calls to hang public officials, kill Black and Jewish people, and shoot police officers in the head," AWS said.
Judge Rothstein ruled that granting an injunction was not yet viable despite Parler's claims about a new artificial intelligence-based moderation tool.
She wrote: "There is no debate... that forcing AWS to reinstate its services now before [a] system can be implemented would result in the continued posting of the kind of abusive, violent content that caused AWS to shut Parler down in the first place."
The social network, pitched as a rival to Twitter that would better protect the free speech of its user base, remains offline as of Friday morning, as do its mobile apps.
Parler executives have admitted it has been a challenge to find an alternative website hosting provider after the platform was pulled offline by AWS last Monday.
The social network's CEO, John Matze, said in a court filing on Monday—as part of the AWS litigation—that at least six "extremely large potential providers" had refused to work with the social network in the wake of Amazon dropping its account.
Parler has been contacted for comment by Newsweek.
An AWS spokesperson told Newsweek via email: "We welcome the court's careful ruling. This was not a case about free speech. It was about a customer that consistently violated our terms of service by allowing content to be published on their website that actively encouraged violence, and without an effective plan to moderate it."