Parler Sues Amazon After Platform Taken Offline Following U.S. Capitol Riot
The social networking platform Parler announced Monday it is suing Amazon after being booted from the latter's web hosting service in the wake of last week's deadly U.S. Capitol riot.
Parler said it is suing for antitrust violation, breach of contract and unlawful business interference and is asking a federal judge to order Amazon to reinstate the platform.
In a complaint filed against Amazon Web Services (AWS) in federal court, Parler said Amazon's decision was "motivated by political animus" and "designed to reduce competition in the microblogging services market to the benefit of Twitter." Twitter is also a customer of the AWS division.
The emergency suit, filed Sunday, sought to prevent AWS from shutting down Parler at the end of the day. It compares the removal of the platform to "the equivalent of pulling the plug on a hospital patient on life support."
"It will kill Parler's business—at the very time it is set to skyrocket," the complaint reads.
Pitching itself as a free-speech alternative to Twitter, Parler has become one of the fastest-growing apps in the United States in recent months.
As social media giants like Facebook and Twitter have increasingly cracked down on posts that spread misinformation, President Donald Trump's supporters have flocked to Parler.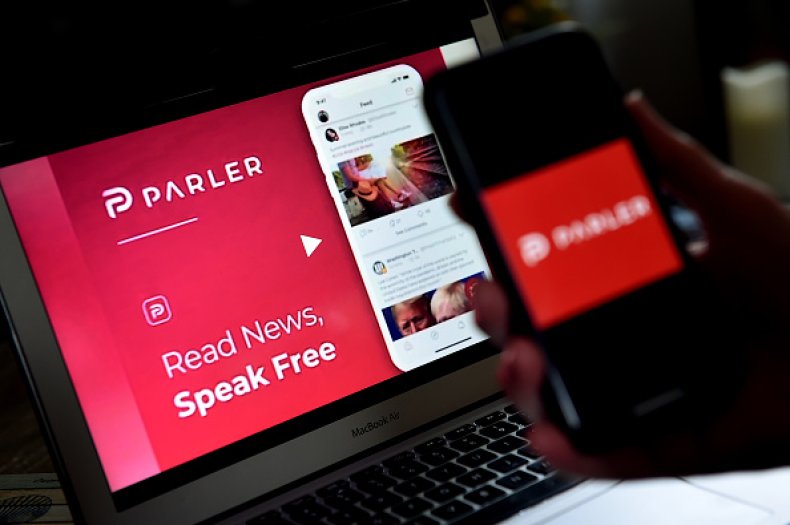 Last week, several prominent social networks suspended Trump's accounts following the riots at the U.S. Capitol building Wednesday, stating that more posts from the president may provoke further violence. The social media ban only attracted more users to Parler.
In response, Apple and Google removed Parler from their app stores, saying the platform did not sufficiently monitor users' posts, many of which encouraged violence.
On Saturday, Amazon said it would boot Parler beginning Sunday night due to repeated violations of Amazon's rules.
Parler CEO John Matze accused Amazon, Apple and Google of "using this as opportunity to squash the first real competitor in this space in so many years."
"That's showing that we can contest the market. When they realize the markets are contestable, they squash competition. If there's a case for antitrust, I think this is a pretty prime example that the first real tangible competitor's squashed so quickly, so egregiously," Matze told Fox News' Maria Bartiromo Monday morning.
Matze called it a "double standard" that some of the content deleted from his platform remains available on Twitter.
"We see all sorts of nasty, threatening content on Twitter, much more of it actually, in our opinion, and, actually, a lot of content that's deleted from Parler still remains on Twitter to this day in the form of screenshots. So I don't understand, you know, what this is really about," Matze said. "Because it is not about holding everybody to account equally. It is about giving preferential treatment to certain people."
In a statement shared with Newsweek, an AWS spokesperson said the company provides services to customers across the political spectrum.
"[W]e respect Parler's right to determine for itself what content it will allow," the spokesperson said. "However, it is clear that there is significant content on Parler that encourages and incites violence against others, and that Parler is unable or unwilling to promptly identify and remove this content, which is a violation of our terms of service."
The spokesperson said AWS had made these safety concerns known to Parler over a number of weeks but during this time, Amazon noticed "a significant increase in this type of dangerous content," which led to the suspension of Parler over the weekend.
Update 01/11/20 6:10 p.m. This story was updated with comments from AWS.