Parler Users Float Unfounded Conspiracy Theories After Google Outage: 'Chinese or Aliens'
Google experienced a massive service interruption for about an hour on Monday morning, and some users of the social media network Parler quickly offered up their thoughts on what happened. Their responses ranged from accusatory to just plain unbelievable, though it's not clear if the more over-the-top theories were written at least somewhat in jest.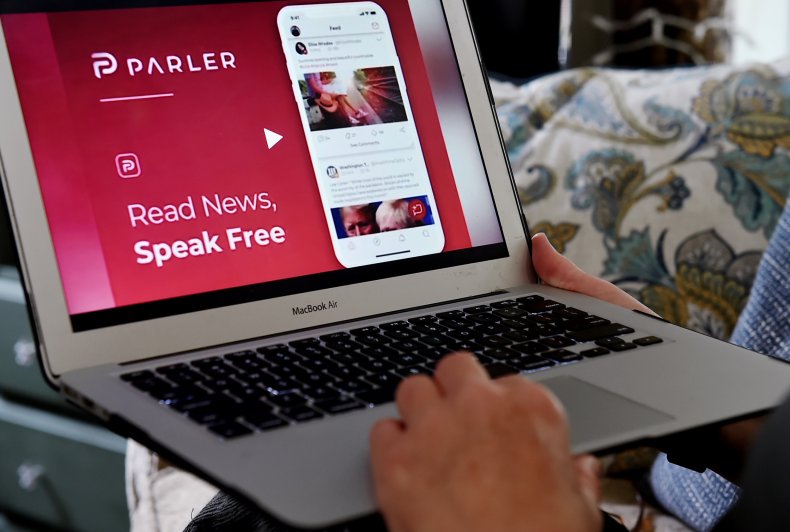 "Chinese are starting their invasion," wrote one person. "They're probably in the process of deleting all conservative websites, videos and documentaries," wrote another.
Parler bills itself as the "free speech" alternative to Twitter and Facebook because it does not censor or delete user posts. The platform launched in 2018, but saw its membership grow substantially in the past year, particularly following the presidential election when new membership nearly doubled in one week alone to more than 8 million users. Much of this tremendous growth came from conservatives, particularly those who are staunchly pro-Trump, who flocked to Parler to express their views (and sometimes fraudulent election claims) without restraint.
Many right-wing celebrities and high-profile politicians have also extolled the advantages of Parler, such as Scott Baio and Republican Texas Senator Ted Cruz. Though it was lesser-known users who garnered attention this morning, after the Twitter account Parlertakes posted responses from Parler about the Google outage. (If anyone is wondering about Parlertakes' agenda, the Twitter bio for the account states: "I look at Parler so you don't have to.")
One Parler user posted this message in regards to the service interruption: "I saw with my own eyes anywhere from 15-25 paratroopers high up in the sky with their parachutes with no single plane in sight around 6ish..." While another simply stated, "It's either the Chinese or the Aliens."
Responses to Parlertakes' post mocked the theories, of course. Many people harshly insulted the Parler users' messages, though some tried to offer up some reasoning. For example, one commenter wrote: "I love that they're pretty sure it's a conspiracy to hamper communications. But none of them think it's weird that all the media outlets you can communicate quickly on still work just fine."
The Google outage began this morning at around 6:47 am ET and resulted in people around the globe being prevented from watching YouTube, accessing their Google Docs, or even sending email on Gmail. Students who use Google Classroom for remote learning were also temporarily unable to do so before most of the services began operating again a little after 8:00 am ET. Google blamed the outage on an "internal storage quota issue."