Parler Users Say Their Goodbyes As Site Taken Down: 'FREE SPEECH WILL WIN'
Parler users have shared their thanks and support with the self-styled "free speech" site as it was taken offline by Amazon hosting for breaching its service agreement.
The social network was launched in 2018 and enjoys patronage from right-wing conservatives, who feel mainstream networks censor their views. Many of its users signed up after being banned or suspended from Twitter.
Amazon said its decision to suspend hosting services came after finding 98 posts on the site that promoted violence.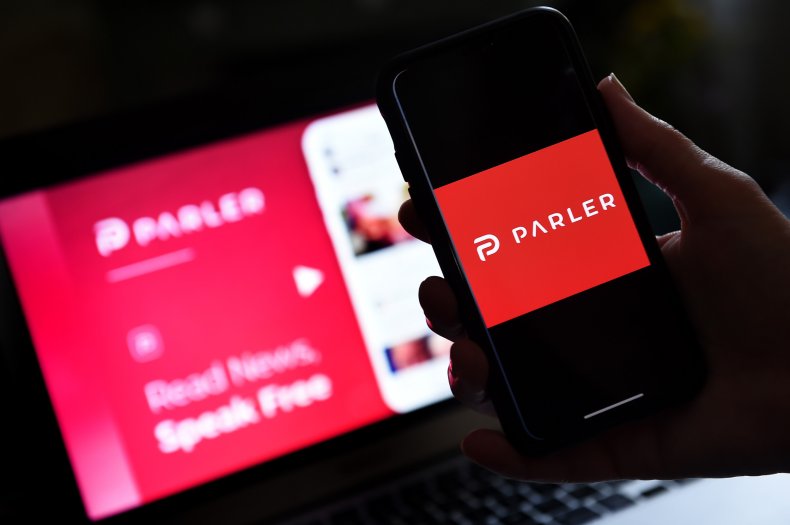 Parler had been called out in analysis of the events leading up to Wednesday's unrest in Washington. A number of users published posts promoting and coordinating violence at the 'Stop the Steal' riots.
President Donald Trump is not a member of Parler. Leading right-wing figures who do have a presence on the social network include Fox News host Sean Hannity, who has seven million followers, and Texas Senator Ted Cruz, who boasts 4.9 million.
The site went offline just after midnight PCT today. Google, Amazon and Apple had all previously removed its app from their stores.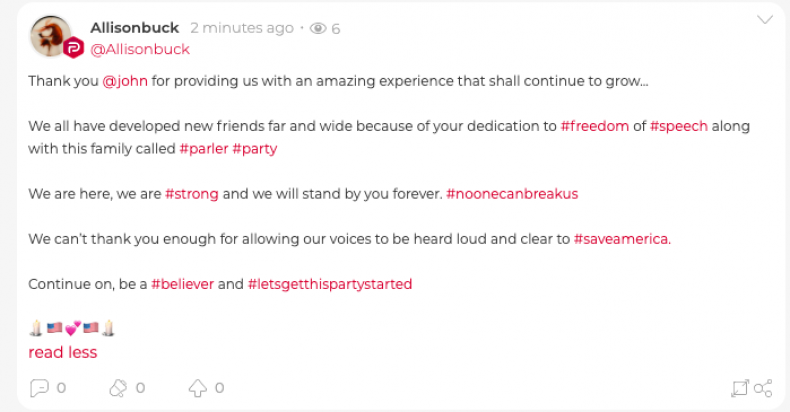 A number of users wrote farewell messages, expressing hope it would soon return.
'We all have developed new friends far and wide because of your dedicatiopn to #freedom of #speech along with this family called #parler #party,' user Alisonbuck wrote.
Aj4America, wrote: "I hope you are hustling to make it into a web app. Backup everything. Change your CLOUD and host the site yourself. You got this! I'll be checking back to see if you work."
One user, Jacob Blue, posted a video of a scene from Titanic, in which the band plays "Nearer My God to Thee" as the ship sinks, along with the message: 'Fellow Parler's... it's been an honor parleying with you. Until we meet again."

Another, Hma3, wrote: "Find me on Gab," referring to a similar social network that prides itself on providing a space for unregulated speech.
@Ishiro wrote: 'Thank you for everything you've done. Even if Amazon silences you, I will return to your platform the moment you get it up and running again, #parler #shutdown #bigtechcensorship #freespeech.'
Parler's chief executive John Matze warned that the site could be offline for up to a week while "we rebuild from scratch".
The site gained popularity as a space to discuss conspiracy theories as well as politics, with many users expressing support for the belief that November's election was rigged so that Joe Biden won unfairly.
Ahead of Congress's meeting on January 6 to confirm Biden as president, many urged violence at the corresponding 'Stop the Steal' March in Washington. The protest ended in chaotic scenes, with the storming of the Capitol building and the deaths of five people over the course of the day.

Matze said he is now working to rescue the data of Parler's 15 million users from Amazon's servers, while looking for an alternative host for the social network.
Matze wrote on Parler Saturday that he saw the removal of the site as part of an effort to "completely remove free speech from the internet".
"This was a coordinated attack by the tech giants to kill the competition in the market place. We were too successful too fast. You can expect the war on competition and free speech to continue, but don't count us out."
While Facebook, Twitter and other mainstream social media platforms often refused to censor users' posts in the past, the rise of disinformation and fake news has more recently compelled them to give way on this commitment.
Parler has benefited from the new restrictions imposed by the social media giants, which allow it to present itself as a rare example of a host for free speech.