Parler Will Be Shut Down for 'Longer Than Expected,' Says CEO John Matze
Parler CEO John Matze conceded on Monday that the website will likely be down longer than expected after the platform was ousted by the two main mobile app stores and web hosting giant Amazon Web Services (AWS).
Apple, Google and Amazon, a trio of tech giants that control distribution and storage of websites and apps, took steps against the "free speech" platform over the weekend for it failing to moderate posts potentially encouraging or inciting violence in the U.S.
The move came just days after a mob of Trump supporters stormed the Capitol Building in Washington, D.C.—a siege that left five people dead, including a police officer. Twitter and Facebook have each blocked the accounts of President Donald Trump.
Matze initially said on Sunday there was a possibility that Parler would be unavailable for "up to a week" as they attempted to "rebuild from scratch," noting his team would seek an alternative web hosting service. That appears to have proven difficult.
"We will likely be down longer than expected," Matze wrote in a short update to users ahead of Amazon's planned suspension, scheduled for January 10 at 11:59PM PST. He indicated the reason was other companies were unwilling to work with Parler.
Matze wrote in a post: "We have our software and everyone's data ready to go. Rather it's that Amazon's, Google's and Apple's statements to the press about dropping our access has caused most of our other vendors to drop their support for us as well. And most people with enough servers to host us have shut their doors to us."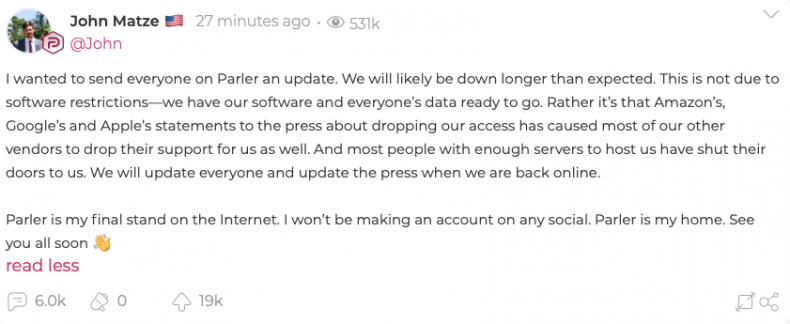 Google suspended Parler from the Play Store market on Friday, saying it was "aware of continued posting in the... app that seeks to incite ongoing violence in the U.S." The same day, Apple gave Parler 24 hours to moderate content or face removal.
That came to fruition on Saturday, with the app pulled from the iOS store and stopping it from being accessible on iPhone and iPads. Apple noted Parler appeared to "continue to be used to plan and facilitate yet further illegal and dangerous activities."
The AWS Trust and Safety team told Parler on Saturday that it would be suspending its web hosting account because the platform "poses a very real risk to public safety." As of Monday morning, the Parler website appeared to be offline and inaccessible.
Parler has been contacted for comment by Newsweek.
Matze stated in an earlier post on Sunday that he believed Amazon, Google and Apple had plotted to "ensure they don't have competition" and pitched his controversial platform as being the "world's last hope for free speech and free information."
Parler investor Dan Bongino on Sunday pleaded with users not to abandon the website. "Please, hang with us. I ASSURE YOU, we aren't going anywhere," he wrote, just prior to the platform being pulled offline. Bongino was previously suspended by Twitter.