How Couples Yoga can Align Your Body and Your Relationships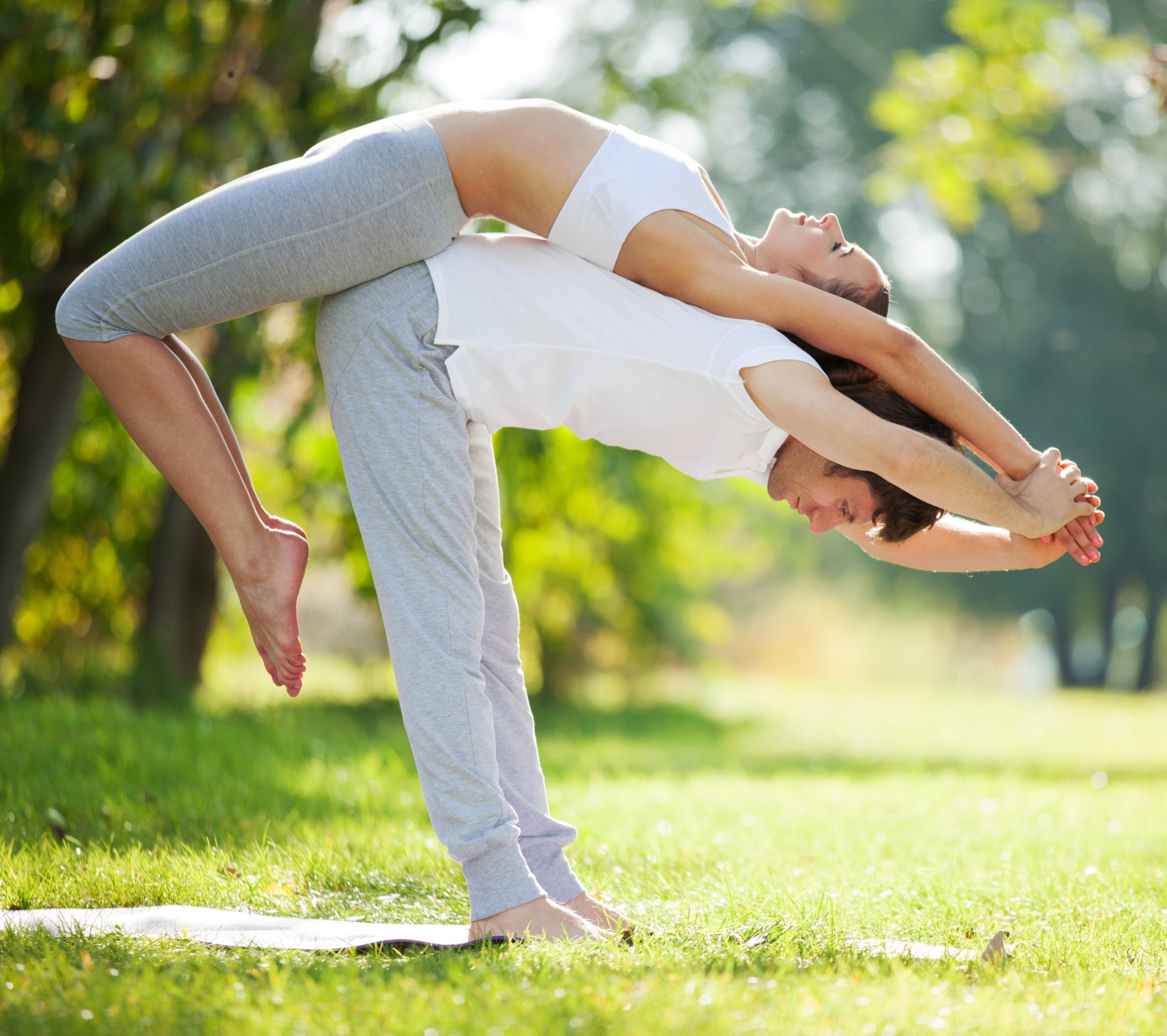 This article, by Issue Editor Trevor Courneen, is featured in Newsweek's new Special Edition, Yoga Life.
For the many challenges that can arise in a romantic relationship, there are just as many suggested solutions readily available. From counseling to vacations, couples can try to face their conflicts from a variety of angles, some head-on and others abstract. But with couples yoga courses, partners in love can attempt to overcome their issues simply by finding balance. Literally.
While the mere thought of attempting yoga—let alone with a partner—can ignite doubt in those who have never explored the practice, there are virtually no prerequisites to couples courses. "Just come with an open mind," says Karen Gibbons, owner of Yoga and Art NYC. "Otherwise, there are no requirements." At her studio in the Gowanus neighborhood of Brooklyn, New York, Gibbons sees the most interest from couples who are able to recognize the course as something novel that can be done in a judgment-free space. "It's something new to do together that's not competitive and not something you already have to be good at," she states.
Years of prior experience and innate flexibility may not be necessary, but some couples still allow the physical aspect of the course to become a mental roadblock. Gibbons recognizes that the need to execute a physical craft perfectly can sometimes be difficult to avoid, explaining, "Our culture is very focused on coming to physical practices where you are judging yourself." But with the intent of her course directed at a realm outside of just the physical, Gibbons attempts to shift the attention beyond the body. "My focus is to keep it playful," she says. "So, I often have them do partner poses where it's not about physical strength or the accuracy of the pose, but it's about noticing and being able to go with flow and let go when you need to let go and not try to control things."
This ability to recognize a partner's needs, while fundamental in any teamwork model, goes beyond being a perk stemming from other, more generic team-building exercises. "There are all these layers that are aspects of relationships," Gibbons says. "You're performing a pose together, depending on each other's balance and coordination, so it's all kind of in the metaphor." The learning curve for the course is contingent on each couple embracing this mutual dependence. "You can see the relationship dynamic right away in how they interact with each other when you ask them to do a pose together," states Gibbons.
As with any accepted method for overcoming relationship issues, couples yoga, at its core, requires its practitioners to gain a deeper understanding of not just their partner but also of themselves.
"Yoga fosters self-awareness," Gibbons says. "And when you can be in a place that fosters self-awareness without judgment, it kind of gets rid of the cobwebs and the tendency to want to blame the other person. You can see things how they really are a little better."
This article was excerpted from Newsweek's Special Edition—Yoga Life, by Issue Editor Trevor Courneen. For more about the newest—and oldest—workout craze, pick up a copy today.