As Parts of Texas Begin to Reopen, State Sees Highest Single Day Rise in Deaths Since Middle of March
As the Texas economy poised for its reopening on May 1, the announcement of 50 deaths and more than 1,000 new cases brought a grim reminder that the new coronavirus pandemic is far from over.
However, in an interview published Thursday by The Texas Tribune, Texas Governor Greg Abbott defended the decision to reopen the state, saying, "All the key metrics are going in the right direction, and that is exactly why the doctors advised us that we had the green light to open up to the extent we are opening up."
Abbott's stay-at-home order, issued on March 30, expired on Thursday when the state announced its worst day for COVID-19 deaths since mid-March. The executive order, issued on April 27, was designed to protect the state's most vulnerable citizens, and allow restaurants, shopping malls, retail stores, and museums to reopen at 25 percent capacity on May 1.
The order to reopen also includes a greater capacity for COVID-19 testing statewide, and the ability for hospitals to handle any spike in new coronavirus patients as per federal guidelines released by the White House.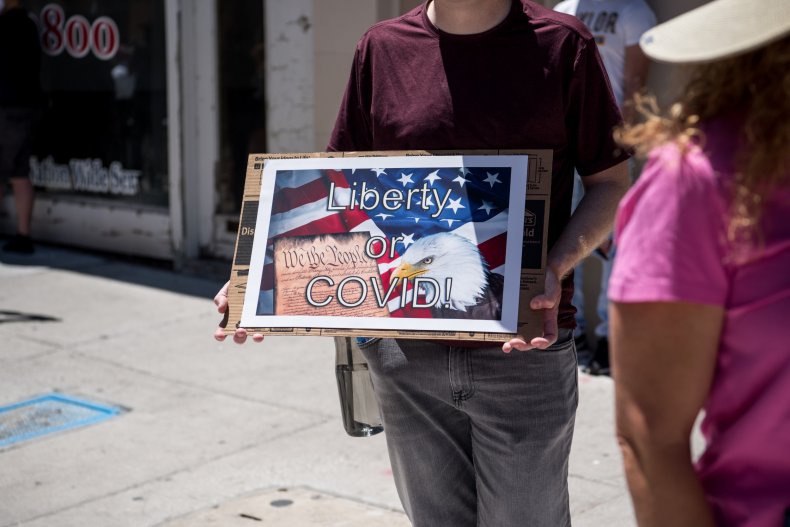 So far, more than 330,000 Texans have been screened for COVID-19, with 28,087 reported cases. Of those reported cases, 13,353 have recovered, and 782 of those patients have died, according to the Texas Department of State Health Services.
Many of the reported COVID-19 cases are in the state's more urban counties, with Harris County reporting more than 6,100 confirmed cases, followed by Dallas County with 3,352 confirmed cases.
Abbott added that even with the updated numbers, Texas still has one of the lowest COVID-19 related death rates in the U.S.
"As testing starts to expand more sharply, case counts may grow as we capture a greater share of community spread," Scott Gottlieb, a member of Abbott's Strike Force to Reopen Texas and the former head of the U.S. Food and Drug Administration (FDA), said in an April 28 tweet. "Key to understanding epidemic over a period where testing is growing, but epidemic hopefully declining, is to see positivity rates fall and hospitalizations also decline."
A recent study by Harvard University researchers and STAT indicated that Texas was one of only a few states exceeding guidelines for COVID-19 testing, one of the federal guidelines required for states to allow nonessential businesses to reopen. Additionally, early prediction models from the University of Texas gauged the potential peak for COVID-19 deaths in Texas happening before the end of April.
However, with businesses starting to reopen, the same data suggested the peak may not happen until early May, according to a KVUE report.
Dr. Peter Hotez, an infectious disease expert with Houston's Baylor College of Medicine, said reopening now is a mistake.
"We did everything right and want to make sure we don't reverse our gains," he said in a KHOU report. "We still have transmission going on. We still have patients going to hospitals. ... We'll see how transmission goes in the coming weeks and months."
Dallas Mavericks owner and Shark Tank TV personality Mark Cuban, who serves as a member of President Donald Trump's advisory team to reopen the economy, agreed that Texas was moving too quickly to reopen.
"When it comes to health, would you let your kids out? I'm certainly not going to let mine," Cuban told Dallas station WFAA. "... People are going to make their own decisions, that doesn't mean they are going to make wise decisions, but they are going to do it for their own reasons and that's fine, but there's just so much uncertainty."
Cuban added that from a business standpoint, it would have been more profitable if many had stuck with curbside delivery, and that many businesses are adapting to that model.
Plans are on the table for the second phase of businesses to reopen on May 18, but Abbott said this action would have to be supported by data to ensure COVID-19 is contained.
The phased reopening of Texas economy includes continued use of social distancing practices, continued availability of COVID-19 testing, maintaining good hygiene and handwashing techniques, and enhancing sanitizing efforts in local businesses.