Party City Apologizes for Selling Children's Confederate Soldier Costumes
A party accessory store has been forced to apologize after it was found to be selling children's Civil War costumes emblazoned with the Confederate flag.
Party City, which operates more than 850 stores worldwide, said it had pulled the offending items from its branch in Bailey's Crossroads, Virginia, after complaints from a customer.
The issue was raised by Caroline Brasler, who was shopping for her daughters Meredith, 12, and Olivia, 10.
"The Confederate flag to me is a symbol of racism. To have that out there for a child to wear on Halloween sends so many horrible messages," she told WUSA.
She came across one costume called "Confederate Officer" and another designed to be a bearded Confederate general—both of which featured hats emblazoned with the Confederate flag.
"I'm the adoptive parent of two beautiful African American girls. We discuss race, we respect race. And to see something like that just flies in the face of everything I try to teach them to be proud young women," she added.
Party City said the costumes were on sale in a franchise location and were not on sale at any stores owned by the company. They were not available on the store's website but remain on sale at other online retailers.
Responding to the complaint, Party City asked the local branch to remove the items from sale.
In a statement issued to WUSA, the company said: "At Party City, we do not tolerate racism or hatred of any kind, and we stand together in solidarity with our diverse colleagues, customers, and communities.
"As the leader in Halloween with more than 60 million customers per year, Party City supplies a broad assortment of costumes, none of which are meant to be offensive in any way.
"The costume in question was sold at a franchise location and is not produced or sold in any Party City corporate-owned stores. We have reached out to our franchisees and other partners to remove it from all retail locations ASAP.
"We know that as a company, we can and must do better."
Newsweek has contacted Party City for comment.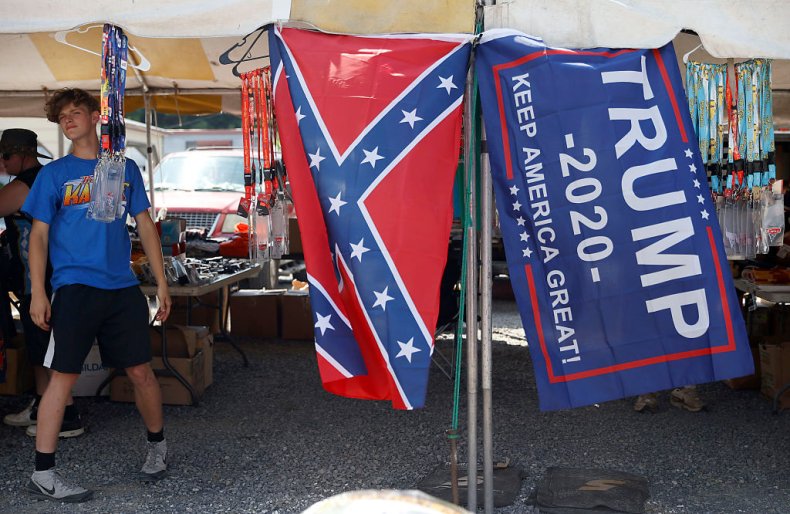 Confederate flags have become a flashpoint in recent months with Donald Trump arguing the decision to fly the Confederate flag was one of "freedom of speech."
That followed the announcement in June that Nascar would ban the Confederate flag from its races as part of wider moves to remove the divisive symbol from U.S. cultural and political life.
The Pentagon also announced over the summer that it would be implementing a ban on displays of the Confederate flag on military installations.