Pashtun Singing Star Ghazala Javed: Why Was She Killed?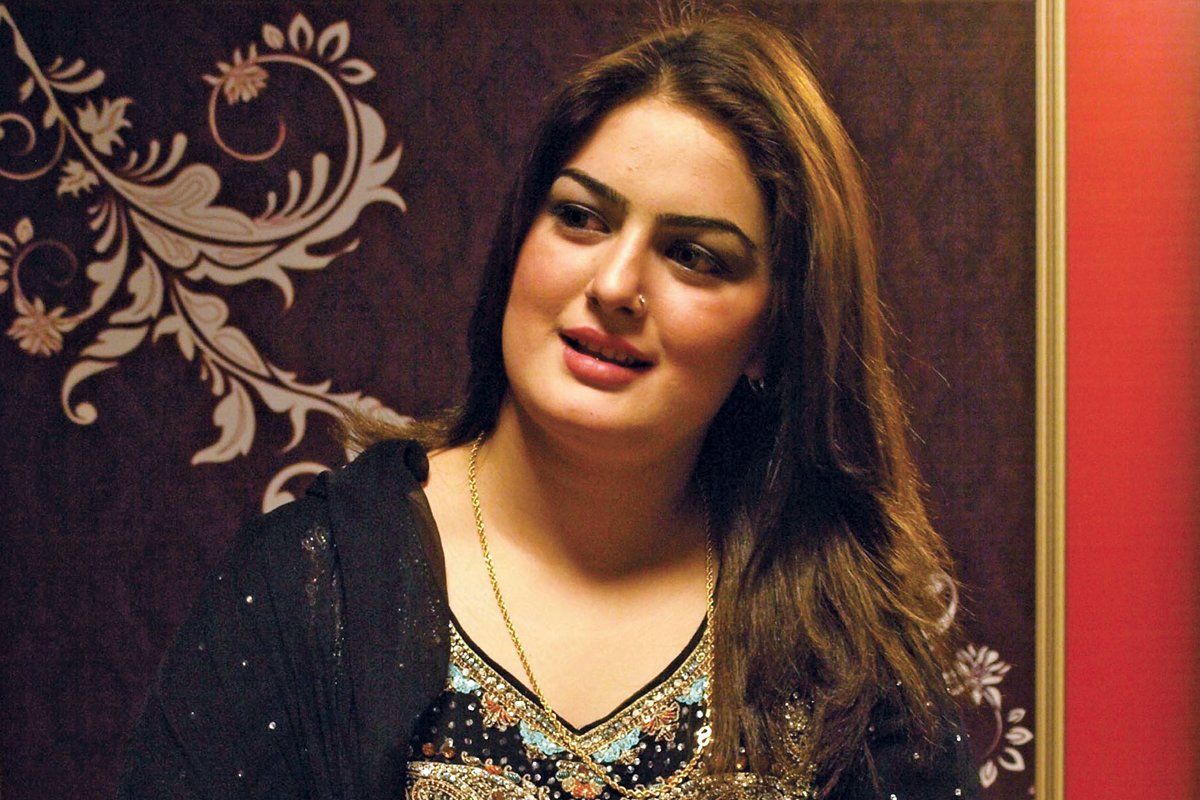 Ghazala Javed wasn't her usual lighthearted self when she and her sister, Farhat, arrived at the hairdresser's that Monday evening in June. "Usually she'd start sing-ing her latest soundtrack," recalls Saima Khan, owner of the Baba Beauty Parlor in Peshawar's bohemian Dabgari Garden neighborhood. "But that night she was very quiet." The Pakistani singing sensation was taking a break from the recording studio to get her hair done before going back to wrap up the day's session. Her musical career had skyrocketed in the six months since her divorce, but Khan says something seemed to be bothering her that evening. "Today I've been feeling very upset," she remembers Ghazala saying. "I sense some unforeseen sorrow."
Then Farhat's phone rang. The two sisters' father, waiting outside in his car with their 5-year-old nephew, Naveed, told them to leave the shop immediately. Muhammed Javed had seen Ghazala's ex-husband driving by repeatedly and called his wife to let her know. "I told my husband to get Ghazala and Farhat out of there fast," Nishat Bibi tells Newsweek. Ever since Ghazala filed for divorce from Jahangir Khan late last year, the 50-year-old real-estate developer (no relation to the shop owner) had been alternately pleading for reconciliation and threatening the singer, Ghazala's family says. No one could be sure what Jahangir would do. It's almost unheard of for a Pashtun woman to file for divorce, and it's even rarer for a Pakistani court to grant such a petition.
Peshawar is plagued by power blackouts, and the streets outside the shop were pitch dark when the sisters left, the beautician says. As they headed for the car, Ghazala discovered that she had left her handbag behind, and she asked her sister to go back inside and retrieve it. Farhat did so and was walking toward the car with the bag when she heard gunshots. She says she clearly saw Jahangir and his cousin Iqbal standing beside the car, each with a pistol in hand. Amid the confusion she remembers Iqbal shouting: "Shoot her! What are you waiting for?" After that, she says, the two men fled into the night. The police report says Ghazala was hit by four bullets: one in the hand, one just below the neck, and two more in the abdomen. Police say she died almost instantly. Her father was already lying dead in the car, having been hit by three bullets. The boy was untouched. All of the rounds were fired from .30-caliber pistols.
As tough as it can be to make a living as a musician in other places, the profession is even crueler in the Pashtun world. Ghazala Javed's voice may have rescued her and her family from poverty, but even before her death she paid a daunting price. Singers, dancers, and instrumentalists are generally shunned by "respectable" people. Like the Taliban, many traditional-minded Pashtuns view music and most other forms of entertainment as an immoral distraction from one's religious duties, if not as the devil's work. "Pashtuns love music, but they don't like musicians," says Nazir Gul, a vocal instructor who worked with Ghazala. "They would shower money on singers and dancers but would never allow their sisters, wives, or mothers to join this field. For a singer, marrying into a Pashtun family means giving up everything."
And that's leaving aside the persistent risk of being murdered by the Pakistani Taliban's zealots, who have been known to kill musicians merely for being musicians. Fans admired her for carrying on in defiance of the militants' death threats. "At a time when most singers had left their profession, Ghazala mustered the courage to continue singing, giving us a strong message that no one can silence the music," says Abasin Yousafzai, a poet and professor of Pashto language at Peshawar University.
Nevertheless, police quickly eliminated any suspicion that the Taliban might have been responsible for her death. "There is no difficulty in this case," says Peshawar Police investigating officer Aslam Khan. "Ghazala was involved in a dispute with her ex-husband, so there is no need to think of another side." Jahangir and his cousin Iqbal remain at large, while Ghazala's family and fans can only grieve. "She was matchless," says Yousafzai. "Her sudden death at such a young age is a big blow to Pashto music."
He's not exaggerating. Beautiful, tall, and talented, Ghazala Javed had recorded 12 albums and countless singles. Her popularity among Pashto speakers stretched from her native Swat Valley throughout the Gulf states and as far away as Britain. For singing at weddings and parties in Kabul and Dubai, she earned between $12,000 and $15,000 a night. "She was paid more than any other Pashtun artist—male or female—in Kabul," says Radio Kabul director Abdul Ghani Mudaqiq. "She was our most requested and popular Pashto singer." She planned to perform in London and other British cities later this year. "Usually it takes decades to become popular and have a worldwide fan club," says Musafar Khan, one of the biggest music distributors in Peshawar. "Ghazala became popular overnight."
The truth is that she sang for years before she became famous. She was only 7 when she began entertaining at parties and weddings in Swat. "She started as a dancer," says her brother Kamran, 28, an auto mechanic. "But after six months, people began telling her to concentrate on singing because she had such a great voice." It came naturally, her mother recalls. "Singing was in the blood of the family," says Nishat Bibi. "She loved to sing, so her father and brothers allowed it." Nevertheless, they pulled her out of public school in fifth grade at the insistence of her oldest brother. "She was so beautiful that people teased her when she left for school every morning," Nishat explains. In most subjects the girl had been a less-than-stellar student, the mother says, but in school competitions she excelled at singing Naat—poems in praise of the Prophet Muhammad.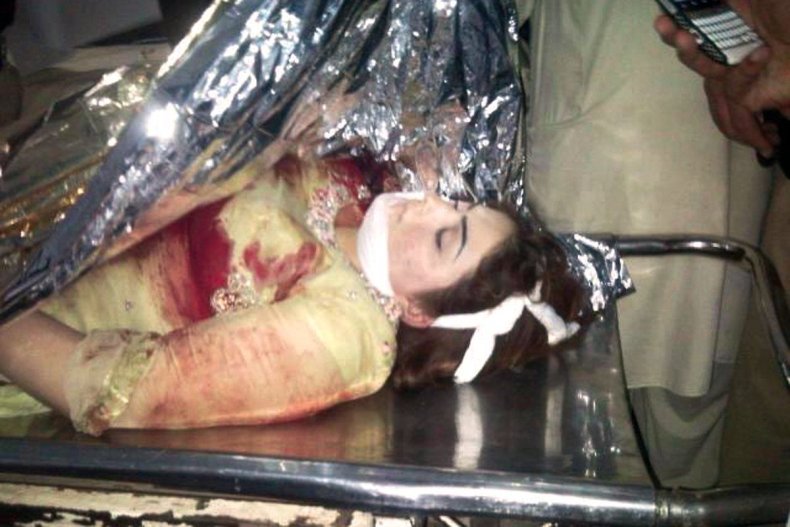 She begged for permission to make her living from music. "I have a burning desire to become a professional singer," she told her mother—and the family finally agreed. But as her fame as a wedding singer increased, the brutal Pakistani Taliban commander Maulana Fazlullah began seizing control of the formerly peaceful Swat Valley. He banned television, music, and public singing and dancing, even at weddings and private parties. Radio stations, DVD shops, and girls' schools were blown up. Singers and dancers were singled out for punishment. In 2009, just before the Pakistani military finally drove Fazlullah's fighters out of Swat, his men dragged the well-known dancer Shabana out of her house in the middle of the night and executed her in the town square of Swat's main city, Mingora.
By that time Ghazala's family had fled to Peshawar for safety. Gul, the music teacher, recalls the winter day when her father brought the young singer to his studio in Peshawar. "We are poor people and are here because of the Taliban's threats," Muhammed Javed said. "Please help her sing." The girl's dancing and singing were the family's only source of income, her father said. Gul was immediately impressed by his new pupil. "There was a hidden singer in her," he says. "She learned quickly and became a much better singer than the other girls." Within months she was on her way to fame. "We were poor, but she made us rich," says sister Farhat, 24.
Unfortunately for Ghazala, her singing also caught Jahangir Khan's fancy, and he soon asked for her hand. He was a powerful and persistent suitor. "I wanted her to have a settled life and be a good wife," her mother says. Brother Kamran agreed. "Jahangir came to our home many times, and we thought this was a good chance for her to have a life with respect," he says. Her father gave his consent.
Ghazala hated the idea. "She locked herself in her room, crying for days, and started beating herself and shouting, 'I won't marry him!'?" Kamran recalls. "She begged me, my father, and mother to cancel the marriage, but my father could not retreat from his commitment to Jahangir." In desperation, the family resorted to trickery. Kamran says they first altered her national identity card to say she was 18, legal age for marriage. Then they obtained a marriage license written in English and told her it was a visa application to visit the European Union, says Kamran, and, unable to read it, his sister signed without knowing what it was.
The two were married in early 2010. The marriage was doomed from the beginning. "She was a good wife, but her life was a disaster," Ghazala's mother says. Jahangir immediately laid down the law, forbidding her to perform in public and ordering her confined to his family's house. He would disappear for days at a time, Ghazala's family says. According to court documents he already had two other wives, six or more children, and at least one mistress before he took Ghazala for his trophy wife. A year ago she finally escaped. Unable to endure her cloistered existence any longer, she fled to her parents' home, but they sent her back. By the fall she had run away four times. Every time, her family forced her to go back to her husband. He always promised he would treat her better, they say—but he never did.
Late last fall she took a step that was practically unprecedented for a Pashtun woman: she filed for divorce. Her petition told of Jahangir's other women, charged him with "physical and mental torture," and claimed that he had failed to support her financially. The move may have seemed like no more than a hopeless gesture in the face of Pakistan's tradition-bound, male-dominated society. And yet against all expectations, the court found in her favor.
Ghazala's fans were ecstatic. They had been devastated by her sudden disappearance from the Pashto music scene. In the brief span before the wedding, her voice had already made her a star. The secret of her success was her authenticity. Unlike most other contemporary Pashto singers, she didn't try to jazz up her music or borrow heavily from Western rock bands in an attempt to make some kind of East-West fusion. Instead she kept her songs close to the Pashto music tradition, with words based on classical and modern Pashto poetry, and relied mostly on traditional instruments—the rabad, small drums, the harmonium—mixed with just a touch of electric guitar.
"Her songs and lyrics were soft and sweet, like her voice," says Abid Noor, a Pashto-language radio reporter based in Washington. "She was always interested in finding new poems from renowned Pashto poets to use as lyrics for her songs. She'd set the poetic lyrics to the music that Pashto composers were inundating her with." Songs like "My Country Is on Fire" found particularly eager listeners among the war-weary in Pakistan and Afghanistan. "We want peace," she sings. "Pashtuns love peace." Her words somehow made the dream seem attainable, says Abasin Yousafzai. "Ghazala gave the troubled Pashtun nation a new resolve to redouble their efforts to enjoy a happy life, despite all of our worries and difficulties." By the end of last year, she had returned to the recording studio and resumed her performance schedule. Her comeback—and her daring divorce—inspired such a buzz that she became more popular than ever.
Jahangir was furious, according to Ghazala's family. And he refused to give up. "Jahangir was still in contact with her after the divorce," Nishat says. Kamran says the family kept changing the SIM card in her mobile phone to keep Jahangir from calling, but somehow he always found the new number. "He kept phoning her, begging her to come back," Kam-ran says. Jahangir even promised to let Ghazala sing if she would only go back to him, Nishat says. He said he would take out newspaper ads promising to let her continue recording if she agreed not to perform at concerts, weddings, and private parties.
When that didn't work, Jahangir turned nasty. "At first he was nice. Then he started to make threats," says Kamran. "He even sent death threats to musicians with whom she was performing." Nevertheless, Ghazala insisted on keeping in touch with her ex-husband. Nishat suspects that her daughter even told him she was going to have her hair done the day she was shot. "Ghazala trusted him blindly," the mother says. "She told me, 'He would never do anything to harm me, because he loves me.'?"
Any Pashtun woman could have told her what a mistake that was. "Honor killings" are all too common in Pash-tun families, and the victims have sometimes been entertainers like the popular singer Aiman Udhas, who was allegedly shot dead by her brothers in 2009 because they disapproved of her career. (Charged with murder, they have disappeared.)
Pashtun tradition allows a killer to pay "blood money" to win pardon from a victim's family, but Ghazala's mother says she will never forgive Jahangir. "He should be punished and hanged," she says. "I won't pardon him even if he drives nails into my 10 fingers." She abruptly stops, remembering a long-ago conversation with her daughter, back when the family's biggest worry was the Taliban. "Once I told my daughter to stop singing," Nishat says. "She told me, 'Mother, there's no bullet that can kill me. I'm not afraid of anyone.'?"?
Back home in the Swat Valley, Ghazala and her father are lying side by side in Mingora. The family paid $800 for plots in a cemetery next to a bazaar and across the street from a cinema. "People loved her singing while she was alive," says Abasin Yousafzai. "Now she is even more popular in death." Music distributor Musafar Khan agrees, although he wonders if fans will soon start forgetting her. "A singer has to keep recording to stay on top." Every day her grave is visited by hundreds of fans from Pakistan, Afghanistan, and the Gulf, says Shamroz Khan, a cobbler who has a shop nearby. "I have never seen such love for anyone," he says. "As a singer she may have committed sins, but she will surely go to heaven." Her admirers will certainly agree that she has already spent more than enough time in the other place.