The Transportation Security Administration was left confused after a man they stopped said he was unaware he had bullets in his bag.
On Monday, TSA agents at LaGuardia Airport in New York, stopped a man after they found 50 bullets in his carry-on bag. The man, according to the TSA, told agents he was "unaware" the bullets were in his bag.
"How in the heck does one become unaware of where you place your box of bullets?" Lisa Farbstein, a TSA spokesperson, posted on Twitter. "Asking for a friend."
When asked how often people bring ammunition to TSA checkpoints, Farbstein told Newsweek "every single day." She called bullets an, unfortunately, "commonly prohibited item." She advised firearm owners to take extra precautions to ensure they don't have ammunition in their carry-on bags and if they're checking ammunition or firearms for a flight, that they're doing it properly.
Friday marked the highest traffic day for airports since March 2020. TSA agents screened 2,028,961 people, the first time screenings broke the 2 million threshold since the pandemic began.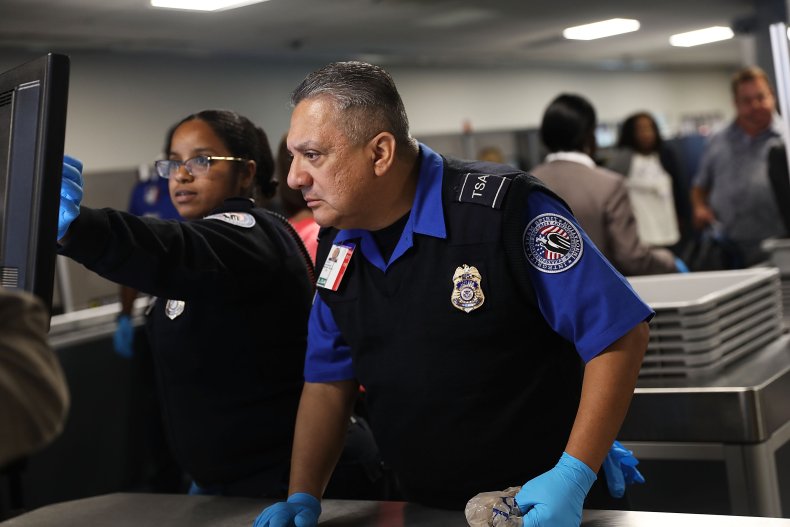 The level of travelers on Friday matched pre-pandemic levels, as the TSA routinely would screen 2 to 2.5 million travelers per day on average. Darby LaJoye, senior official performing the duties of the TSA administrator, attributed the increase in travelers to the "country's resilience" and a high level of confidence in the COVID-19 response, including access to vaccines.
As of Monday, nearly 64 percent of adult Americans had at least one dose of the COVID-19 vaccine, equivalent to an estimated 165 million people. About 138 million of those people are fully vaccinated, meaning it's been two weeks since they had either one dose of the Johnson & Johnson vaccine or both doses of the Pfizer or Moderna vaccine.
Among those who were screened by TSA recently were two men who attempted to go through security at Newark Airport in New Jersey with firearms in their bags. On Friday, a man was stopped in Terminal C after a TSA officer found a gun inside of two soft-sided zippered cases within a backpack. At first, officers thought it was a large belt buckle with a replica gun, but upon inspection, officers realized it was an actual firearm that was able to pop out of its decorative frame.
Although Farbstein was left baffled at how someone could be "unaware" there were bullets in their bag, this man told TSA officers he forgot he had his gun with him. Another man, who was stopped on June 3, also claimed that he forgot he was carrying his firearm with him.
"Claiming to forget that you have a gun with you is inexcusable," Thomas Carter, TSA's Federal Security Director for New Jersey, said in a statement. "If you own a gun you need to know where it is at all times. Each of these individuals now faces a stiff federal financial penalty that could cost them thousands of dollars."
So far, TSA officers have caught five firearms at TSA checkpoints this year, about half the number that were identified in 2020 and 2019.