Passenger Dies Suddenly on Flight From China to New Zealand
A passenger had died on a flight from China to New Zealand, police have confirmed.
However, the death, which occurred on a China Southern Airlines flight on Monday, is not thought to be related to the coronavirus outbreak.
A police spokesperson confirmed to Newsweek officers arrived at Auckland Airport after the death was reported at around 4.30 p.m.
"The death is believed to have been due to a medical event and is not believed to have been related to coronavirus," the spokesperson said.
The New Zealand Herald reported that health officials also met flight CZ305 from Guangzhou, China, when it arrived at Auckland Airport.
New Zealand Police and China Southern Airlines have been contacted for comment.
Although New Zealand has no confirmed cases of the novel coronavirus (2019-nCoV), the incident came amid increased travel restrictions to prevent the virus from reaching the country.
The government announced that all foreign travelers who leave or transit through mainland China from February 2 will be barred from entering New Zealand from Monday.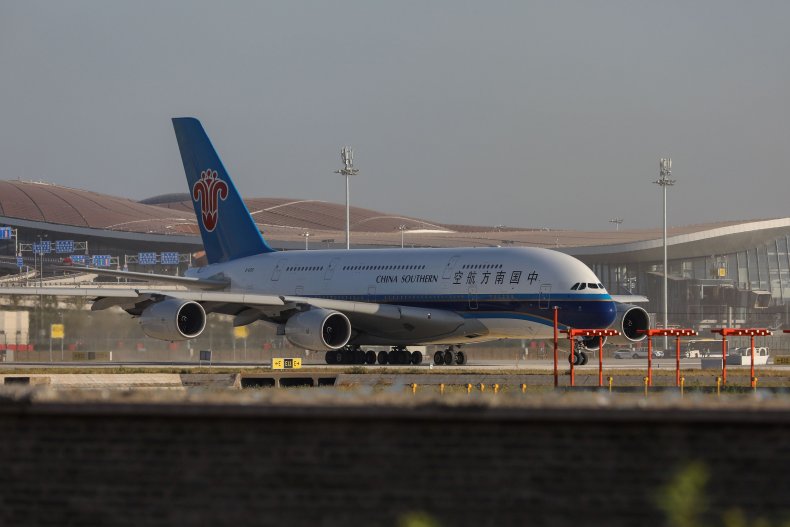 New Zealand citizens and permanent residents, as well as their immediate family members, will be permitted to enter, but are required to self-isolate for 14 days after arrival.
Prime Minister Jacinda Ardern said: "It is critically important that we both protect New Zealanders from the virus and play our part in the global effort to contain it.
"I am particularly mindful that we are a gateway to the Pacific, and must factor that into our decision making."
Ardern said the decision by the U.S. to put similar restrictions in place has had a "knock-on effect" leading to Air New Zealand and other airlines to stop their flights from China.
Although flight CZ305 landed as scheduled on Monday, Auckland Airport canceled another China Southern Airlines flight coming from Guangzhou that same day. Two flights heading to Guangzhou and Shanghai on Monday were also canceled.
Deaths from the new coronavirus have risen to 490 in mainland China, according to China's National Health Commission, while the number of people infected has climbed to more than 24,000.
Outside mainland China, at least 180 cases have been confirmed, along with two deaths. The first was a man who died in the Philippines and the other was in Hong Kong. Both had traveled there from Wuhan, China, the center of the coronavirus outbreak.
According to the Centers for Disease Control and Prevention, 11 people have tested positive for the virus in the U.S. in the states of Arizona, California, Illinois and Massachusetts and Washington.
The graphic below, provided by Statista, shows the confirmed cases of coronavirus around the world as of February 5.