London Plane Collision: Flight Taking Abortion Voters to Ireland Hit by Jet
Passengers had to be evacuated from a Ryanair plane after it was shunted from behind on the runway by a passenger jet.
The FR205 Ryanair flight to Dublin was waiting to take off at Stansted when it was hit by the Primera Air plane behind it.
A number of passengers on board were heading to Ireland in order to vote in the country's abortion referendum, The Independent reported.
There were no injuries. Cabin crew were evacuated from the front door, as the back doors of the plane could not be opened.
One of the passengers, Malena, 23, from Dublin, told the website: "I'm extremely annoyed, but I hope we're going to get home in time to vote.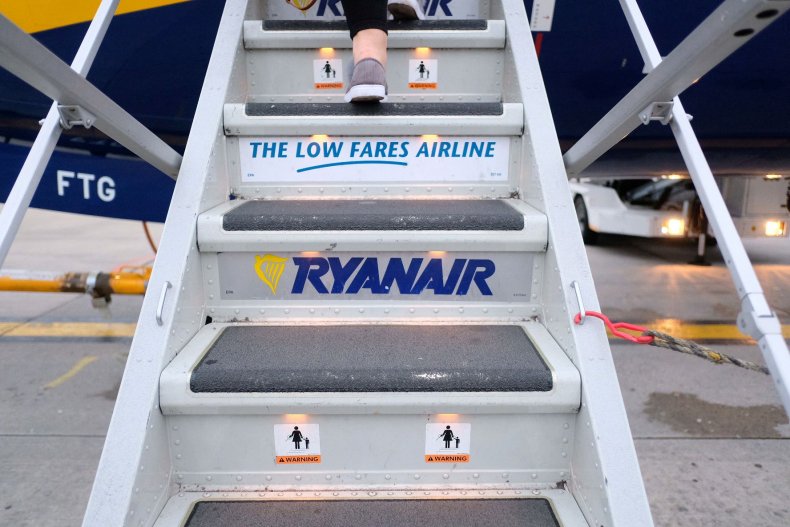 "Luckily I live by the airport so it's not so bad for me, but some people have to go far into the country. A girl in front of me was saying she has to fly back tonight."
Irish citizens have been flying home to cast their vote over whether to change a constitutional amendment regarding abortion.
The hashtag #hometovote has been mobilized by "yes" supporters to get as many people as possible casting their vote, with help being offered to those short of money to make the trip.
One Twitter user encouraged people to get in touch if they were short of money to make it back to Ireland.
A statement from Ryanair said: "One of our aircraft was stationary at the designated holding point on the taxiway at London Stansted Airport this morning when the winglet of a Primera Air aircraft taxiing behind scraped its tail stabilizer.
"Both aircraft were under the instruction of London Stansted Air Traffic Control at the time. The Ryanair aircraft returned to stand to be inspected by Ryanair engineers. To minimize delay, customers will transfer to a replacement aircraft later this morning."