A woman is suing Southwest Airlines, alleging that she was injured by a flight attendant during a dispute over face masks. Unlike other incidents in the recent trend of unruly airline passengers, the lawsuit claims that she was willing to cooperate.
Karina Isabel Velasquez filed her suit in Los Angeles Superior Court on Monday, alleging battery, assault, and intentional infliction of emotional distress, NBC Los Angeles reports. Velasquez claims that, in addition to being ordered off the May 19 flight from LAX to Las Vegas, a Southwest employee injured her when they grabbed her cell phone away from her.
Velasquez and her husband, Blake Harrison, claim to have been wearing masks on the flight. They also stated that they had extra masks, proof of vaccination, and recent negative COVID-19 tests.
A flight attendant at one point asked the couple to leave the plane due to their masks not being compliant with Southwest's standards. Despite offering to change masks, wear multiple masks, and show their proof of vaccination, the attendant still insisted they leave, according to the lawsuit.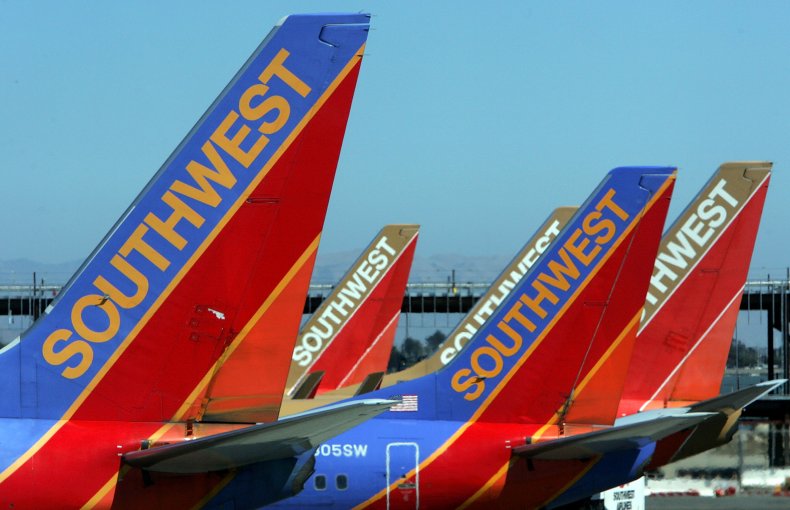 While the couple were leaving the plane, Velasquez's suit alleges, the flight attendant "suddenly and violently grabbed and removed plaintiff's phone out of her hand." Her phone case had a special handle on the back designed to prevent it from being dropped. Velasquez's middle finger was in this grip at the time and she claims that the attendant grabbing the phone left her with a severely sprained wrist and cuts on her thumb.
She currently attends physical therapy sessions twice a week and says she has been told that she may never fully recover. As a personal trainer, acrobat, and exotic dancer, Velasquez said she has been unable to work while rehabbing her injury.
Upon their exit from the plane, Velasquez stated that she spoke with a Southwest official and Los Angeles Police officers about the incident. A police report was also filed.
Incidents involving unruly passengers on airplanes have skyrocketed in the wake of the COVID-19 pandemic and the increased presence of mask mandates. The issue has gotten so severe that transportation secretary Pete Buttigieg recently suggested that a federal no-fly list for violent passengers "should be on the table."
"It is completely unacceptable to mistreat, abuse, or even disrespect flight crews," Buttigieg said on CNN's State of the Union on Sunday. "There is absolutely no excuse for this kind of treatment of flight crews in the air or any of the essential workers—from bus drivers to aircrews who get people to where they need to be."
Newsweek reached out to Southwest Airlines, which said it had no comment at this time.