Passenger Sues American Airlines After Flight Attendant Allegedly Assaulted Her Over a Blanket
An American Airlines passenger recently filed a lawsuit against the airline charging that a flight attendant grabbed her and shook her arm after she used an extra blanket during a flight.
Nathalie Sorensen of Miami filed the lawsuit against American Airlines in Dallas, according to The Dallas Morning News. The suit alleges that a flight attendant named Thor assaulted Sorensen and had police officers waiting for her when she exited the flight this past December.
The Morning News reported that Sorensen, who is suing the airline for more than $1 million in Dallas County Court, said in her lawsuit that she felt "embarrassed, humiliated and shamed" following the incident. Her suit also states that she "has suffered great mental pain and in all reasonable likelihood will continue to suffer in this manner for the duration of her natural life."
In a statement sent to Newsweek, a spokesperson for American Airlines said, "We are reviewing the lawsuit and the details of the flight. We take the safety and comfort of our customers very seriously and we're committed to providing a positive experience for everyone who travels with us."
According to the lawsuit, Sorensen was aboard American Airlines Flight 2575 with her fiancé. While asleep in first class, Sorensen was woken up by a flight attendant who yelled, "Wake up right now. Wake up!," according to the lawsuit.
The suit then says the attendant, who identified himself as Thor, was holding Sorensen by the arm and "shaking her violently."
"I know you stole this blanket!" the suit said the flight attendant told her, according to the Morning News.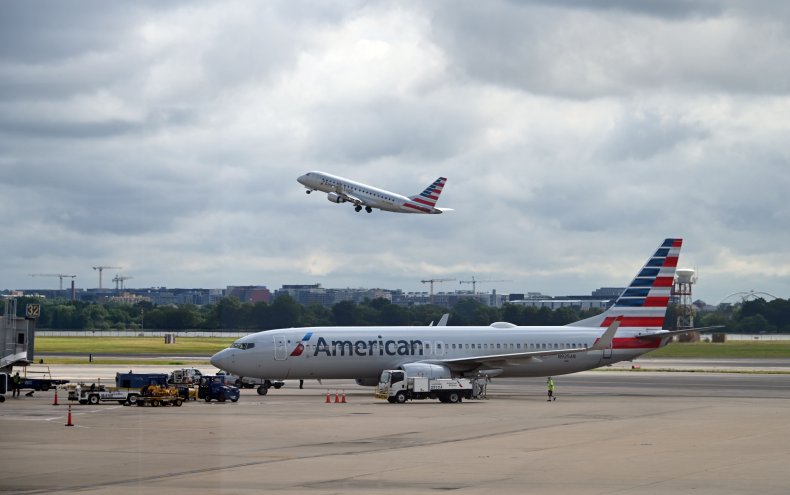 Sorensen was "crying and shaking hysterically" during the altercation, the suit said, and her fiancé told the flight attendant to get his hands off of her.
"This is my airplane. I am the head flight attendant and I can touch whoever I want," the attendant said, according to the suit.
The suit added that Sorensen told the attendant the other blanket was taken from her fiancé, who was seated next to her, with his permission. Despite her explanation that the blanket was not stolen, the attendant came back and gave Sorensen a warning slip detailing the Federal Aviation Administration penalties for disruptive passengers and told her to "watch out," according to the suit.
According to the Morning News, when the flight landed at the Dallas Fort Worth International Airport, Sorensen was escorted off the plane by six police officers but was released after a brief interview.