Watch: Passengers Fleeing Aircraft Stranded on Wing After Southwest Airlines Flight Makes Emergency Landing in Albuquerque
Video has emerged showing passengers racing to get off a Southwest Airlines flight plane which had made an emergency landing in Albuquerque Sunday night after an electrical fire caused smoke to fill a cabin.
Southwest Airlines flight 3562 was scheduled to fly from Phoenix to Dallas Love Field but was forced to land due to the emergency.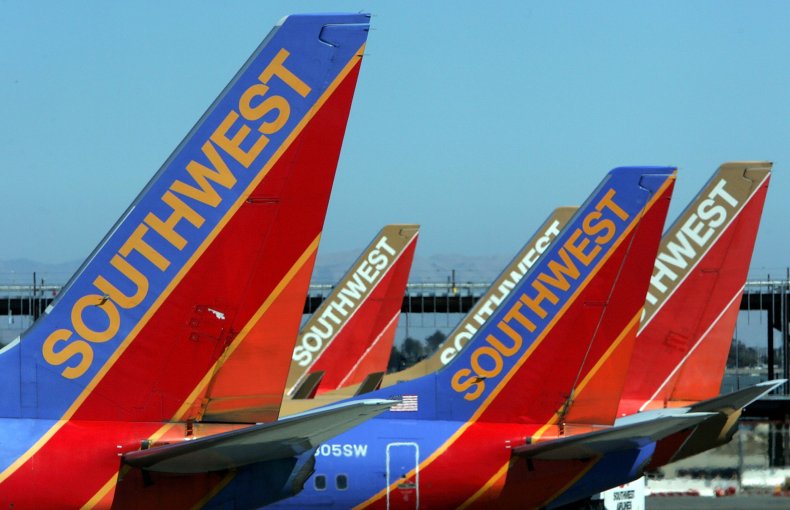 After being diverted to Albuquerque, 140 passengers were evacuated from the plane.
In a statement, Southwest Airlines said that five passengers required medical treatment. The Albuquerque Fire Department tweeted that two of them were taken to local hospitals.
The Federal Aviation Administration and the National Transportation Safety Board are investigating what caused the fire, reported KRQE.
The footage, posted by passenger Brandon Cox, shows passengers fleeing the cabin onto the wing. In it, a passenger can be heard saying "Do we jump off the wing?" before they leap onto the tarmac. Also audible is someone ordering passengers away from the plane saying, "Put your phones down. This is not the time to record! Let's go!"
Cox tweeted Sunday "Still cannot believe I was on this plane. Looking back through my videos and it just doesn't seem real. What a night. Very thankful everyone is safe."
Passengers were put on another plane in New Mexico to continue to their final destination.
A Dallas police officer who was on board the flight praised the airline's handling of the situation.
"Just made an emergency landing in Albuquerque. @SouthwestAir flight attendants did a great job!" tweeted Major Max Geron.
Southwest Airlines said in a statement: "The Captain declared an emergency to receive priority handling from air traffic controllers after deviating from the filed flight plan. After safely landing, 140 passengers evacuated the aircraft on a clear taxiway. Initial reports indicate five Customers requested assessment by medical personnel."