Passengers From Missing Ferry Survive for Week Adrift on Dinghy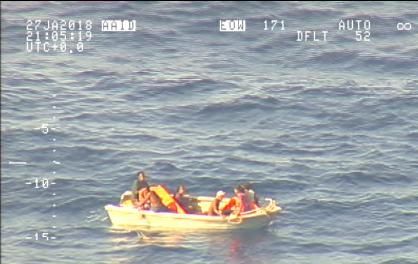 Eight people believed to be passengers from a ferry that vanished a week ago were found on a dinghy in the Pacific Ocean, New Zealand authorities said Sunday.
"The crew has dropped them aid supplies containing water, food and a radio and are currently trying to establish communication with them," Royal New Zealand Defence Force Air Commodore Darryn Webb said in a statement.
ABC Australia reported that six adults and an unconscious baby were aboard the dinghy. Maritime New Zealand said that eight people were on board.
The 55-foot catamaran ferry MV Butiraoi set sail with an estimated 50 people on board from Nonouti island, embarking on the 150-mile journey to Betio on January 18. Both islands are part of the Kiribati nation.
The journey was expected to take two days, but the vessel did not arrive at its destination, and New Zealand search and rescue teams on Friday joined local teams in the search.
Kiribati is a nation comprising around 33 atolls in the central Pacific which has a population of around 108,000.
A P-3K2 Orion aircraft found the 16-foot dinghy adrift on Sunday morning.
A fishing vessel about 57 miles away had been alerted and made its way to the dinghy, said Webb.
As cited by the BBC, John Ashby of the New Zealand Rescue Coordination Centre said the dinghy was one of two believed to have been carried by the MV Butiraoi.
"The group seem very relieved to have been found," said Ashby, noting that sea conditions were "moderate to rough."
No further details about the MV Butiraoi and its other passengers were given.
Authorities have so far covered 55 percent of the search area.