Passengers to Be Screened for New Coronavirus at Three Major U.S. Airports—Here's What You Need to Know
A coronavirus outbreak in China is causing officials in the United States to screen at-risk passengers at three major airports in an effort to reduce the virus from spreading.
Chinese authorities reported there have been more than 200 cases of coronavirus and at least three deaths. Following the disease spreading outside of China's borders, the World Health Organization (WHO) will conduct an emergency meeting on Wednesday to determine if the outbreak constitutes an international emergency.
This particular strain of the virus has not been previously identified in humans, according to WHO, and has spread to Japan and South Korea. On Friday, the Centers for Disease Control and Prevention (CDC) announced certain passengers at three airports would undergo health screenings to detect ill travelers.
"Based on current information, the risk from 2019-nCoV to the American public is currently deemed to be low. Nevertheless, CDC is taking proactive preparedness precautions," the CDC said in a statement.
Who Will Be Screened?
Screenings will be limited to passengers traveling to the United States on direct or connecting flights from Wuhan, China, where the virus originated, according to the CDC. Officials will only be testing passengers at San Francisco International Airport, John F. Kennedy International Airport in New York and Los Angeles International Airport because they receive the most travelers from Wuhan.
What Are the Symptoms?
Passengers arriving at the airport will have their temperature taken and be asked to fill out a symptom questionnaire. Symptoms of the virus include fever, cough and difficulty breathing and travelers found to be experiencing these symptoms at the airport may undergo an additional health assessment.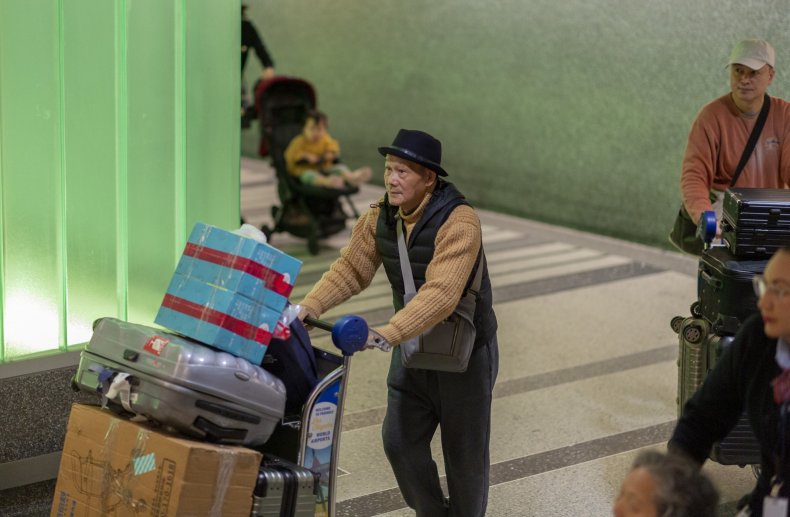 What Is a Coronavirus? How Does it Spread?
Coronaviruses are part of a family of viruses that range from the common cold to severe respiratory diseases, according to the CDC. This particular strain of the virus causes a type of pneumonia and is believed to spread from animals to humans and through human contact.
Many patients had a link to a seafood and animal market in Wuhan, causing the belief that the virus initially spread from animals to people. Some patients haven't had any exposure to the animal market, which, the CDC reported indicates the virus is spreading through human contact, as well.
In more severe cases, coronaviruses can cause pneumonia, kidney failure and death. All three victims of the current coronavirus had prior illnesses, according to NPR.
Analysis of the genetic code showed the virus most closely resembles severe acute respiratory syndrome (SARS), according to BBC. SARS was first reported in Asia in February 2003 and spread to more than two dozen countries before it was contained, the CDC reported. At least 8,000 people became sick with SARS during the outbreak and nearly 800 people died.
Can Coronaviruses Be Treated?
There isn't a specific treatment for coronaviruses, according to Dr. Maria Van Kerkhove at WHO. However, specific symptoms of each virus can be treated.
How Can You Prevent Infection?
People can help protect themselves from infection by following basic hand and respiratory hygiene, such as washing hands with soap and water and sneezing into elbows. People should also ensure all meat is properly cooked before consumption and avoiding unnecessary contact with live animals, according to Kerkhove.