Passengers Sing 'Hey Hey Hey Goodbye' as People Kicked Off Flight for Not Wearing Masks
American Airlines removed several passengers from a flight on Friday following a lengthy dispute over face masks. As they left, some remaining passengers celebrated their departure with a song.
The incident occurred on a Houston-bound plane waiting for takeoff at Miami International Airport, according to WFLA in Florida. By the time the unmasked passengers were removed from the craft, the flight had been delayed for nine hours, though it is unclear how much of that delay was related to the mask issue. Newsweek has reached out to American Airlines to clarify this point, and whether two or three passengers were removed.
While the individuals left the plane, a group of passengers started singing lyrics from the 1969 song "Na Na Hey Hey Kiss Him Goodbye" by Steam. The singing was captured on video and shared on Twitter by the account @ONLYinDADE.
The Twitter account also claimed that only two of the passengers were removed for refusing to wear masks, while the other was removed for getting into an argument with them about the matter.
American Airlines confirmed that two passengers were removed for violating masks rules in a statement sent to The Independent that did not mention a third passenger.
"Prior to takeoff, American Airlines Flight 1469, with service from Miami (MIA) to Houston (IAH), returned to the gate to deplane two customers who failed to comply with crew member instructions and refused to adhere to federal face covering requirements," the statement read. "We thank our team members for their professionalism and apologize to our customers for the inconvenience."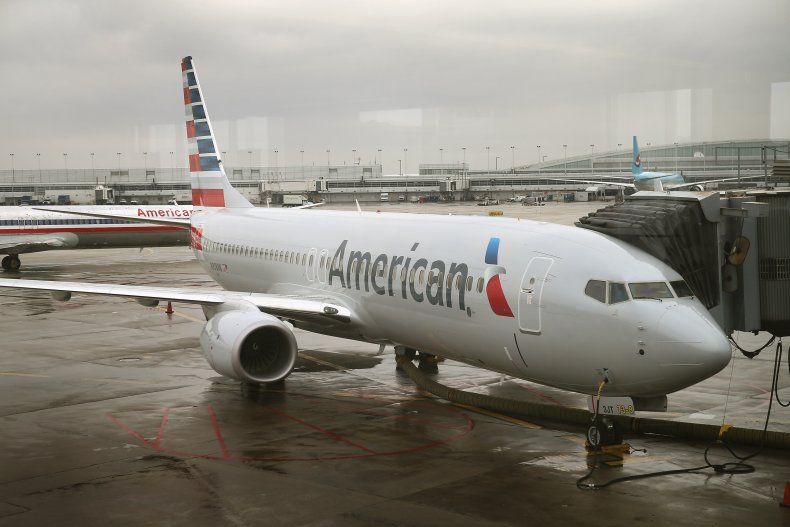 Federal mask mandates in place in the U.S. currently require travelers to wear face masks at airports and on planes to protect against COVID-19. These rules will remain in place until at least January 2022.
Last week, American Airlines removed a mother and her two-year-old from a flight set to depart the Dallas-Fort Worth area when the child was unable to wear a mask. The mother later revealed that this was due to her child's asthma, which American Airlines said that it was not aware of. The mother, Amanda Pendravis, called the incident "the most humiliating/traumatizing experience."
The COVID-19 pandemic has led to a considerable uptick in unruly behavior from air travelers, with failure to comply with mask mandates being a frequent issue. United Airlines CEO Scott Kirby recently said that his company banned nearly 1,000 passengers due to such behavior since the pandemic began. He also noted that such incidents had dropped by around half since the start of 2021.