Passengers Frantically Stop Subway Train From Hitting Woman Who Fell on the Tracks in Dramatic Video
A woman came within meters of her death after falling onto the tracks at a Buenos Aires subway station as a train approached the platform.
The woman, identified only as Andrea, fell onto the tracks at Pueyrredón station in the north of the Argentine capital. A man leaning against a wall appeared to lose consciousness on the platform, falling forward and striking the woman with his head and shoulders as she happened to walk past.
The impact then sent the woman flying sideways onto the tracks, with video footage of the lucky escape showing her head bounce off the metal rails.
She can then be seen lying totally stiff and motionless as voltage running through the tracks is believed to have completely stunned the woman.
Dozens of other passengers then beckoned to the driver of the oncoming D train, with many leaning out into its path and waving their hands and bags, frantically trying to stop it before reaching the woman.
The train stopped just short of the woman after emergency brakes were applied. Three men could then be seen jumping onto the tracks to rescue her.
Train operator Roxana Elizabeth Flores, who has been working at Metrovías for 25 years, said it was a "miracle" that the woman survived.
"People were beckoning and I immediately saw the person on the tracks and pulled the emergency brake, as the protocol says," she said to the Argentine Telefe news channel, reported La Nacion.
"I felt a strong sensation of stress because all you want is for the brakes to work.
"The train responded perfectly and miraculously the woman suffered no more than a blow."
She added that the situation was additionally stressful because trains approach the platform at Pueyrredón station on a bend that reduces the driver's vision and that trains usually travel at a speed of 25 miles per hour as they arrive.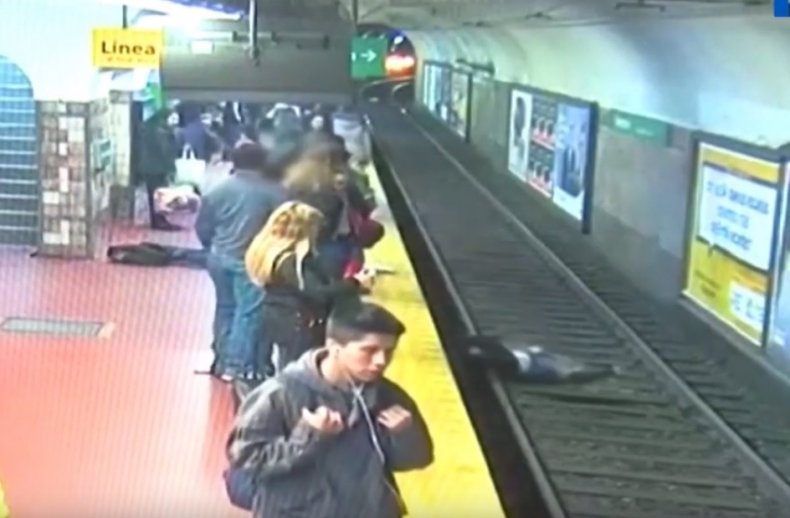 The woman was assisted by police personnel before medics arrived. She was later diagnosed with a fractured skull.
Her husband, Marcelo, told La Nacional: "Andrea is well—distressed, in shock and sad—but clinically she is well. She can feed herself and she is lucid.
"Today she asked to watch the video [of the incident] and she began to cry. She can't believe it."
Buenos Aires Police briefly questioned the man who caused the woman to fall, but he was released without charge.
"He traveled with us in the ambulance and I asked him what happened," Marcello added. "He told me that he was going to work in an office in Puerto Madero and that he was returning home because he felt bad."