Passengers Who Survived Deadly Southwest Engine Explosion Suing Airline
A group of passengers onboard the Southwest Flight that was forced to make an emergency landing in Philadelphia after it suffered an engine blowout are suing the airline, claiming they have been left with severe emotional distress.
One person, Jennifer Riordan, died from her injuries after being partially sucked from the aircraft, when the engine blew out one of the windows on the Southwest Flight 1380 from New York's LaGuardia to Dallas on 17 April.
Eight other passengers from the flight have now filed a suit against the airline, Boeing and three companies involved in manufacturing plane's engine, claiming Southwest "negligently" failed to inspect, test, maintain and repair the aircraft and engine before the fatal flight.
Southwest reportedly inspected the plane and engine just two days before the blowout.
"As a direct result of the frightful, death-threatening Flight 1380 incident, each Plaintiff suffered severe mental, emotional and psychological injuries, including post-traumatic stress disorder and physical injuries," the lawsuit filed in the Supreme Court of the State of New York states, reports the Washington Post.
The plaintiffs—Cindy Arenas, Jaky Alyssa Arenas, Jiny Alexa Arenas, Elhadji Cisse, Donald Kirkland, Beverly Kirkland, Connor Brown and Cassandra Adams—add they "were confronted with their greatest fear, the overwhelming horror of being trapped in a plane about to crash."
Joe Arenas, the husband of passenger Cindy Arenas, is also included in the suit as he alleges he "suffered the loss of consortium of his wife, plaintiff Cindy Arenas, due to the devastating impact upon their marital relationship," reports ABC News.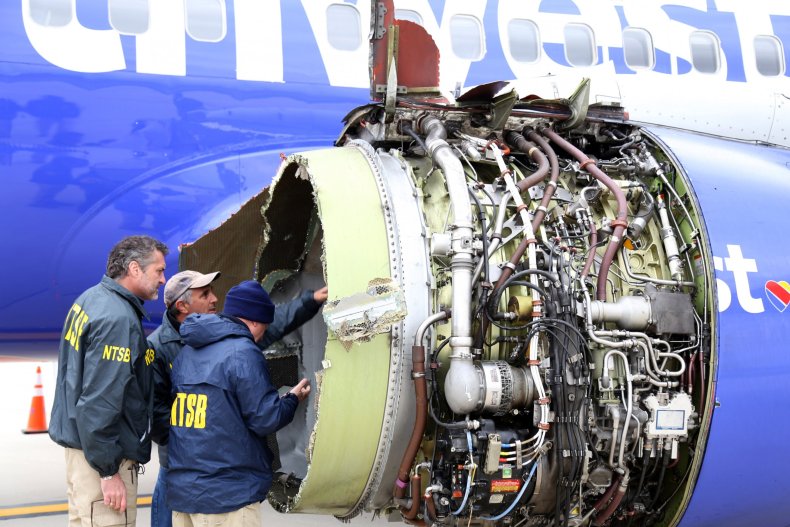 The family of Riordan, a 43-year-old mother of two who died as a result of impact trauma to her head, neck and torso after being partially pulled out of the plane, are not part of the suit.
The incident was Southwest's first passenger fatality in the airline's 51-year history.
The pilot of flight,Tammie Jo Shults, was praised for her actions after she safely landed the plane while one of the engines was on fire, avoiding further tragedy.
In a joint statement with the copilot Darren Ellisor, Shults said she and her team were "simply doing our jobs" by landing the plane.
"Our hearts are heavy. On behalf of the entire crew, we appreciate the outpouring of support from the public and our coworkers as we all reflect on one family's profound loss."
Southwest Airlines did not respond to a request for comment.