Passing Another Economic Relief Package Is Joe Biden's 'Top Priority,' White House Says
As Democrats forge ahead with the budget reconciliation process, the White House says President Joe Biden remains laser-focused on delivering more aid to the American people amid the COVID-19 pandemic.
White House press secretary Jen Psaki kicked off Tuesday's press conference, the first briefing since the completion of Donald Trump's second impeachment trial, by addressing the question of "what's next" for the administration.
"The answer is the president is going to continue working on getting the American Rescue Plan passed. That is his top priority," Psaki said.
She noted Biden will be in Milwaukee, Wisconsin on Tuesday night to participate in a CNN town hall where he will discuss the ongoing coronavirus pandemic and economic crisis. It is expected that Biden will promote his $1.9 trillion relief package during the event.
"Congress is continuing to do their job," Psaki said. "Over the course of the coming weeks, we're looking forward to making progress."
The Biden administration announced Tuesday morning that it will be extending the foreclosure moratorium and mortgage forbearance, which allows borrowers to pause or reduce payments, through the end of June. Both programs were set to expire in March. The White House said that more than 10 million homeowners are behind on mortgage payments due to the economic effects of the pandemic.
Psaki said Tuesday that "it remains critical that Congress pass the American Rescue Plan to deliver more aid to struggling homeowners."
Democrats are working to pass Biden's $1.9 trillion economic relief package through budget reconciliation, which would allow them to bypass the Senate filibuster and pass legislation with a simple majority. The House of Representatives will reportedly vote on their bill next week with Senate action to follow.
The House bill includes $1,400 stimulus checks, a $15 minimum wage, expanded unemployment benefits, additional funding for nutrition assistance and housing aid, $130 billion to help reopen schools, $350 billion to state and local governments, among other measures.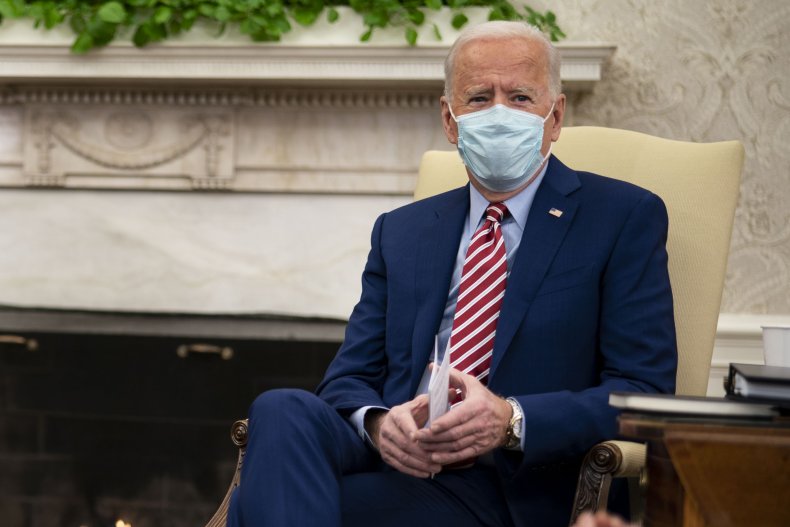 Time is of the essence for lawmakers to pass additional COVID-19 relief as key unemployment measures are set to expire on March 14.
The legislation is likely to face greater hurdles in the Senate, where Democrats can't afford to lose support from a single party member. Two moderate Democrats, senators Kyrsten Sinema of Arizona and Joe Manchin of West Virginia, have indicated their opposition to passing a $15 minimum wage via the budget reconciliation process.
There's been little to no support from congressional Republicans so far for Biden's stimulus package. But Psaki noted several times that polling indicates widespread public support for the $1.9 trillion bill. The latest poll from Quinnipiac University found 68 percent of Americans backed the relief measure.
"If you look at the polls, they are very consistent," Psaki said Tuesday. "The vast majority of the American people like what they see in this package. That should be an indication or should be noted by members of Congress as they consider whether they are going to vote on it or not."
Psaki later said if Republicans in Congress make the decision to vote "against the will of their constituents I would suggest you ask them why that's smart politically."