The Passion of Harry Reid: Senator Flails Against Angle in Nevada Debate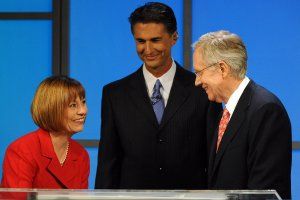 It was billed as the contest Harry Reid had to win. But the Senate majority leader had better hope that's not true: his performance in Thursday night's lone Nevada Senate debate is being widely panned, with Reid coming off as wooden, inarticulate, and shiftless. Meanwhile, Reid's opponent, Tea Party standard-bearer Sharron Angle, avoided a serious gaffe—no small feat, given her track record.
Why was the debate so important? It's the only face-to-face meeting in a campaign that has been incredibly close, with the candidates trading minuscule leads for weeks. While Reid's defeat seemed inevitable a few months ago, his strategy of painting Angle as extreme—and giving her ample rope to hang herself—has kept him in contention. On Thursday, Angle needed to avoid serious mistakes, while Reid needed to be forceful and charismatic. And almost everyone says she succeeded, while he didn't.
Even the dean of Nevada political journalism, Jon Ralston—who has been sharply critical of Angle in the past—cast his verdict in her favor: "Angle won because she looked relatively credible, appearing not to be the Wicked Witch of the West (Christine O'Donnell is the good witch of the Tea Party) and scoring many more rhetorical points. And she won because Senate Majority Leader Harry Reid looked as if he could barely stay on a linear argument, abruptly switching gears and failing to effectively parry or thrust." Hotline's Lindsey Boerma and Josh Kraushaar label Angle's performance a near-knockout blow.
And while Reid's discussion of colonoscopies is gathering snickers, liberal journalist T. A. Frank writes that Reid's real gaffe was even agreeing to the meeting. "If your campaign is based on portraying your opponent as loony, then why give that opponent a chance to look reasonable?" he asks in The New Republic. "Lyndon Johnson never debated Barry Goldwater."
It's not unanimous. Josh Marshall, editor of the liberal Talking Points Memo, rates Reid better than most—even if his review isn't exactly exuberant. And Dave Weigel argues that Reid is being unfairly bashed: the bar for him was brilliance, while the bar for Angle is coherence. Is that really the standard that's appropriate for electing a senator? Perhaps not, but it reinforces Frank's point, since Reid didn't have to debate, and calls Reid's political judgment into question.
But the best line of the night comes from The Atlantic's James Fallows, who snarks, "There is only so much I will do for The Atlantic... After the opening statements, I realized: I am not that brave."
If Reid wants to try to regain momentum, he doesn't have much time to do so: early voting in Nevada starts Saturday, and the latest polls show few undecided voters. He is trying: viaWashington Post blogger Greg Sargent, he had an attack ad using debate footage up by Thursday night. But it's looking more and more likely that Reid's premature political obituaries weren't so premature after all.