How Newsweek Reported Past Presidential Elections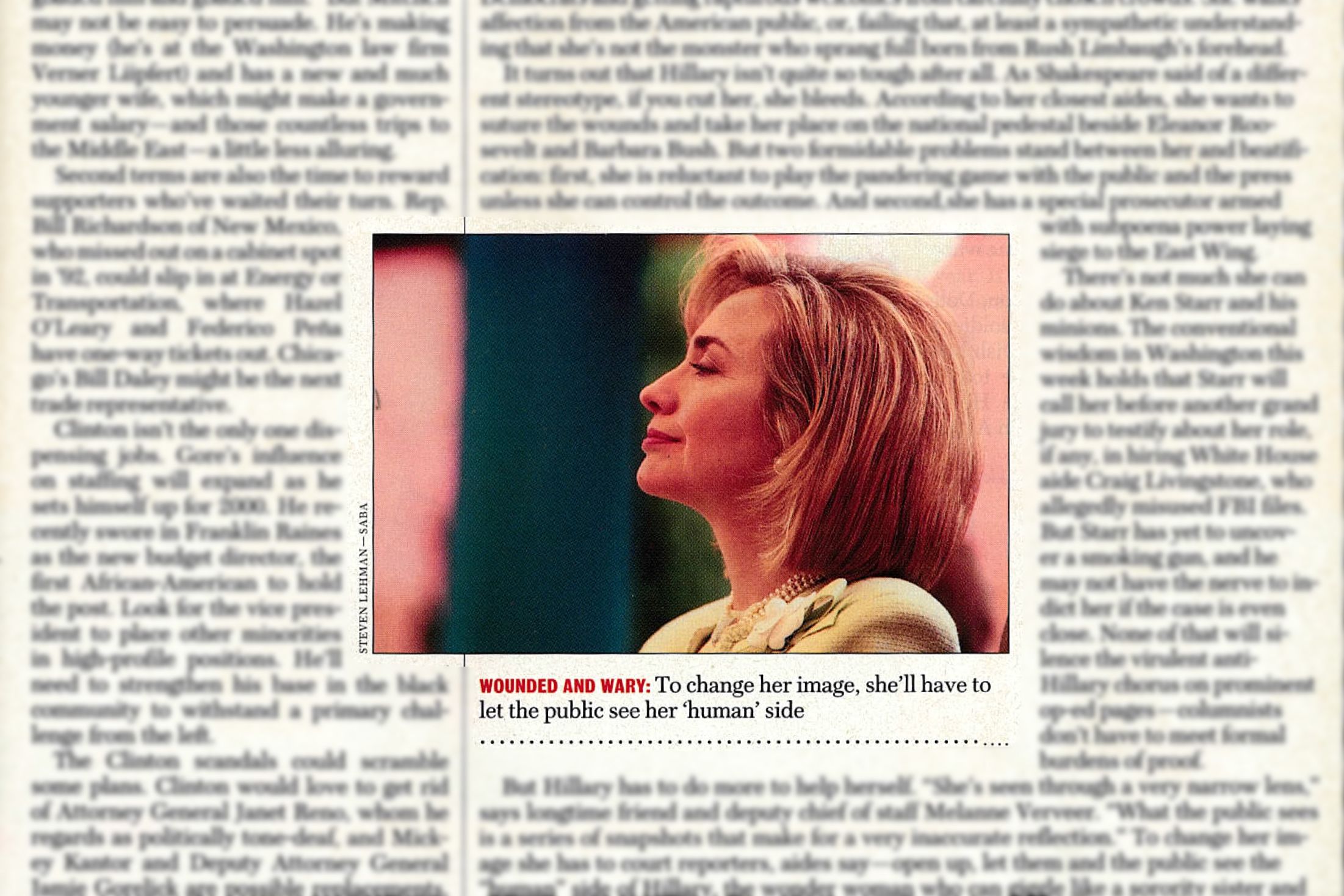 Newsweek 's first issue debuted February 17, 1933. At the time, Franklin D. Roosevelt was the president-elect, having beaten Herbert Hoover a few months prior. The top headlines of the week included "Easing Burdens of Debt," "A Blank Check for Roosevelt," and "Roosevelt Seeks Governors' Aid."
Eighty-three years later, debt is still a burgeoning issue for the White House, and Newsweek is still reporting on the future president's plans for dealing with it.
Over the years, Newsweek has kept a close eye on presidential races and the issues that shaped them. We've reported on the first time women really shook up the vote, had a fireside chat with Ronald Reagan, expounded on the anxiety that surrounded billionaire Ross Perot's run at the presidency (and his eventual downfall), went inside the recount nightmare in the Election 2000 Florida debacle and reflected on Hillary Clinton's own status during her husband's last term in office.
As Election Day 2016 fast approaches, Newsweek recalls the U.S. presidential races of the past, and the moments that made them particularly noteworthy.
November 5, 1956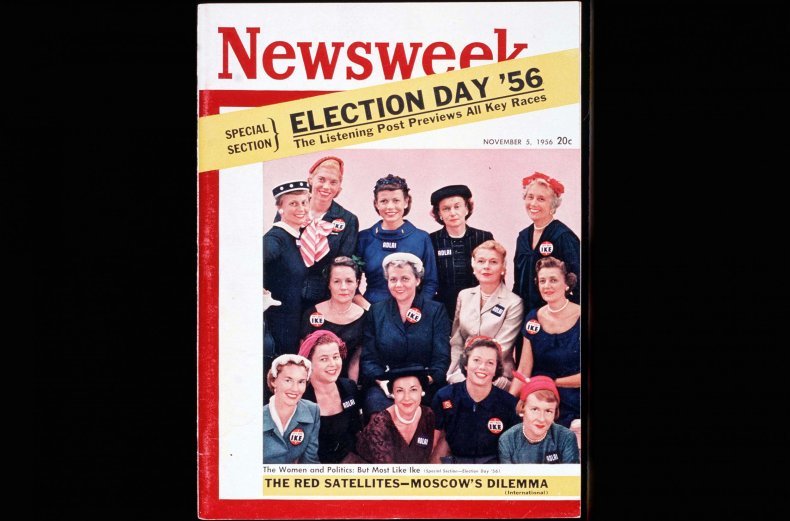 In 1956, for the first time since they were given the right to vote, women voters were expected to equal male voters in the presidential election. President Dwight D. Eisenhower won re-election over former Illinois Governor Adlai Stevenson that year by a landslide; experts agreed it was largely attributable to the women's vote.
The Women—and the Result?
In 15 of the 35 states given to the [Eisenhower], the Listening Posters believed that this margin of victory would be reduced from 1952. This would indicate that his popular vote would fall substantially short of the 33,936,252 that he rolled up in 1952 (to 27,314,992 for Stevenson). Nevertheless, it was considered possible that Mr. Eisenhower's popular victory would again reach landslide proportions. If it does, the experts agreed it will be largely attributable to one big factor: the women's vote.
In state after state, the Listening Posters reported that the great number of women voters still like Ike. In only two states (both Southern) did they find women predominantly in favor of Stevenson. These findings assume particular significance this year when it is expected that women voters, for the first time since they were granted suffrage, will equal, and quite possibly outnumber, male voters.
Evidently, the women's enthusiasm for Mr. Eisenhower does not extend to Republican candidates in general. The Listening Post findings indicate that the Democrats will retain control of both houses of Congress and also will keep the majority of the country's 48 governorships.
November 11, 1968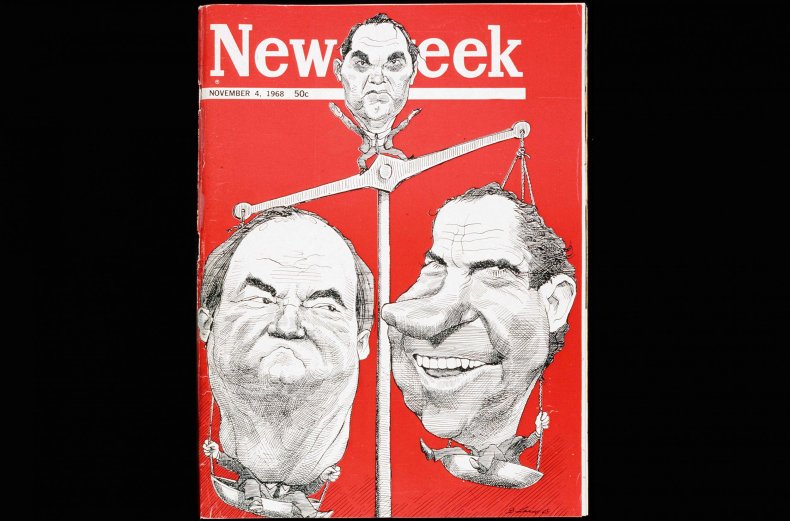 The election of 1968 was fraught with tension. The nation was in the throes of the Vietnam War, as well as the race riots that followed the assassination of Martin Luther King Jr. It was a battle featuring Republican nominee and former Vice President Richard Nixon, Democratic nominee incumbent Vice President Hubert Humphrey and Independent former Alabama Governor George Wallace, As such, Newsweek 's election issue the week of November 11 was its "most intricate" planning in history, with five possible covers selected. Below, the editor's note in the table of contents:
The planning for this week's election issue was the most intricate in Newsweek's history. To prepare for any eventuality, the editors selected five possible covers: one for each of the three leading contenders, one for an electoral-vote deadlock, and one for a cliff-hanging result too close to call by press time. (A sixth cover—on the bombing halt in Vietnam—is running on Newsweek's International Editions.) The election cover was chosen only hours before the presses began running on Wednesday afternoon.
Weeks before that moment of truth, National Affairs editor John Jay Iselin began organizing the task force of more than 80 correspondents, writers and researchers who were to produce the 15-page election package. Reporters covered the major candidates' headquarters, monitored key state and congressional races and hunted trends at representative polling places from coast to coast.
November 5, 1984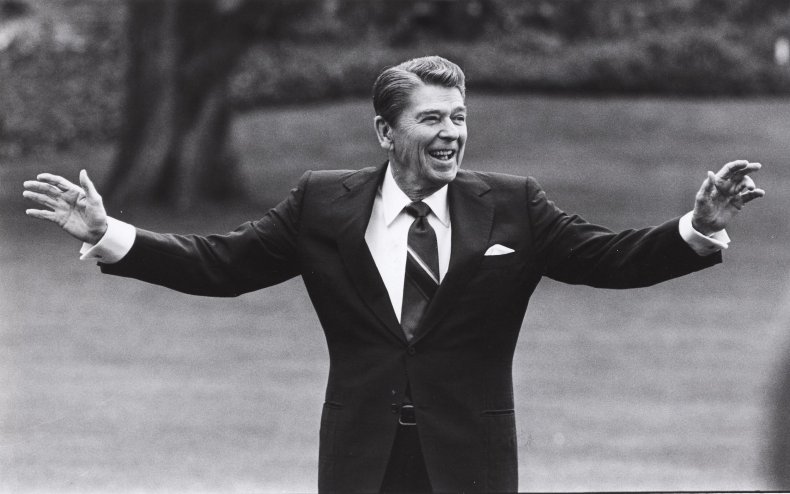 In 1984, Newsweek spoke candidly with both presidential candidates, Republican candidate for president Ronald Reagan (despite his pre-election interview superstitions) and Democratic candidate Walter Mondale. The two got serious about how they really felt about the election, and one another.
Interviews With Reagan and Mondale
View From the Oval Office
NEWSWEEK: Debates now seem to be institutionalized. Do you think that's a good idea?
REAGAN: No, I really don't. I have to wonder if they serve a purpose.… We've got records; our positions on things certainly are available.… And then suddenly say, "Well now, in 90 minutes we're going to have a back-and-forth…and this maybe is going to decide the outcome".… I'm not enthusiastic about them.
NEWSWEEK: Why did you agree to debate, then?
REAGAN: Because I was quite sure, very frankly…that I would find myself defending against a charge of cowardice if I didn't....
NEWSWEEK: How do you feel about Vice President Bush's locker-room comment?
REAGAN: Well, this is a little bit like my supposed ill-timed joke when I was at the ranch doing my own radio show.… All of us at times say some things that we wouldn't say in polite company…but the only time someone should be blamed is if they say some of those things intentionally for public dissemination.
The Challenger's Outlook
NEWSWEEK: What do you think President Reagan stands for?
MONDALE: He believes that the government should not be a positive force in American life. As he put it, government is the problem. Thus he is seeking to withdraw it—in Social Security, Medicare, civil rights, women's rights, education, the environment, consumer protection, He is a social Darwinist. He believes that when you, say, help a youngster get a good education, you're creating a sense of dependency I think you create independence. The values that should underpin the use of American strength are missing. We ought to define the purposes of American life to include not just economic growth, but a sense of the future and a sense of justice.
November 9, 1992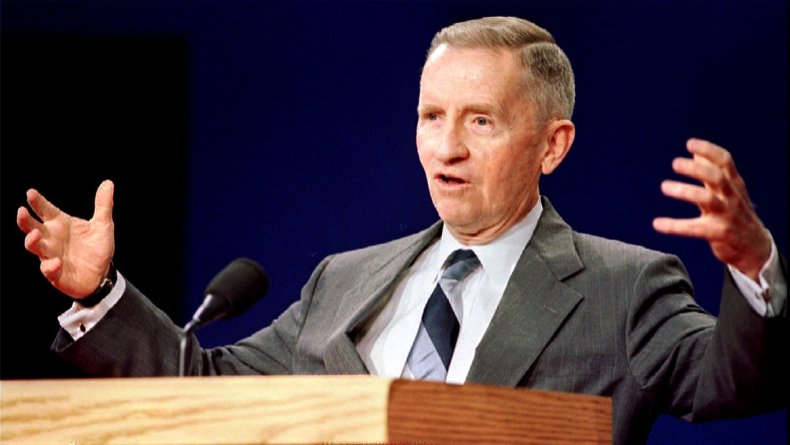 Ross Perot dropped out of the presidential race with challengers Bill Clinton and George H.W. Bush in July 1992 to protect his daughter from what he thought was a plot to disrupt her wedding. Newsweek reported on what it called "one of the more bizarre episodes in modern politics, the story of a surpassingly strange romance between a bigmouth billionaire and a frustrated, disillusioned electorate." The rhetoric bears striking similarity to the same questions journalists ask themselves about Donald Trump.
Citizen Perot
A bigmouth billionaire and millions of angry voters combined to make it a wild campaign—and Ross Perot probably isn't through yet.
So this, in all probability, signaled the end of the Perot presidential bubble—one of the more bizarre episodes in modern politics, the story of a surpassingly strange romance between a bigmouth billionaire and a frustrated, disillusioned electorate. Who is this guy, and how did he wind up getting so much attention in a pivotal election year? How has he changed the process, and what is he likely to do next? What does his early success and ultimate failure tell us about Ross Perot, about American politics and ourselves? There can be no question that Perot came very close to upsetting the rickety apple cart we call the two-party system: Possibly—just possibly—he could even have gone all the way. Ed Rollins and Hamilton Jordan, the two political pros who briefly enlisted to run the Perot-for-president campaign,certainly thought he could, and no one can say that Rollins and Jordan are dumb.
NEWSWEEK POLL, OCTOBER 28-29, 1992:
Do you think there really was a plot by Republicans to smear Perot's daughter?

All voters
26% Yes
53% No

Perot Voters
50% Yes
20% No

NEWSWEEK POLL, OCTOBER 28-29, 1992:
Does Perot rely too much on stories that are not backed up by hard evidence?

All voters
48% Yes
35% No

Perot voters
17% Yes
71% No

NEWSWEEK POLL, OCTOBER 28-29, 1992:
From all you have learned about Perot, do you think better or worse of him now than when he first put himself forward for president?

39% Better
42% Worse
15% No change
November, 18 1996

In November of 1996, Bill Clinton had just won re-election over former Senator Bob Dole of Kansas. Newsweek reported on Hillary Clinton's status as first lady, saying "to change her image, she'll have to let the public see her human side." This article was previously published on newsweek.com.
Hillary's Second Term
The first lady wants to win a landslide, too, of respect and affection for her good works
Finally, the last campaign her husband will ever run is over. And now Hillary Clinton is on the cusp of deciding whether she's going to launch a final crusade of her own, one aimed at redeeming her reputation. The First Lady isn't content with taking foreign good-will missions, harvesting money from loyal Democrats and getting rapturous welcomes from carefully chosen crowds. She wants affection from the American public, or, failing that, at least a sympathetic understanding that she's not the monster who sprang full born from Rush Limbaugh's forehead.…
It won't be an easy sell. The public seems to prefer Hillary in her fall campaign mode, flying below radar, seldom visible for very long. Like it or not, she remains a debate at every dinner table in the land. In the latest Newsweek Poll, almost two thirds said they didn't want her husband to give her a ""major new policy role.'' More likely she will push "empowerment projects'' for welfare moms and spotlight a host of children's issues about which she exhibits genuine passion. As one aide puts it, the first lady now understands that ""the power of her job is mostly symbolic.'' In the end, Hillary may have to bask in what she has already. A lovely child just 10 months shy of leaving for college. A best-selling book, a syndicated column, hundreds of invitations to speak. And the ear of the most powerful man on earth.
November 20, 2000

While 2016 might go down in history as the cattiest, scandal-laden bicker fest in U.S. election history, it still won't be the craziest—that superlative is reserved for Election 2000, what Newsweek called "America's Closest, Craziest Election" on its November 20, 2000, cover. We went inside the Florida recount debacle as it was happening.
Clouds Over the Sunshine State
How confusing ballots, accidental votes and now a swarm of lawyers are rolling Florida like a hurricane
By 4 p.m. on Election Day, Al Gore's emergency phone bank in Texas was calling thousands of Democrats in Palm Beach County, Fla. The ballot there was "confusing," the callers said. "Do you believe that you may have voted for the wrong candidate for president?" More than 2,000 people thought about it and said, yeah, they might have. The operators took down names and addresses. Then came the ground troops. As lawyers besieged Tallahassee and Gore aides fanned out across the state for the recount, the party put in a call to its canvassing machine in Boston—one of the best in the business. By Friday, a team of veteran campaigners from the Boston mayor's office and the Kennedy organization were tracking down elderly Jewish residents who said they'd voted for Pat Buchanan—of all people—by accident. At Lucern Homes East, a typical senior citizens' complex in Green Acres, operatives held a meeting of more than 50 elderly voters and lined them up, one by one, to sign their names before a notary public. "You're doing God's work," a grateful resident told them, as she happily signed her affidavit.
Perspectives
"The American people have spoken, but it's going to take a little while to determine what they said."
—Bill Clinton, on the election uncertainty
"There have been two votes, and we're pleased with the results of the two votes."
—George W. Bush, on the still-undecided Florida count and recount
"You don't have to get snippy."
—Al Gore, when calling Bush to retract his concession
"We don't just have egg on our face—we have an omelet all over our suits."
—Tom Brokaw, on the networks' prematurely calling Florida—twice
"Most of those are probably not my vote, and that may be enough to give the margin to Mr. Gore."
—Pat Buchanan, on the butterfly ballot in Palm Beach County
"I don't think [NADER] is going to build a Green Party any more than O.J.'s out there looking for the murderer."
—Environmental Working Group president Ken Cook, joining the chorus of liberals accusing Ralph Nader of costing Gore the election.
November 17, 2008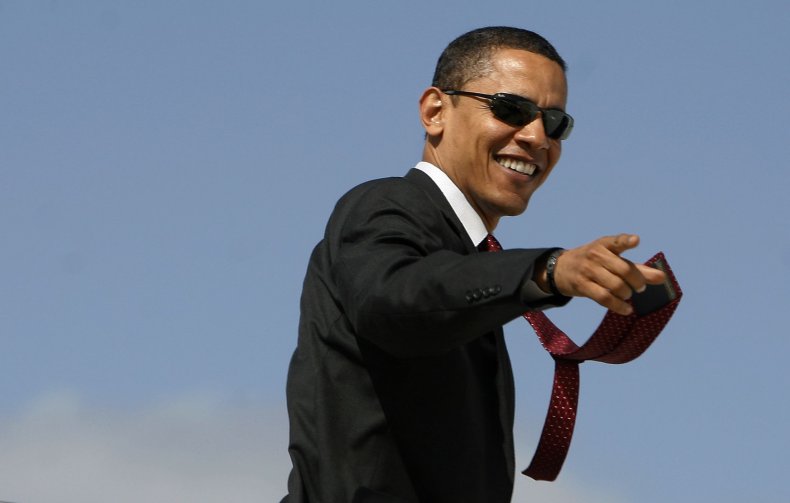 Barack Obama was once the "consummate outsider," Newsweek said in its November 17, 2008 issue. The issue was dedicated to how Obama broken down historic race barriers to win the 2008 election and become the first African-American president. His victory now has paved the way for Hillary Clinton to break down gender barriers in 2016. This article was previously published on newsweek.com.
The Age of Obama
Obama ran, in part, by arguing that his candidacy transcended race. Perhaps it did; many of us believed that his skin color, unusual name and unfamiliar background might well cost him the election. As it turned out, he won decisively, a rare feat for a Democratic presidential nominee. Does this mean that America is new beyond black and white? No, but we are much further ahead than we were a week ago. Obama's victory, no matter what one's politics, is a redemptive moment in the life of a nation for which race has been called, simply and starkly, "the American dilemma."
John McCain is a man of honor, a patriot who has lived a life of service and devotion to country. He was, however, on the wrong side of history in 2008. Like Hillary Clinton, also a formidable American and public servant, he had the great personal misfortune to be standing in the path of an unstoppable political force. (One of the riddles of the age will be what might have happened had he survived the South Carolina primary in 2000 and defeated Bush for the Republican nomination eight years ago.) External forces, chiefly the economic collapse in the autumn and President Bush's stubbornly low approval ratings, created an environment that made a GOP victory virtually impossible. With a man of Obama's undeniable political gifts on the other side, the task became actually impossible.