Oklahoma Man Uses Pasta Pass to Eat at Olive Garden Every Day for Nine Weeks
An Oklahoma man used his Olive Garden Pasta Pass to eat at the Italian chain restaurant every day for nine weeks, consuming between $7,000 and $8,000 worth of food.
In September 2018, Tulsa resident Tucker Chonka plunked down $300 for the all-you-can-eat pass, which entitles the bearer to unlimited pasta, sauce and toppings—plus all the soup, salad and breadsticks they can handle. Chonka was determined to get his money's worth, eating two meals the Garden nearly every day for more than two months. In 470 visits, he estimates, he ate 860 bowls of pasta (up to six a day), plus 169 plates of salad, 134 bowls of soup and 191 breadsticks.
And next month he's going to do it all again.
The 2019 Pasta Pass went on sale on August 15, selling out in one second. Chonka quickly snatched one up, but demand was so high it caused Olive Garden's website to glitch. The new passes are valid between September 23 and November 24, 2019, and Chonka says he'll make himself at home at the Garden again.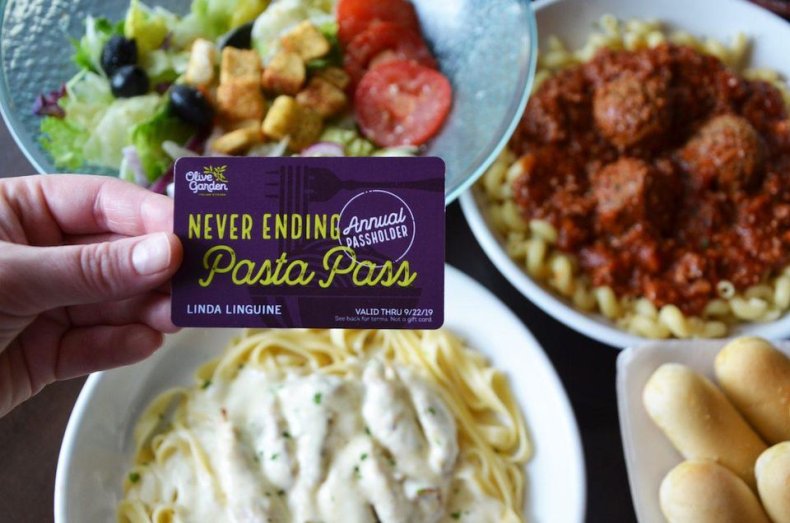 "I kind of take everything to the extreme," he told News On 6. "People that know me will attest to that. I've very black and white. If I'm going to do something, I'm doing it 150 percent."
A manufacturing engineer, Chonka says while he was hitting the Olive Garden in Broken Arrow last fall, he didn't cook, do dishes or even go to the grocery store.
But the former high-school football player doesn't let all that high-carb food go to his gut: He carefully records every bite on a spreadsheet and exercises twice a day to burn off the approximately 7,000 calories he'll consume daily.
Chonka's not concerned about what endless pasta-bilities are doing to his digestive system, either: "I think this is pretty good quality food. I have no issues with this," he says. "Whenever I eat something else, it kind of tears me up a little bit if I'm not eating my regular Olive Garden all the time. So my body's just kind of totally adjusted to it."
The restaurant chain offered 50 random customers the chance to upgrade their nine-week Pasta Pass to a lifetime card for $500, but Chonka wasn't among hem.
Jaime Oktay, general manager at the Olive Garden location in Broken Arrow, is happy Chonka is coming back again: "The fact that we do a good enough job, that our food is so incredible to him that he enjoys it, makes me feel good and proud of our product," he tells News on 6.
Restaurants can have a hard time dealing with people pushing the all-you-can-eat envelope: In 2012, a Wisconsin man was arrested for disorderly conduct after picketing outside an eatery that cut him off from its all-you-can-eat fish fry after just 12 pieces.
Last year, triathlete Jaroslav Bobrowski was banned from a Japanese restaurant after eating nearly 100 plates of sushi as part of an $18 all-you-can-eat deal. When he finished, servers refused Bobrowski's money and told him he was no longer welcome.
In January, after Portland resident Curtis Brooner found himself trapped in a Burger King bathroom for an hour, the manager offered him free food for life. But, according to The Oregonian, the invitation was revoked after he hit the fast-food joint 13 days in a row. Brooner sued and got the chain to cough up $9,026, the cost of a Whopper meal every week for 22 years.