Pastor Asks God to Protect President Trump from 'jungle Journalism'
A pastor speaking at President Donald Trump's rally called for God to protect the U.S. President from what he defined as "jungle journalism."
Leading the invocation during a rally on Saturday night in Ohio, Gary Click, a pastor and member of the Ohio GOP's State Central Committee, launched a scathing attack against the Fourth Estate.
"Tonight, I pray that You will protect our President and his family with a shield of faith, Lord, that shield of faith against the fiery darts of the wicked one, Lord, against that jungle journalism (that) extorts the truth and distorts honesty and integrity every single day, gets in his face with lies and mistruths and innuendos," he told the crowd, as reported by CNN.
"Lord, protect him."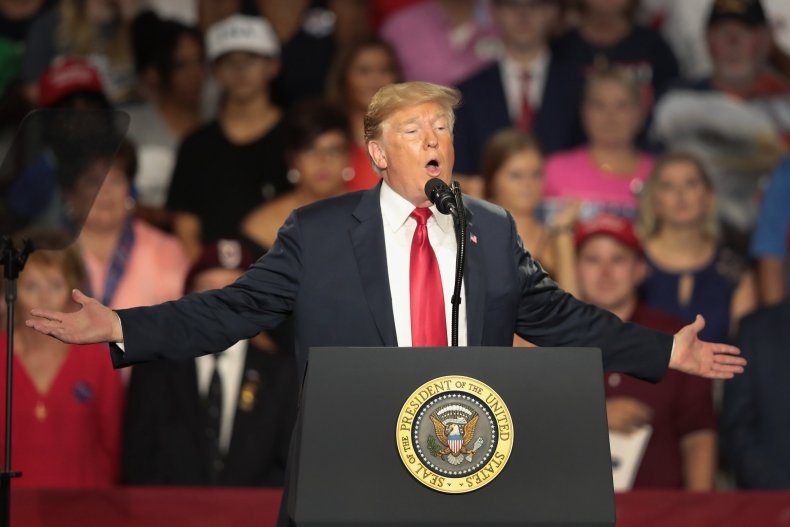 Throughout his electoral campaign and ever since he replaced Barack Obama at the White House, President Trump has repeatedly attacked sections of the media, singling them out for spreading what he describes as "fake news."
Recently, however, the President has stepped up his rhetoric, calling media who do not support his policies as the "enemy of the American people."
At the same campaign rally in Ohio, President Trump once again praised Fox News for its ratings and hosts, while simultaneously attacking against the network's competitors.
"Oftentimes I'm getting ready to do the fake news with CNN or MSNBC—MSNBC is so corrupt it's so disgusting," Trump said, as reported by The Hill.
"I would say they're almost, they're worst. They're really a fake news group of people. Here's the good news, the guys that we love [Fox News], they're blowing them away in the ratings.
"CNN is down at the bottom of the totem pole, MSNBC isn't even close to being next to these shows. So we're blowing them away, and that's good because those are the people that love us."
The White House has reined in its "daily" press briefings last month, hosting a total of just three meetings with the press over the course of July, which, according to CNN's Allie Malloy, amounted to a combined total of 58 minutes.
Last week, White House press secretary Sarah Huckabee Sanders declined to distance herself from Trump's "enemy of the people" claim during a heated exchange with CNN reporter Jim Acosta.
"I think the president has made his position known," she said. "It's ironic, Jim, that not only you and the media attack the president for his rhetoric when they frequently lower the level of conversation in this country."
Acosta subsequently walked out of the press briefing before its conclusion and later explained he left due to his dismay at Sanders' comments. He asked Sanders whether she believed the media was the enemy of the people in the U.S. after posting video footage earlier this week showing Trump supporters cursing and mocking him and other reporters at one of the president's rallies.
"I walked out of the end of that briefing because I am totally saddened by what just happened," he said.
"Sarah Sanders was repeatedly given a chance to say the press is not the enemy and she wouldn't do it. Shameful."