Right-wing pastor Rick Wiles declared that "Jesus Christ shut down Right Wing Watch" just before YouTube reversed a ban on the group.
On Monday, YouTube issued what was initially thought to be a permanent ban on Right Wing Watch, a group that has shared potentially unflattering videos featuring Wiles multiple times over the years. During an appearance on his conspiracy news outlet TruNews, Wiles celebrated the ban while insisting that it was a form of divine retribution against Right Wing Watch.
"Let me make this very clear today: Jesus Christ shut down Right Wing Watch," Wiles said during the broadcast, prompting a chorus of "amens" from his two co-hosts. "Not YouTube, Jesus Christ shut down Right Wing Watch today. This is an example of God working through unsaved people at YouTube to carry out his vengeance against those who attack and smear his servants."
"I didn't have to lift a finger against Right Wing Watch," added Wiles. "I think they'll disappear in the coming weeks and months, there's no purpose for them now."
Wiles also celebrated the brief ban on Twitter, calling the group the "most vocal enemy" of TruNews and citing the Bible verse Romans 12:19, which states "Beloved, never avenge yourselves, but leave it to the wrath of God, for it is written, 'Vengeance is mine, I will repay, says the Lord.'"
TruNews was permanently banned from YouTube last year after Wiles called the first impeachment of former President Donald Trump a "Jew coup."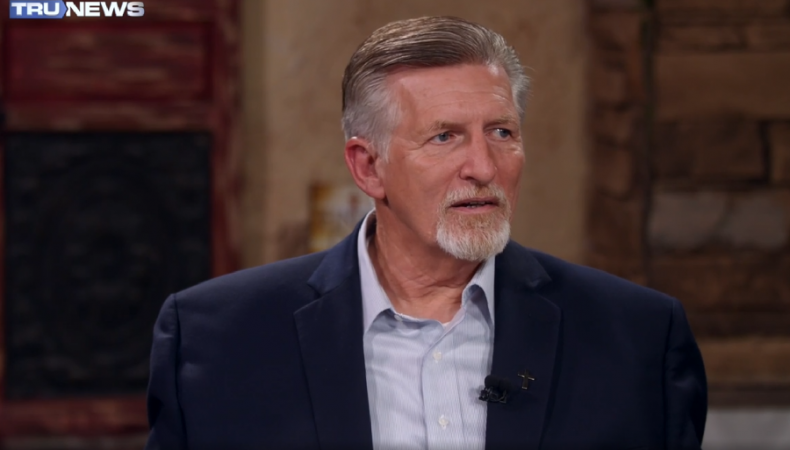 Right Wing Watch returned to the popular video platform a short time after Wiles celebrated its brief ban. YouTube explained to The Daily Beast that the group had been "mistakenly suspended" and said that the error was related to a high volume of content.
"Right Wing Watch's YouTube channel was mistakenly suspended, but upon further review, has now been reinstated," YouTube told the outlet in a statement.
On Tuesday, Right Wing Watch shared a clip of Wiles' celebration on TruNews alongside the comment "Oops."
The group is a project of the progressive group People for The American Way, which was founded by television producer Norman Lear in 1981. It curates and shares media clips, typically of far-right figures espousing conspiracy theories or rhetoric that the group considers harmful.
"We are glad that by reinstating our account, YouTube recognizes our position that there is a world of difference between reporting on offensive activities and committing them," People for The American Way said in a statement. "We hope this is the end of a years-long struggle with YouTube to understand the nature of our work."
"We remain dedicated to exposing threatening and harmful activities on the Far Right and we are glad to have YouTube again available to us to continue our work," the statement continued.
Newsweek reached out to TruNews for comment.