Who Is Pastor Andrew Brunson? Why Turkey Arrested American and Why He's Now Free
Turkey released American pastor Andrew Brunson from prison on Friday after sentencing him to the amount of time the evangelical missionary had already served.
Reports suggested that the Trump administration had successfully struck a deal with Turkish President Recep Tayyip Erdogan to have the pastor released. Previous attempts to secure Brunson's release had all failed.
Brunson, who had been living in Turkey for decades, was arrested in October 2016 in the wake of a failed military coup that attempted to oust Erdogan from power. Following the coup, Erdogan launched a widespread crackdown against his political enemies, including followers of a Pennsylvania-based Islamic cleric named Fethullah Gulen who Erdogan has viewed as his primary foe.
Brunson was accused of supporting the Gulenists and also spying against Turkey for ethnic Kurds. Turkey accused Brunson of attempting to set up a Christian Kurdish state in Turkey. Anonymous witnesses were used against the pastor throughout the case.
Brunson has denied all of the charges, and many analysts suspected that he was being used as a bargaining chip to pressure the United States to extradite Gulen back to Turkey. So far, both the Obama and Trump administrations have resisted extraditing the 77-year-old cleric, citing a lack of evidence against him. The charges against Brunson, meanwhile, carried a maximum sentence of 35 years.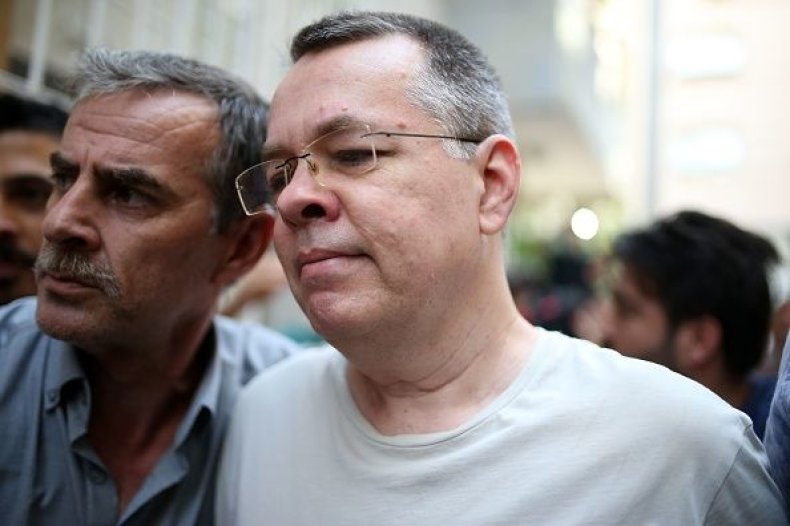 The Trump administration succeeded in having Brunson moved out of jail and into house arrest in July. Nevertheless, the relationship between the two countries soured in recent months as administration officials realized that it would be harder to secure the pastor's full release than they expected. President Donald Trump had repeatedly called for Brunson's release on Twitter and lashed out at Erdogan. The administration also levied heavy tariffs against Turkey in response to the diplomatic fallout. The dispute with the U.S. caused the value of the Turkish lira to plummet over the summer.
During a press briefing Friday morning before Brunson's sentence was announced, Vice President Mike Pence said the administration would "continue to stand strong until Pastor Brunson is free and back home in the U.S. with his family and his church."
A new hearing took place on Friday in Turkey's Western province of Izmir during which some witnesses reportedly withdrew their previous statements. Brunson was then sentenced to three years in prison, a time that he has already served. The court ruled to lift judicial controls, which means that the pastor is now free to return to the United States.
Brunson began to weep when the announcement was made in court. "I am an innocent man. I love Jesus, I love Turkey," he told the court.