Pastor Ed Litton Compared to Nixon as Plagiarism Battle Rages in Southern Baptist Convention
Pastor Ed Litton, president of the Southern Baptist Convention, has been under fire recently after being accused of plagiarism involving his sermons for the Redemption Church in Mobile, Alabama.
Newsweek had found earlier this week that over140 videos were either unavailable or hidden across several playlists on the Redemption Church YouTube page—after allegations that he was plagiarizing sermons by pastor J.D. Greear began to spread.
Litton, who was elected president of the SBC in June, has seen significant backlash for his statements regarding the controversy, including being subjected to a visual comparison of himself and former President Richard Nixon.
In an article published Saturday by the Capstone Report on Litton's apologies and statements regarding the issue, a visual GIF of Nixon with a flashing caption that reads "I am not a crook" is at the forefront of the story.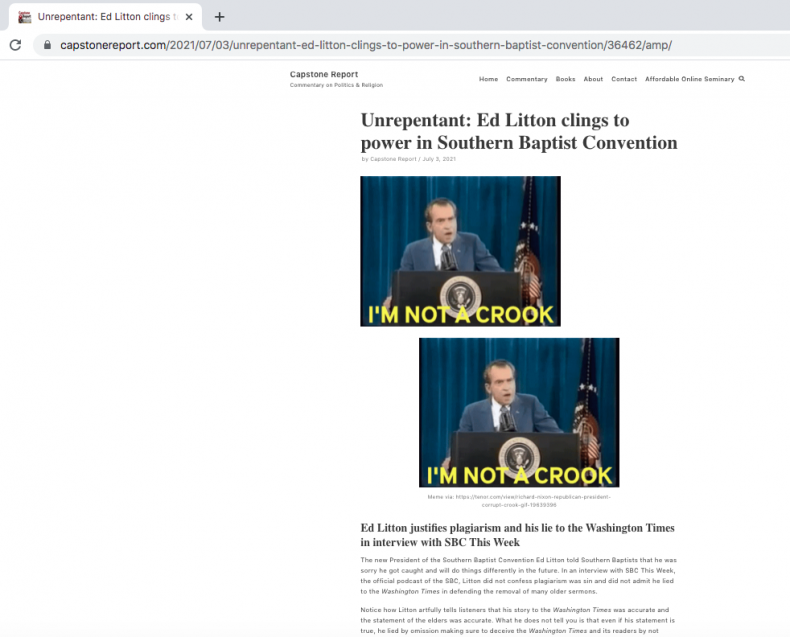 The article itself criticized the Alabama pastor's interview with SBC This Week, the SBC's official podcast, in which Litton defended his actions.
"Our elders and leaders made the decision to take down [the sermons] because they felt that people were going in and pulling things out, they believe, of context," Litton said. "And so, to protect the church, the wellbeing of the church and their pastor, they said we are pulling these down."
Litton had been accused of plagiarizing sermons written by Greear from 2019. In some of Greear's sermons, according to the Capstone Report, Litton had allegedly copied word for word without giving any proper credit.
Litton said in the podcast: "I am asked by good people, 'Why didn't you just credit J.D.?' Now I want you to hear my heart, this is not an excuse or justification. I am sorry I did not."
He gave an analogy to a lesson he learned from a professor when he was in seminary, that taught him not to verbally cite everything he would reference. "When the diamond miner goes looking for diamonds," Litton explained, "he doesn't hold up the pick and the shovel. He holds up the diamond. Now, please hear my heart, I am not excusing myself. I am just explaining my heart. I love my people and I want them to see Jesus. He is the diamond."
The author of the Capstone Report article wrote that Litton's lack of actual repentance for the plagiarizing sermons proves that he cannot be trusted. They wrote: "Ed Litton and his handlers are clinging to power. It shows they only care about power. These men love power more than they fear God."
Newsweek reached out to Litton for comment but has yet to receive a response.
For his part, Greear gave his own statement on the subject, and linked it in a tweet dated June 26 in which he wrote: "Thankful for Ed's gracious and humble words."
"I have said before— a culture of suspicion happens automatically; a culture of trust takes intentionality," Greear said in his statement. "Our convention desperately needs to build a culture of trust, and that starts with assuming the best about each other and giving the benefit of the doubt wherever we can. I am praying for Ed Litton as he leads us to focus on the Great Commission."