Pastor Greg Locke has falsely claimed that the COVID-19 vaccine isn't approved by the U.S. Food and Drug Administration (FDA). He also pledged to help congregants sue their employers if they require the vaccine for continued employment.
The vaccine "is not FDA approved," Locke claimed in a recent sermon highlighted by the anti-extremist website Right Wing Watch. "I don't care what Pfizer, I don't care what any of the four groups do out there."
Locke said that anyone who believes that "political elites actually got that vaccination" is "smoking meth in your mom's basement." The pastor claimed that the "elites" had actually injected "sugar water" into their bodies instead of medication.
"I know some of you like, 'My goodness! What am I gonna, my boss told me that if I don't get the vaccination that I'm gonna lose my job.' I can write you a religious exemption and we will sue their stinkin' pants off! ... This is America, not China!"
Locke is incorrect. The FDA has authorized the BioNTech-Pfizer, Moderna, as well as the Johnson and Johnson vaccines for emergency use. Despite the emergency authorization, all three vaccines underwent clinical trials with tens of thousands of participants to help the FDA determine their safety and effectiveness.
Locke's statement follows the pastor's history of speaking against COVID-19 prevention measures.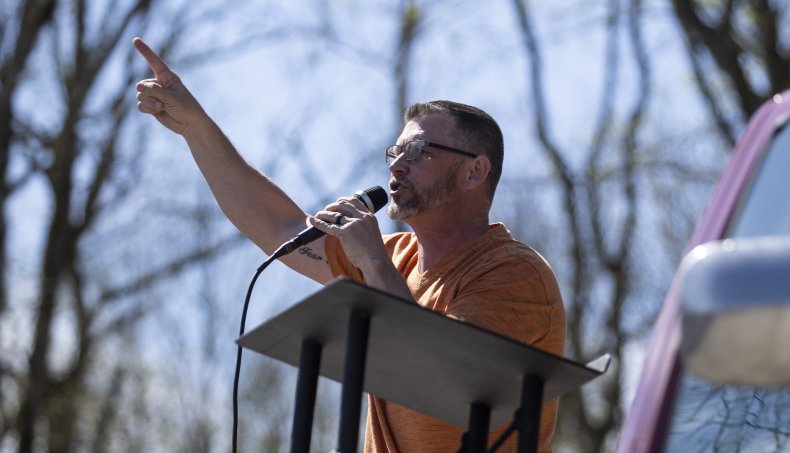 In July 2020, Locke, the head of Tennessee's Baptist Global Vision Bible Church, pledged to continue holding in-person church services in violation of the state's stay-at-home orders. His church held outdoor services with more than 10 people present, against the governor's order.
Locke has also claimed that Republican former President Donald Trump won the 2020 election. However, Trump didn't return to the White House because the election was stolen from him, Locke said.
"Now, let me tell you something," Locke told his congregation in mid-April, "if I predict that your team is going to win and you do, but the opposing coach breaks into your house in the middle of the night and steals your trophy, that ain't on me. That don't make me false. That makes them liars and crooks. Amen. That's what it makes them."
Locke has since referred to Democratic President Joe Biden as "a liar, and a robber and a thief and a crook." He has also referred the White House Press Secretary Jen Psaki as a "liar" and a "treasonous witch."
Newsweek contacted Baptist Global Vision Bible Church for comment.