Pastor Greg Locke's Church Vandalized: 'Your Lies Cost Lives' Spray-Painted on Wall
Pastor Greg Locke said his Global Vision Bible Church in Mount Juliet, Tennessee, was vandalized in the early hours of Sunday.
Lock shared images of the damage on Facebook later in the day. His pictures show the message "Your lies cost lives" spray-painted on a trailer at the church, while another inside on the pulpit said, "FU."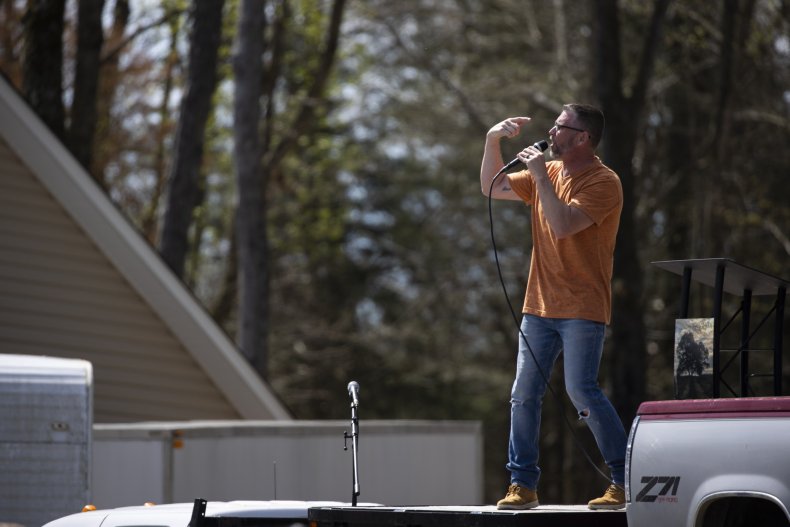 Global Vision Bible Church has been scrutinized in recent weeks regarding its response to COVID-19, including a recent statement that church attendees will be asked to sit in their car if they arrive at the church wearing a mask.
Locke said church security spotted the suspect at around 2:30 a.m. Sunday and chased him away. The pastor also said the suspect was captured on the church's surveillance cameras committing the acts of vandalism.
On Sunday, church officials said the security footage showed an individual wearing a mask and hood, according to WKRN, an ABC-affiliated TV station in Nashville. The officials also told the station that police are still investigating the incident.
Locke wrote about the graffiti on Facebook, saying: "He [the suspect] did quite a bit a damage before he was spotted. Kuddos [sic] to some of our peeps getting there and beginning to clean at 3:00 am this morning. Of all the things they do, painting my pulpit not only grieves me the most, it fires me up to want to fight more. WE WILL NOT BACK DOWN. WE WILL NOT BE INTIMIDATED."
In Facebook videos posted by Global Vision Bible Church, Locke is heard telling his congregation members what he will do if any of them show up to a service wearing a mask. He said, "I will ask you to leave. I am not playing these Democrat games up in this church."
"I am so over this leftist, fear-mongering, bull crap nonsense," he said in another video. "Our campus is a mask-free church."
He continued, "Either kindly remove them or sit in your car. You can sit in your car. If you come to our church and you try to protest what I said by wearing a mask, we will escort you to the door. We're not playing."
Along with critical statements about the coronavirus outbreak and the government's response to it, the pastor has condemned President Joe Biden. On August 10, he tweeted, "The real virus in this country is Fake President Joe Biden."
Global Vision Bible Church was also vandalized in August 2020. Graffiti was spray-painted on the church days before Donald Trump ally Roger Stone spoke there following his release from prison. Messages in that incident included "Fascists Beware" and "Repent."
Newsweek contacted the Mount Juliet Police Department for more information but did not hear back in time for publication.