Pastor Jeff Jansen, a self-described "prophet," still believes former President Donald Trump is in office and advised people to "watch what the Lord does" this month.
Jansen, who leads the Global Fire Ministries International in Murfreesboro, Tennessee, previously predicted Trump would be back in office at the end of April. During a "Reign" conference with Ignite Faith Church over the weekend, Jansen belittled President Joe Biden's administration as being "theater."
"You watch what God does in this administration because President Trump still is President Trump," Jansen said. "We're getting ready to see a shift and the whole world is going to witness it."
While he believed it "would have happened already," Jansen advised people to "watch what the Lord does" by April 25 or "in that neighborhood." At that time, he said, people will be "dancing in the streets."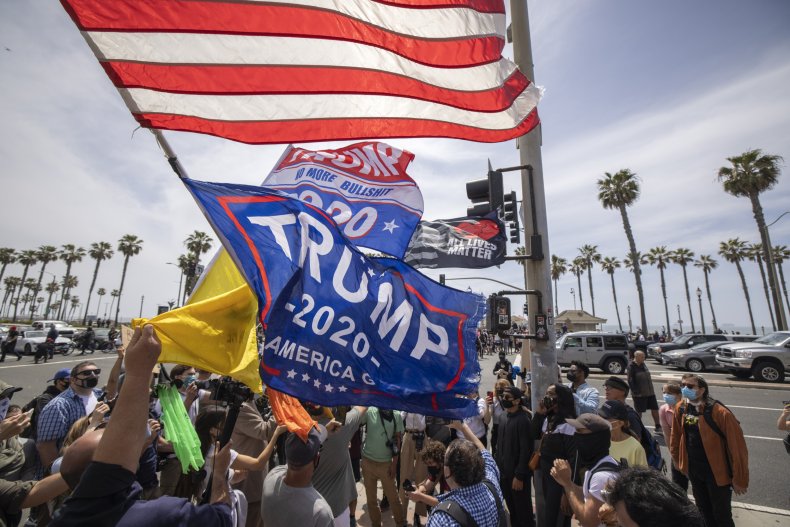 White, evangelical Christians are a pillar of Trump's base, and an October poll from Pew Research found they favored Trump over Biden 78 percent to 17 percent. A majority of Republicans believe evangelicals will lose clout under Biden, according to Pew Research.
While many pastors who predicted God would make sure Trump won the election have recanted their predictions or even apologized, some, like Jansen, have stood by their belief in his continued authority.
This wasn't the first time Jansen asserted that Trump is still president. In March, he said America was witnessing a "tale of two presidents" during an episode of the Elijah Streams YouTube Program. He called Biden's inauguration "fake" and noted that Trump had yet to concede the election.
"He basically stepped aside momentarily, while things are being sorted out," Jansen said.
Jansen went on to claim the military was in control and speculated the "rightly, duly-elected president," referencing Trump, from the last election would come forward and restore civil power in the United States. As he did over the weekend, Jansen advised viewers to "watch what the Lord does" and predicted Trump would be reinstated "by the end of April."
It's an increased timeline from comments Jansen made in February, when he said there would be an "amazing turnaround" by June. He added that he will be "going down with the ship on this."
At Friday's event, Jansen denied he was "making this political," but added the "demonic" and people who are seemingly in power aren't "really in power" because it's "theater." The pastor went on to ask God to "release your glory in the administration," and expose "wickedness" from California to Texas to New York City.
Newsweek reached out to Global Fire Ministries International for comment but did not receive a response in time for publication.