Pastor Johnny Enlow Says Trump Support is Measure of One's Dedication to God
Johnny Enlow, a self-proclaimed prophet, believes that God favors those who have refused to back down from their support for former President Donald Trump.
Enlow is among the religious leaders that believe Trump will return to office before the next presidential election and has said that there will be "two more Trumps" in office in some way. He cited prophecies dating back decades that claimed Trump would be a "keynote" in America's history and doubled down on his support for the former president as being God's wish.
"It's not sufficient just to say, 'Hey I worship God. I'm totally sold out to God or to Jesus,'" Enlow told Steve Shultz on the Elijah Streams YouTube channel on Friday. "It's been clearer than ever....Who's being advanced and blessed and ministries that are advancing and blessing and who I see in increased anointings, they're seeing more favor, they're seeing more revelatory, are people who didn't back off Trump."
Enlow, who leads the Restore 7 ministry based in Tennessee, has related Trump to David, the king of Israel, who defeated Goliath. The two have the "same caliber of steeliness" and "resolve" and were put in their positions by God, Enlow said in April. On Friday, he likened people backing away from Trump to people turning their back on David or Moses on the basis that they're committed to God.
Going against God's "instrument," and missing "that component" of God's plan is "going to cost you," according to Enlow, even if a person is 100 percent devoted to God.
While some religious leaders who predicted Trump would either win the election or be inaugurated have recanted their predictions, Enlow stood by his belief.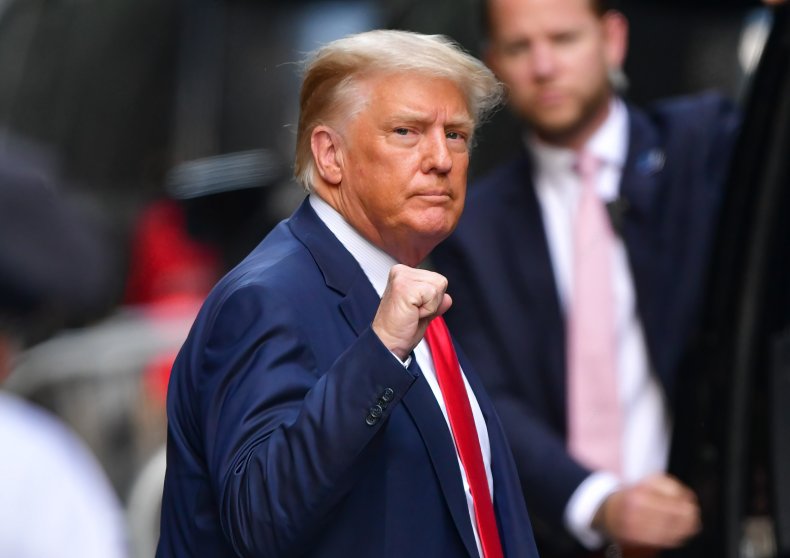 He criticized an April letter from 85 Christian leaders that told prophets to apologize for predictions that Trump would have become president by a certain date that passed. He attributed issuing the apology to disagreeing with God and said that heaven only recognizes the "legitimacy" of Trump.
It's the "confrontation of the ages," according to Enlow, who said on Friday that it would not be "easy" to see Trump as president once again. He added that there will be "false prophets" and "fake media" attempting to suppress God's plan, but said, "We do not get weaker in this. Nobody's backing off and everybody's getting fresh revelation confirming this is happening."
"Heaven is speaking to us and telling us a message, who is really president who is really under the authority of heaven," Enlow said. "The Lord said, Your nation will be known as before Trump and after Trump, the whole world will be known as before Trump, after Trump."
Enlow criticized people who are backing off their predictions that Trump will once again sit in the Oval Office, saying the people God's servants align themselves with "will affect" them. Given that Enlow believes Trump is "God's man," he said it will strengthen a person to align themselves with the former president and weaken them to go against him.
The pastor denied that it was "Trumpism," and said it's just the pattern of scripture, relating it to how people questioned Jesus being the son of God.
"Everything about this world is a test," Enlow said. "Earth is a war zone and in this war zone, he doesn't say it's ever just enough to go to our closet and hang with Jesus...it was always important, do you recognize who I send? And it was always a major offense every generation if they did not recognize who he sent. That was criteria for receiving judgment."
Newsweek reached out to Enlow for comment but did not receive a response in time for publication.