Pastor Rick Wiles Believes COVID Vaccinations Are 'Global Mass Murder' Perpetrated by Satan
Pastor Rick Wiles encouraged people to hide in the mountains for two years if that's what they needed to do to avoid being vaccinated against COVID-19 because it could be a scheme to reduce the population.
Wiles, who has been criticized for pushing conspiracy theories and anti-Semitism, promoted the idea that vaccinations are part of a population control effort on Friday. He criticized vaccine developers for "breaking rules" to placate former President Donald Trump and blamed the vaccination effort for the rising death toll in India.
"You and I are witnessing the first global mass murder and it's being led by Satan's team on the planet," Wiles said on TruNews. "You must survive it. Do not be vaccinated...My objective is to survive the genocide."
Last year, legislators urged the White House to deny press passes for TruNews, which Wiles created, because of his "record of attacking Jews on his show." YouTube also permanently banned him because of controversial comments he's made.
Wiles' comments came as he discussed an article from Great Game India, a website that promotes itself as a "journal on geopolitics and international relations" and has published conspiracy theories on a variety of topics. The article stated that the United Kingdom's Scientific Pandemic Influenza Group on Modelling, Operational subgroup, determined up to 70 percent of people who had both vaccine doses could die in the third wave of COVID infections.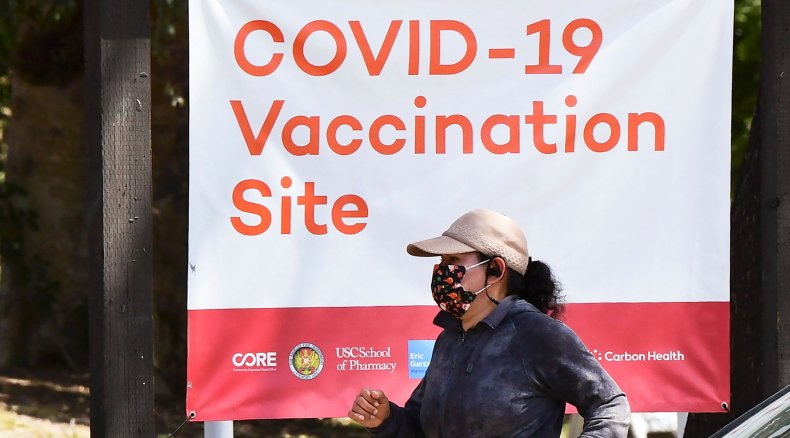 Information from the agency's document spread on social media. While it does say up to 70 percent of people who are fully vaccinated could die in the third wave, it doesn't attribute that to the vaccine. Instead, it attributed the high death toll among vaccinated individuals to the easing of restrictions and there being a large number of high-risk people being vaccinated.
The modeling based its findings on about 5 percent of people over 50 not being vaccinated and about 9.5 percent of people over 50 being vaccinated but not protected because of the 90 percent efficacy rate. Authors made it clear the projected death toll had nothing to do with vaccines being ineffective but was the result of "uptake being so high" among the higher risk group.
Far from advocating against getting vaccinated, the authors said it's "highly likely" that new vaccines will be required, although it could take "many months" for the "new generation of vaccines to be developed."
The speed at which vaccines for COVID-19 were developed raised concerns among Americans. But, Dr. Anthony Fauci, director of the National Institute of Allergy and Infectious Diseases (NIAID), assured people that technology and significant financial investment on the part of the Trump administration was the cause of the record-breaking development, not that people cut corners.
Both Trump and President Joe Biden have backed the vaccines as being safe and effective.
Wiles, however, isn't convinced and promoted the conspiracy theory that vaccinations may be part of planned population control. He advised people to do whatever was necessary to avoid getting vaccinated.
"You must survive the genocide even if you have to flee into the mountains," Wiles said. "Even if you have to flee into the mountains and hide for one to two years. This is genocide on a global scale."
There isn't anything that could convince Wiles to be vaccinated because he reiterated that he is determined to "survive a global genocide." An estimated 600 million people in the world have received at least one dose of a vaccine, according to a Brown University tracker, and Wiles said one positive of the vaccination campaign is that "a lot of stupid people will be killed off."
"I'm saying stupid because they aren't using their God-given brain to make a decision for their own good," Wiles said. "So if the vaccine wipes out a lot of stupid people, well, we'll have a better world."
Newsweek reached out to Wiles for comment but did not receive a response in time for publication.