Pastor Says God Told Him COVID Is 'Never Leaving' Until Churchgoers Take Off Masks
Pastor Shane Vaughn criticized Christians who wear masks for living their life in fear, not faith, and said God told him COVID-19 is "never leaving" until people "get that faith."
Vaughn, the co-founder of First Harvest Ministries in Mississippi, said on Sunday that God spoke to him about COVID-19, calling it the "spirit of the antichrist." He called it a test for "God's weak, anemic church," and advocated for people to stop wearing masks, trust in God and not vaccines and not be afraid of dying of COVID-19.
"Until you get that faith, you're not on the same page as God, and therefore COVID-19 is never leaving this earth. It is waiting on a church to come out of their isolation and to stand in faith and declare, 'Enough is enough!' Do you know why Satan hates when you won't put a mask on your face? Because you're screaming loud, 'I HAVE NO FEAR!'" Vaughn said on Sunday.
Vaughn added that those who want a vaccine against COVID-19 should "get a shot of faith" and said that God told him "miracles are attracted by faith, not mask." He called it a "joke" when churches preach about divine healing, but wear masks, and told congregants to "walk out" if they ever find themselves in that kind of place of worship.
Calling it the "biggest lie you've ever seen," Vaughn told people to not enter his church if they're bringing in their "fear in the midst of our faith." He added that God told him to lift his voice and call for Christians to "come out of hiding" and "fear" because when they get on the same page as God, "COVID-19 will leave this earth from the power of the church."
Vaughn told Newsweek he has "no problem" with people wearing masks if they have COVID or the flu and they're being cautious and trying to limit their chances of spreading it. But, he said he doesn't not believe they're effective in protecting people from COVID-19.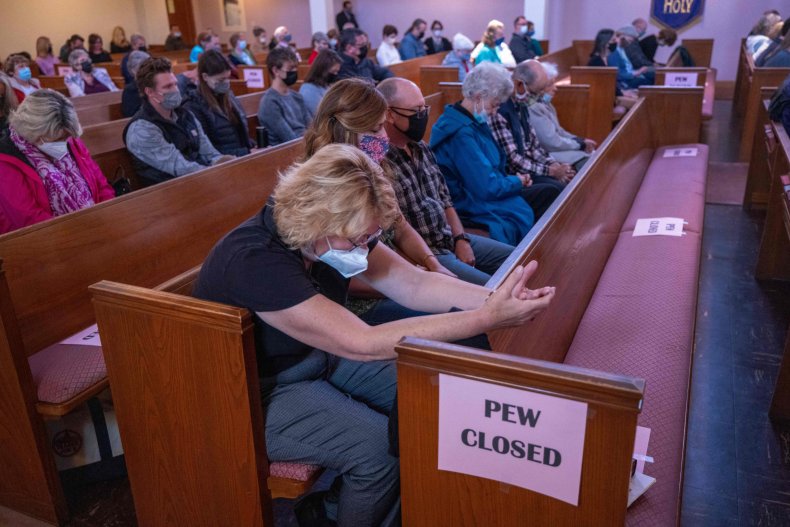 Vaughn, an outspoken critic of vaccine mandates, has posted form letters online for American workers who are seeking religious exemptions. The form had been downloaded about 40,000 times by October, according to Reuters, and it was used in a successful lawsuit against vaccine mandates in Michigan.
Vaughn has also claimed that coronavirus variants are coming that will render vaccines ineffective and that inoculations will "quit working" until America repents for "dead babies" and "sodomy."
On Sunday, the pastor said those who are wearing masks are walking under "the spirit of the antichrist," but acknowledged that some people may reason that by not wearing a mask, Vaughn could die of COVID-19. He said he doesn't care how he dies as long as he "dies in faith."
While some have dismissed COVID-19 as a hoax, Vaughn said in no uncertain terms on Sunday that COVID-19 is real and has killed "previous friends." He asked congregants to raise their hands if they had been infected with COVID-19 and later acknowledged that every person had tested positive.
However, he seemed to dismiss the need to be afraid of COVID-19 because only one person in the congregation died of COVID-19, according to Vaughn. He also denied that COVID-19 was the actual cause of death, saying "they lied."
Vaughn said the man was at the "last stages of life" and had multiple diseases when he contracted COVID-19 and was hospitalized. The pastor said he didn't have COVID-19 when he died and at his wife's urging after the autopsy, the hospital changed the cause of death to COVID-19 and several other factors, including MRSA, which he developed in the hospital.
This article has been updated with comment from Pastor Shane Vaughn.