Pastor Says He Will Go to Jail Before They Close His Church: 'You Ain't Gotta Wear a Mask'
A local pastor in Mount Juliet, Tennessee, reacted to health protocols limiting indoor activity at religious establishments in an emphatic Facebook video on Monday.
In it, Greg Locke, the pastor at Mount Juliet's Global Vision Bible Church, said he is committed to holding in-person services, without attendance caps, regardless of COVID-19 risks. Global Vision Bible Church continued to hold church services outdoors, where more than 10 people were present, against the terms of Tennessee's stay-at-home order in March.
"I'm telling you, I will go to jail before I will close our church," Locke told viewers in Monday's video. He took particular issue with possible consequences Grace Community Church, in Los Angeles, California, could face for its pastor's refusal to comply with state and local restrictions for places of worship.
"They will be selling Frosty's in the lake of fire before Greg Locke and Global Vision Bible Church ever closes down," the pastor continued. "I don't care if they send the military, they roll up in there with tanks…ladies and gentleman, we are staying open. We are packed to capacity. You ain't gotta wear a mask."
Locke told Newsweek the church has not identified COVID-19 cases among congregants, despite an absence of health protocols in place to reduce chances of transmission.
"We've always promoted and provided a very safe and clean environment. We are doing nothing different now than we were six months ago," Locke said via email on Tuesday. "We've never had an issue and we refuse to live in constant fear and media hysteria."
Requirements for religious gatherings held in California are different from those in Tennessee.
The California Department of Public Health (CDPH) updated its protocols guidance for reopening places of worship in June and July, amid an ongoing spike in COVID-19 cases reported statewide. The guidance prohibited singing and limited attendance to 25 percent of a religious establishment's capacity during indoor services, where risk of virus transmission is higher. It mandated use of face masks and physical distancing at religious gatherings held in any setting, but gave local health officers authority to determine specific regulations for outdoor services.
Additional guidelines issued by Los Angeles County's local health department outline strict social distance requirements for outdoor religious services. L.A. County has reported the highest concentration of COVID-19 cases in California throughout the outbreak.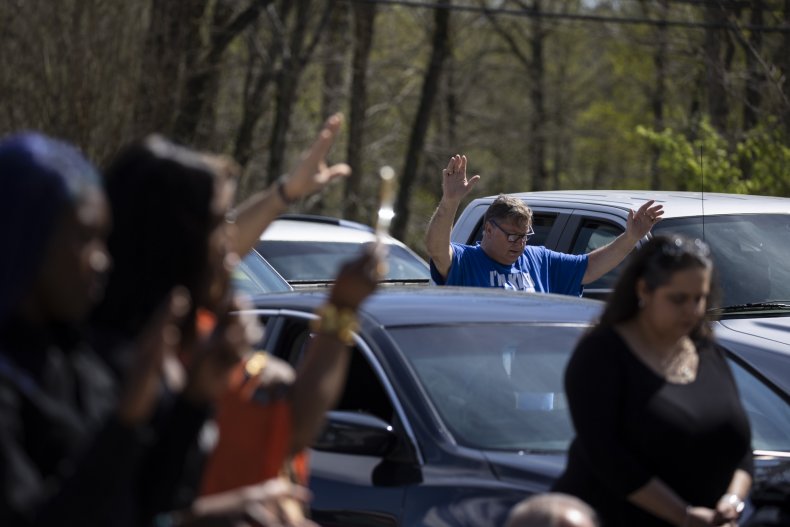 Tennessee's state guidance for reopening places of worship offers recommendations for health protocols rather than requirements. Local guidance issued by authorities in Wilson County, which govern Mount Juliet, is similar.
Both the county and state reported an uptick in COVID-19 infections between June and July, prompting Wilson County Mayor Randall Hutto to issue a face mask mandate, effective from July 19 through August 3. Places of worship are not required to adhere to the order, although Hutto said individual religious establishments can mandate use of masks at their own discretion.
A handful of U.S. states have reported COVID-19 outbreaks linked to churches over the past several months. In early July, New York Times data estimated that at least 650 infections were connected to religious gatherings across 40 different establishments nationwide.
Updated at 4:53 p.m. ET to include Locke's comments.