Pastor Says There's 'No Connection' Between 'Blood of Jesus' and COVID Spread
A Virginia pastor is encouraging people to get vaccinated against COVID-19, even if their faith is in God to protect them.
While some pastors have pushed anti-vaccine messages, Reverend Geoffrey Guns, pastor of Second Calvary Baptist Church in Norfolk, Virginia, has gone door-to-door to encourage people to get the shot and is hosting a vaccination clinic at the church. He acknowledged that some parishioners are hesitant because they believe God's protection is enough but argued that medicine and doctors are a "gift from God."
"My response to that is the blood of Jesus protects them from sins; the vaccine covers the virus. There is no connection between the blood of Jesus and the sacrificial death of Jesus and the spread whether it's omicron or another variant," Guns told local news station WAVY.
People being "covered by the blood of Jesus" is one of the reasons Guns said people give him for why they don't want to get vaccinated. The "number one" reason is that they don't trust the government and don't know what's in the vaccine. Others argue that they had COVID and therefore are protected or could have an adverse reaction to the vaccine.
More than 90 percent of Virginia's adults have had at least one dose of the COVID-19 vaccine, according to a tracker maintained by Brown University, and about 78 percent are fully vaccinated. However, the state is struggling with vaccinations for younger demographics and only 32 percent of the state's population that's between the ages of 5 and 11 have received their first dose.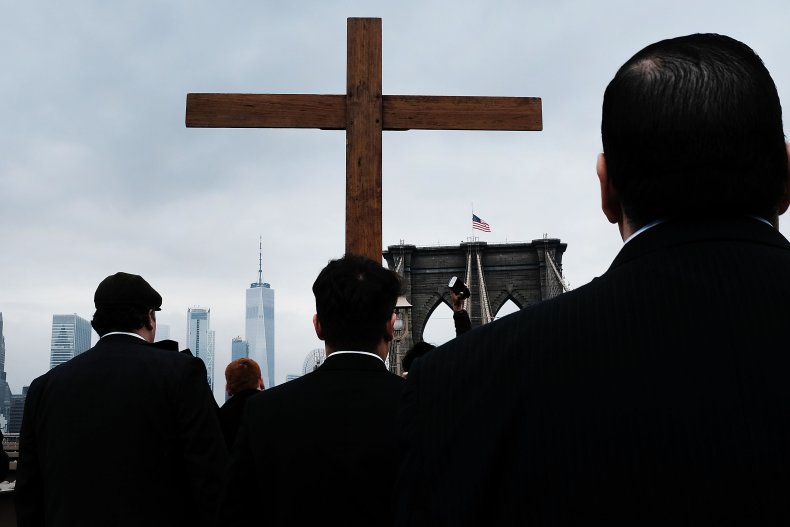 The Food and Drug Administration (FDA) authorized Pfizer's COVID-19 vaccine for children between the ages of 5 and 11 in October, but many parents remain hesitant to get their kids inoculated. Children are known to be at a lower risk of getting seriously ill from COVID-19 than adults, but hospitals have seen spikes in children being hospitalized as more kids become infected.
A local child dying of COVID-19 prompted Guns to accelerate his push for people to get vaccinated, but not all pastors agree, he told WAVY. DayStar Television, one of the largest Christian television networks, categorized the COVID-19 vaccine as one of the "most dangerous" things a child could face. The network has continued to push anti-vaccine messaging after the founder, Marcus Lamb, died after being hospitalized with COVID-19.
Pastor Shane Vaughn, a co-founder of First Harvest Ministries in Mississippi, also told congregants that want to get vaccinated to "get a shot of faith." He also criticized people for wearing masks, calling it a perpetuation of fear and not faith in God.
Going into the third year of the pandemic, Guns told WAVY that he didn't anticipate he'd still be dealing with vaccine hesitancy.
Newsweek reached out to Reverend Geoffrey Guns for comment.