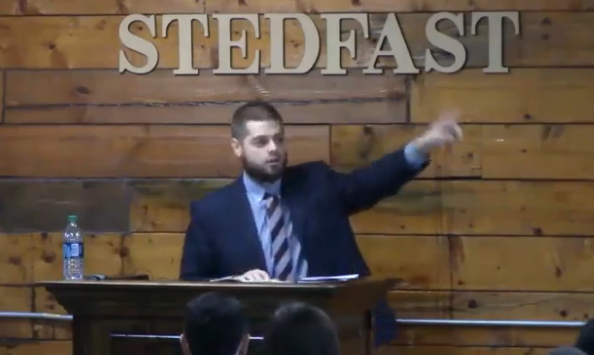 A Baptist church pastor in Fort Worth, Texas, said today's rebellious public school students and "lazy gamers" should be stoned to death as part of a societal lesson in obedience.
Stedfast Baptist Church Pastor Jonathan Shelley used Old Testament Bible verses to support his sermon this week against rebellious sons and daughters and how to discipline such disobedient children in public schools—by stoning them to death. Shelley replaced former Pastor Donnie Romero, who resigned two weeks ago after confessing to "being with prostitutes" and engaging in a night of gambling and smoking marijuana at a Jacksonville casino. Pastor Shelley's rant Monday, which has since been removed from YouTube, focused on how to squash America's rebellion-minded millennials and Generation Y members and force them to blindly follow the wishes of their elders.
In 2015, the Southern Poverty Law Center listed the Fort Worth Baptist church as a hate group, primarily due to Romero's anti-LGBT rants labeling all gays "pedophiles."
"You say why should I obey my parents?" the Stedfast pastor asked in his sermon. "Because God said so. Not because of what your parents think, not because of what the government thinks, not because of what man thinks. God says that children obey their parents. When you resist your parents you're not just resisting your parents, you're resisting God."
Shelley read from Proverbs 30 and Deuteronomy 21's "A Rebellious Son" verses to explain how public school teachers and parents must beat back the inherent rebellious or lazy attitudes of U.S. young adults.
"[Young adults are] going to continue being more rebellious, more mocking, more arrogant, more prideful," Shelley continued. "You see, it's never enough. They just want to keep mocking their parents and disobeying their parents. You've got to squash out the rebellion in your child. You know how you could squash rebellion in a public school today? Take the rebellious one out and stone him. I bet they'd shapen up pretty quick. I bet they'd figure it out."
Shelley said society in 2019 is "destroying itself" because the "prideful teenage jerks" who are not being put to death as the book of Deuteronomy demands. He said young men should be able to work and be sober at the risk of God putting them to death. Shelley's sermon also included anger against the Baby Boomer generation's forsaking of the Bible and not creating any older women to teach values to younger women.
"The guy that's the lazy gamer saying, 'I don't want to get a job. I just want to play video games all day and drink alcohol with my buddies,' that guy should be put to death," Shelley added.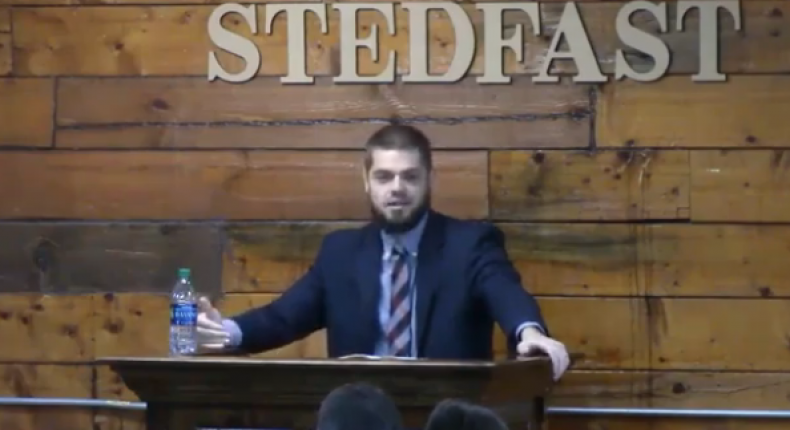 Ironically, videos posted to Facebook from Shelley's former church, Pure Words Baptist Church, in Houston, showed him leading the congregation in singing a hymn about "a land where we'll never grow old."
Videos showing the controversial Baptist teacher's sermon this week were being pulled from YouTube with the message, "This video has been removed for violating YouTube's policy on hate speech. Learn more about combating hate speech in your country." Coincidentally, the pastor referenced the Google-owned company in his sermon about respecting the wisdom of one's father. "He didn't have Facebook back in the day, he didn't have YouTube, he doesn't know how to use the computer."