Pastor Tony Spell to Hold Service on Day of Release from Prison After Being Accused of Backing Bus Toward Protester
After being arrested Tuesday for a Sunday incident in which he appeared to back a church bus toward a protester in front of his church, Louisiana pastor Tony Spell was released on bond Tuesday evening and gave a promise to preach that night.
Video released on Twitter Monday by WVLA reporter Abbi Rocha showed the bus, allegedly driven by Spell, stopping just short of protestor Trey Bennett. Bennett was protesting about Spell continuing to hold worship services at Life Tabernacle Church in Baton Rouge despite stay-at-home orders from Louisiana Governor John Bel Edwards that prohibited mass gatherings of more than ten people.
Spell claimed in a Monday phone interview with WAFB that Bennett had been standing "in front of my church driveway for three weeks now. He shoots people obscene finger gestures and shouts vulgarities."
According to Spell's arrest warrant, Bennett said "he was in fear for his life because he thought the bus wasn't going to stop, he thought the bus was trying to run over him."
Spell turned himself into the Central Police Department where he was arrested on one count of aggravated assault and improper backing, according to a post on the Department's Facebook page. Within hours, Spell had posted bond and was released.
Outside the jail Spell addressed some of his congregation, telling them his arrest was "a trap."
"A half a dozen officers handcuffed me, put me in the back of the car and booked me into East Parish Baton Rouge Prison," Spell said.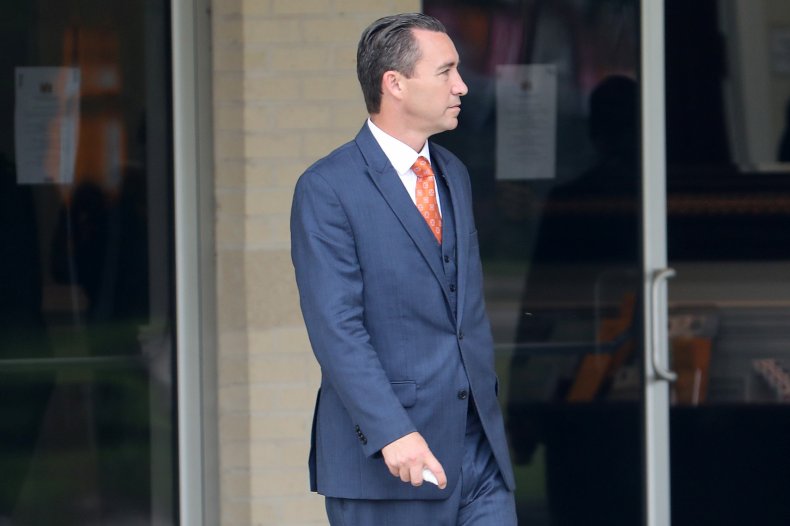 "My rights to have church and to preach the gospel of Jesus Christ are endowed to me by my creator, not my district attorney, not my chief of police, and not my governor, John Bel Edwards, not my president and not my Department of Justice," Spell told the crowd. "My inalienable rights are given to me by God and those rights are my rights to assemble and have church. I cannot give up those rights."
Spell also declared his innocence, saying he was "not guilty of any charges I have been accused of. I am not guilty of defying any orders. The only thing I am guilty of is practicing my faith which was given to me by Jesus Christ himself." Spell then said he would hold a service Tuesday night at Life Tabernacle Church.
Newsweek reached out to Life Tabernacle Church and the office of Louisiana Governor John Bel Edwards for comment.
However, individuals holding signs with messages like "Close This Church" and "Danger Coronavirus Incubator" arrived in front of Spell's church to protest his Tuesday service.
"#HAPPENINGNOW Protesters are outside Life Tabernacle in Central as Pastor Tony Spell prepares to hold service," tweeted reporter Jonah M. Gilmore. "Today, Spell bonded out of jail after being arrested and charged with aggravated assault. Spell is accused of driving a bus that nearly hit a protester."
Spell's decision to hold worship services at his church during the coronavirus pandemic has been controversial. After a member of his congregation was determined by a coroner to have died from complications of the coronavirus, Spell called the coroner's findings "a lie."