Pastor Tony Spell Says His Church Will Once Again Defy Louisiana's COVID Mandates
Pastor Tony Spell, who is facing multiple charges for bucking coronavirus restrictions, is pledging to dismiss Louisiana's new mask mandate.
"We will never comply," Spell told Newsweek in an email. "Everything that Governor Edwards is doing is unlawful and unconstitutional."
The pastor added: "Congress shall make no law respecting an establishment of religion. The shutdowns are unlawful as well as the mask mandate and employer forced vaccinations. This is still America even though our politicians do not acknowledge it."
Louisiana Governor John Bel Edwards announced Monday he was reinstating a statewide mask mandate for indoor settings. The requirement applies to all residents, regardless of whether they have been inoculated against the virus.
"The data in Louisiana clearly point to the severity of our situation, and the urgency to act now," Dr. Joseph Kanter, the state's health officer, said in a statement.
Louisiana experienced a seven-day average of 4,119 new coronavirus cases as of Sunday, according to data from Johns Hopkins University— a significant increase from a daily average of 2,414 new cases the week prior.
The state is currently experiencing an average of 99 cases per 100,000 residents per day, the most of any area in the county, according to The New York Times.
Spell, the pastor at Life Tabernacle Church in Baton Rouge, vowed to defy any future coronavirus mandates or shutdowns ahead of Edwards' order on masking.
"We are not the ones who are troubling our cities. It's the devil troubling us," Spell said in a YouTube video on July 30. "It's the wicked, perverse government troubling us because we refuse to mask, and we refuse to vax or we refuse to quit going to church or we refuse to quit shaking hands and baptizing over a thousand people."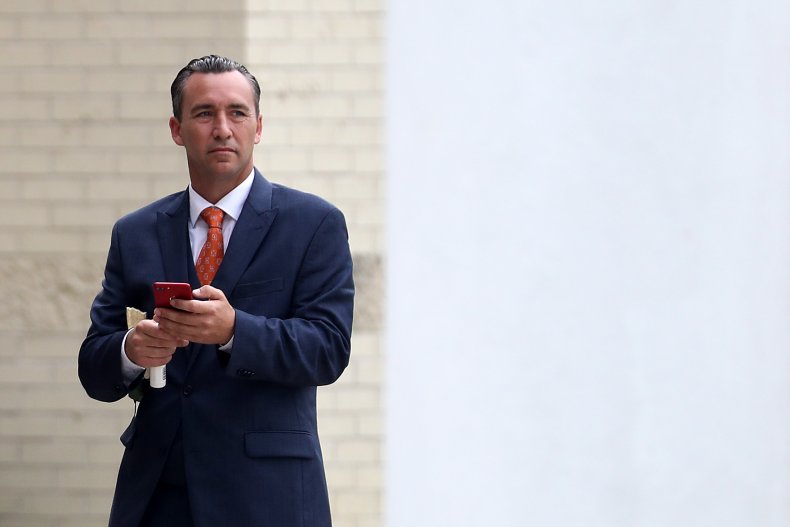 Spell was arrested and charged last year with six misdemeanors for violating Edwards' restrictions on crowd sizes by holding large, maskless church services in the early days of the pandemic.
Prosecutors offered Spell a plea deal earlier this year, offering to drop five of the charges if he pleaded no contest to one of the misdemeanor charges.
During a hearing last September, Spell was not allowed in court because he wouldn't wear a face covering.
In April, the pastor was also arrested for allegedly backing a church bus toward a coronavirus protester. The Central Police Department said Spell was issued an arrest warrant for aggravated assault with a deadly weapon.
When asked if he was concerned about facing additional charges for defying the latest mask mandate, Spell told Newsweek: "We are facing up to 18 years in prison, so nothing they can do will hurt more than that. We continue to stand [for] Religious and civil liberties. However it is concerning knowing the government will stop at nothing to force compliance."